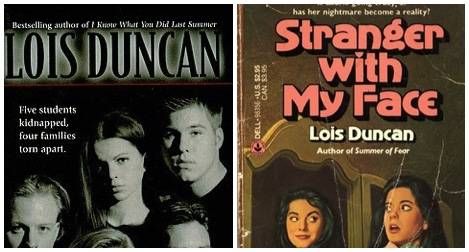 This content contains affiliate links. When you buy through these links, we may earn an affiliate commission.
I wasn't allowed to read "bad books." As a 7th grader I walked through the fiction room of our school library and saw so many things I couldn't have. Sweet Valley High, Christopher Pike, soap operas and horror novels. I couldn't check them out, their covers were obvious, easily spotted, not safe to take home.
I wasn't ready to risk checking any of them out, but I started looking for books that might help satisfy my curiosity. I started at the A's, just like I had at the small public library I frequented on the weekends. I was stuck in the C's working my way through Agatha Christie there, but there was no Christie in the middle school library. There was Avi, and the author Anonymous of Go Ask Alice. But I just picked out one or two and jumped to the next until I hit the D's.
Lois Duncan's books were the books I'd been warned about. I could tell right away. Their covers, their titles, they were ominous and dark and the girls in them did dangerous things.
The first one I read was probably Ransom. Kidnapping terrified me, as it did all other children of the '80s, but I was obsessed with it and I couldn't explain why. I wrote stories about kidnappings, about girls held in basements and locked rooms. Girls were vulnerable, yet girls were desired and I didn't understand why.
A girl who lived near me, who went to my church, who seemed to be the same kind of nerdy, unpopular pre-teen as me was kidnapped and no one knew what happened to her. She was dark haired, I was blonde, she wore glasses, I did not, but the more I read about her in the newspaper the more it seemed like we were the same. Like it was only chance that it was her and not me. This was not the beautiful, perfect dead girl of movies and television. This was a girl barely 13 with glasses too big for her face and frizzy hair. If she was in danger, I was, too. I didn't know how to deal with that fear, but I finally started to when I read Ransom. After that I didn't move from the D's. I read book after book by Lois Duncan. If I had read everything on the shelf, I read one of them again.
The books were terrifying. Girls were threatened, sometimes by the supernatural, sometimes by other girls. Reading Lois Duncan books, even re-reading them, gave me the same mix of butterflies and nausea in my stomach that I got playing Light As a Feather, Stiff As a Board at sleepovers.
Sometimes I checked out a Duncan novel and brought it home if the cover or the title weren't too obviously "bad." But most of the time I finished my lunch early and went to sit alone in the library to pick up where I'd left off in my book of the moment.
Duncan's novels taught me to confront my fear and to manage it. Nothing was quite as scary in the fluorescent lights of my school. There were people all around me, the bell would ring to send me back to class.
Middle school wasn't fun. I'd moved there only a year before and didn't have many friends. But there weren't any secret groups of girls taunting me, there was no deranged killer after me, no cousin trying to take over my life. My own drama found some context and I saw it for what it was: loneliness, a longing to fit in, sadness that could be soothed by stories.
Eventually, after I'd read through all of the Duncan novels a few times each (Stranger With My Face was the strangest and the scariest) I finally worked up the courage to read Christopher Pike.
Turns out, Christopher Pike wasn't scary at all. I'd been scared to read his monster stories and serial killer tales, but nothing scared me the way Lois Duncan's stories had. Her books didn't feel like yet another obligatory entry in a horror series. Duncan's books let me look horror straight on and feel a little more brave in the process.
I was in high school when they found the body of the girl who'd been kidnapped. By then, I was ready to hear the news. By then I understood more about why girls were in danger, why men wanted to kidnap you, and what happened in the real world. I learned it bit by bit through stories about secret societies and astral projection and vengeful killers from Lois Duncan. Those stories, just close enough to real, terror in a clearly fictional world, made the real world and its horrors a little easier to understand. And my own fear became a little easier to confront.