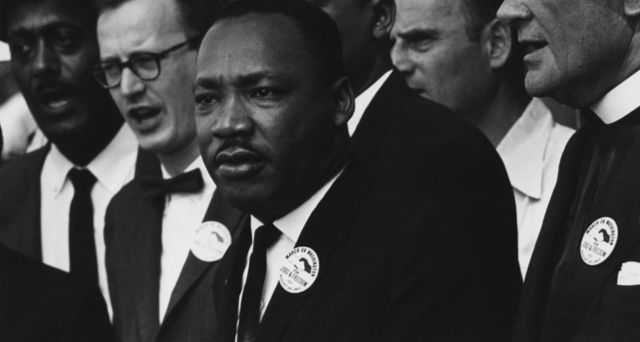 This content contains affiliate links. When you buy through these links, we may earn an affiliate commission.
Dr. Martin Luther King Jr. was a major leader in the nonviolent protests against racial discrimination during the 1960s American Civil Rights Movement. Each year, the United States honors and celebrates King's life and legacy on the third Monday in January. MLK Day is an official national day of service where citizens are encouraged to volunteer their time to make a positive change in their community. In honor of MLK Day 2020, we have 20 Martin Luther King Jr. books for children, tweens, teens, and adults that reflect Dr. King's fight for equality, liberty, and justice for all.
Books by Martin Luther King Jr.
The following are books written by Dr. Martin Luther King Jr. that put his Christian faith and belief in nonviolent resistance into the forefront of American consciousness.
In The Autobiography of Martin Luther King, Jr., Carson pieces together King's published and unpublished work with his several of his previously published autobiographies. This compilation offers a first-person account of Dr. King's life from his birth in Atlanta to his social awakening from the teachings of Mahatma Gandhi. Readers will also find King's seldom disclosed thoughts on contemporaries like Malcolm X, Lyndon B. Johnson, Richard Nixon, and John F. Kennedy.
Coretta Scott King once said, "If there is one book Martin Luther King, Jr. has written that people consistently tell me has changed their lives, it is Strength to Love." She believes this book best explains King's central philosophy of nonviolence and his belief in a divine, loving presence that binds all life. Strength of Love are short sermons Dr. King composed during some of the most tumultuous years of the Civil Rights Era, including the 15 days he spent in jail during the Albany Movement. Despite editorial changes to the original transcript, Strength of Love was a landmark publication and the first volume of sermons from a black preacher widely available to a white audience.
Stride Toward Freedom is King's memoir of the Montgomery Bus Boycott and is "the chronicle of 50,000 Negroes who took to heart the principles of nonviolence, who learned to fight for their rights with the weapon of love, and who in the process, acquired a new estimate of their own human worth." Within the memoir, Dr. King discusses racial conditions in Montgomery before, during, and after the bus boycott along with the origins and the significance of the boycott.
Where Do We Go From Here was Dr. King's fourth and last book before his assassination on April 4, 1968. In order to complete the final manuscript, King spent an extended period away from the demands of the Movement in a rental house in Jamaica. In Where Do We Go From Here, King lays out his thoughts and dreams for America's future including the need for better jobs, higher wages, better education, decent housing, and a guarantee the Civil Rights Act of 1964 and the Voting Rights Act of 1965 would be enforced by the federal government.
Why We Can't Wait is King's book about the Birmingham Campaign. The seed of this book is King's Letter from Birmingham Jail, which was published in national newspapers and magazines as Why the Negro Won't Wait.
Martin Luther King Jr. Books for Kids
These picture books introduce Martin Luther King Jr. and the Civil Rights Era at an age-appropriate level for children.
"Everyone can be great because everyone can serve." Be a King features dual narratives of key moments in Dr. Martin Luther King Jr.'s life along with a modern classroom of students starting a project inspired by his life and work. This picture book seeks to encourage a new generation of children to stand up for justice, change the world, and "be a King."
If You Were a Kid allows young readers to step into the shoes of the Black Americans who were children during the 1960s Civil Rights Era. Mark just moved from Washington, D.C., to Oklahoma and will soon attend a segregated school. Connie wants to know what her brothers are planning in secret and wonders if the new boy in the neighborhood has any ideas. Soon, Mark and Connie find themselves in the middle of a civil rights demonstration.
On February 1, 1960, in Greensboro, North Carolina, four students from North Carolina A&T State University (#AGGIEPRIDE) were inspired by Dr. Martin Luther King Jr.'s call for peaceful protest. The four men sat at the Woolworth's "Whites Only" lunch counter and triggered a wave of sit-ins across the United States.
A Sweet Smell of Roses by Angela Johnson, Illustrated by Eric Velásquez
Inspired by the children who took a stand during the Civil Rights Movement, A Sweet Smell of Roses follows two sisters who sneak out of their house to join a march led by Dr. Martin Luther King Jr. as the smell of roses fills the air around them. This story reminds readers that children participated and were greatly affected by the events that took place during the turbulent years of the Civil Rights Era.
MG and YA Books Featuring Martin Luther King Jr.
These novels for tweens and teens explore the history and legacy of Dr. Martin Luther King Jr. and the Civil Rights Movement.
Stone's debut novel Dear Martin shows how times have changed while still remaining the same since Martin Luther King Jr. was on the front line of the Civil Rights Movement. Justyce McAllister is an honor student at a mostly white prep school who dreams of attending Yale. Although Justyce is a good kid, that doesn't matter to the white police officer arresting him. This experience inspires Justyce to look into Dr. King's teachings for answers.
March by John Lewis and Andrew Aydin, Illustrated by Nate Powell
Before John Lewis became a member of Congress, he was a key leader in the Civil Rights Movement. March is the graphic novel trilogy about the Movement through his perspective. Book One includes Lewis's childhood in rural Alabama and his life-changing meeting with Martin Luther King Jr. Book Two follows Lewis from the Nashville sit-in campaign to the landmark March on Washington for Jobs and Freedom. In Book Three, John Lewis prepares to risk everything in a historic showdown to end voter suppression in a town called Selma.
Using prose and poetry along with award-winning illustrations, Memphis, Martin, and the Mountaintop tells the story of the 1968 Memphis sanitation strike from a child's perspective. After the death of two black sanitation workers, Martin Luther King Jr. was called to help the sanitation workers' protest for higher wages and safer working conditions. However, this would be King's last stand for justice. King was assassinated the day after delivering his "I've Been to the Mountaintop" sermon.
My Uncle Martin's Big Heart by Angela Farris Watkins, Illustrated by Eric Velasquez
Most people see Dr. Martin Luther King Jr. as a larger-than-life historical figure, but to Coretta he was also a loving husband. For Martin, Bernice, Yolanda, and Dexter, King was also a caring father. For Angela, he was the kind uncle she presents in My Uncle Martin's Big Heart. In this story, readers will see the humanity of an icon through the eyes of a child.
When a white banker told him to sell fried chicken, not books, because "Negroes don't read," Lewis Michaux opened a bookstore with five books and $100. The National Memorial African Bookstore became an intellectual, cultural, and social hub of the black community before, during, and after the Civil Rights era.
In The Rock and the River, 13-year-old Sam is the son of a civil rights activist in 1960s Chicago. Sam's faith in his father and his nonviolent approach to change is tested when Sam finds literature about the Black Panthers underneath his brother's bed. Now, Sam is faced with a difficult decision. Will he follow his father or his brother? Fire in the Streets is the companion read for The Rock and the River. Maxie wants to be a Black Panther, but she must decide if becoming a Panther is worth the ultimate price.
Nonfiction Books about Martin Luther King Jr.
These nonfiction books include biographies about Martin Luther King Jr., an autobiography from his widow, and reflections on Dr. King's essays.
On August 28, 1963, Dr. Martin Luther King Jr. spoke the words: "I have a dream." With those words, King brought the plight of the African American experience to the public consciousness and established himself as one of the greatest orators of all time. Clarence Jones helped co-write King's "I Have a Dream" speech and was one of his close confidants. Behind the Dream provides a behind-the-scenes account of the weeks leading up to the event, as told by Clarence Jones.
Many prefer the "safer" Martin Luther King Jr. who proclaimed "I Have Dream." Harding prefers the King who became more radical as he challenged the status quo of everything from civil rights to the Vietnam War. In Martin Luther King, Harding reflects on those later years of King's activism and that forgotten legacy of King's fight against all forms of oppression. It was this fight for justice that led King to Memphis in 1968, where he paid the ultimate price.
Although best-know as Dr. Martin Luther King Jr.'s widow, Coretta Scott King was an activist in her own right. In My Life with Martin Luther King, Jr., she recounts the history of the Civil Rights Movement and offers an inside look at her life with King as well as their family life.
Fellow Morehouse alumnus Lerone Bennett provides readers with an intimate look into the physical, mental, and spiritual growth of Dr. Martin Luther King Jr.
Related Reading
March and Racism in America: A Brief Personal Story