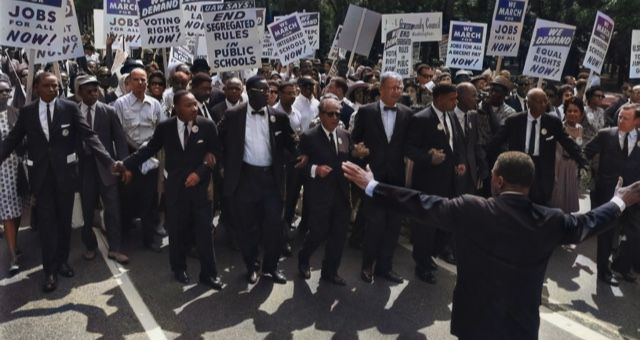 Lists
16 Civil Rights Books for the Whole Family
This content contains affiliate links. When you buy through these links, we may earn an affiliate commission.
When the term "American Civil Rights" crosses our thoughts, most of us tend to think of Dr. Martin Luther King Jr.'s march on Washington and his Dream speech at the steps of the Lincoln Monument. Of course we do, its one of the most monumental moments of our history. While my parents were children during this important time in our history, it feels like it took place centuries ago. I don't remember learning about the Civil Rights Movement after 8th grade. However, in our current political and social climate it's increasingly important we know what triggered the movement and its implications on a society bent on keeping oppressive structures in place. Here are 16 Civil Rights books you and your kids can enjoy to start off your own Civil Rights discussions.
Children's Civil Rights Books
We March by Shane W. Evans
This picture book gets to the peak of the Movement, the August 28, 1963, March on Washington. Evans's art and story gives the moment the hight and magnitude that it deserves for young readers. This is often the first story we hear of the civil rights movement, and this book gives a good foundation for little minds.
The Youngest Marcher by Cynthia Livinson, illustrated by Vanessa Brantly-Newton
This is the story of Audrey Faye Hendricks, the youngest known person arrested for attending a civil rights protest in Birmingham. This is a story of a young girl standing up for her community and for the freedom of her family. It also shows that it wasn't only the grownups that were affected by the movement and that if we can stand up for what we believe in, there's nothing that we can't actually achieve.
Many of us remember reading about the Woolworth's lunch counter sit-in. Here, it is made accessible to elementary students. With the poetic grace from Andrea and the bold art by Brian, the Pinkneys give voice to the four young college students, inspired by King's preaching of nonviolence, walking into a whites-only diner and ordering coffee. It was one of the events that shook the nation, and still a bold act of bravery in the face of oppression.
Before Brown vs The Board of Education, there was a family in California who also fought for desegregation. Sylvia Mendez was the American-born daughter of Mexican and Puerto Rican parents, and because of this she was denied admission to the "white only" school that she was more than qualified academically to enter. Their hard work helped end school segregation in California almost a decade before it became law in the whole country.
In this beautifully illustrated picture book, we see young Paula Young Shelton, the daughter of activist Andrew Young, as she lives through the civil rights movement. We go with Paula as she watches and listens to the struggles and insights of the leaders, and we even got with her as she marches with her family from Selma to Montgomery.
Find more children's books for African American History Month here.
Middle Grade/High School Civil Rights Books
Written in verse, this book spans the last few months of King's life, from the celebration of his birthday to his assassination, and beyond to his legacy. It's true that Martin Luther King Jr. is one of the most influential people in our history—and that's celebrated here. Beyond his impact on our lives, we also must address our grief and feelings of hopelessness when tragedy happens—and find means of moving forward with what we were given.
Who are we before something big shapes our lives? Well, for Melba Patillo Beals, it meant growing up in the Jim Crow era where she wasn't allowed to be in the same places as white people. Except she knew better, she knew that there was a better way. And so she documents her story here for middle grade students. From being a little girl, to being one of the first set of black students in an all white high school, to dealing with violence—to becoming an award winning journalist and a recipient of the congressional gold medal.
March by John Lewis and Andrew Aydin, illustrated by Nate Powell
Follow the story of Congressman John Lewis as he recounts his life and his activism for the Civil Rights Movement in this graphic novel trilogy. His commitment to nonviolence and civil rights led him from tenant farming in Alabama to the United States House of Representatives. This is a powerful trilogy for teens and adults alike.
Delphine and her two little sisters, Vonetta and Fern, are going to spend the summer in Oakland California with their mother Cecile. What they thought was going to be Disneyland and fairytales turns out to be something entirely different—think day camps run by Black Panthers different. What ends up happening is three little girls learning more about their family, themselves, and their country.
We know her for starting the Montgomery Bus Boycott when she refused to give up her seat at the front of the bus. So here is Rosa Parks's story in her words. What led up to that fateful day, and her life afterward. This book is for any kid who wants to know more about the Civil Rights Movement and the everyday people who decided enough was enough.
Adult Civil Rights Books
This autobiography illustrates just how important own voices are in researching history. Moody recounts her history, going up on a tenant farm, recalling Emmitt Till's lynching, working hard on school work, joining the NAACP, and becoming a member of a movement that would change the tide of our country.
A beautiful and heartbreaking collection of poetry from some of the biggest names in American Poetry. Poets including Maya Angelou and Audre Lourde not only describe historical events but also show the breadth and depth of the cry for civil rights liberty. A collection of 150 poems with over 100 authors, this books shows that not all history lessons have to be prose.
Theoharis challenges nine well-known aspects of Civil Rights History that have been overused, watered down, and made insignificant or mythical. She examines how those in power have used the events of the civil rights movement to move their own agenda forward. This book should be required reading for those who want more depth in their knowledge of the Civil Rights Movement.
As one of the most important figures in the Civil Rights Movement, Andrew Young recounts his life working alongside Martin Luther King Jr, and with the Southern Christian Leadership Conference—his endurance of beatings and arrests during some of the most important campaigns of the civil rights era. This memoir provides another Own Voice of the time, and shows how far we still have to go in order to gain actual freedom.
Few others are as eloquent and determined as Malcom X was. This autobiography gives a glimpse into the Black Muslim fight for justice. Malcom X had very different ideas on how to fight for freedom. Different, but his voice was just as important and needed in our society.
This book offers another perspective of the Civil Rights movement. Asian Americans fought racism of their own. They had to organize and fight in order to make a life for themselves. We don't often hear this take, or their own community of resistance to find a place in this society.
Sometimes in the face of insurmountable adversity, we need the grace and wisdom of the people who've come before us. With lessons drawn in his work for the Civil Rights Movement, John Lewis gives us the toolkit to seek out justice through nonviolence. This book was written to encourage those who want to work toward a better and more inclusive society.