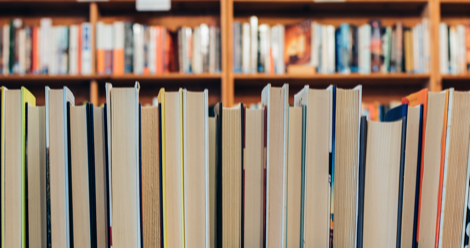 Fiction
Make It Quick: Upcoming 2017 Short Story Collections to Watch For
This content contains affiliate links. When you buy through these links, we may earn an affiliate commission.
In honor of Short Story Month, I thought it would be fun to highlight some of the new short story collections being released in the second half of 2017. These are all collections that have definitely piqued my interest. So get your TBR lists ready with these 2017 short story collections, readers! (Because I have not read these short story collections yet, I've pulled quotes from the jackets to help with the descriptions.) Plus, just look at these gorgeous covers! Some of them are worth it for the cover alone.
Nine stories "that take up the preoccupations and fixations of time's passing and of middle age and that take us from today's London and Berlin to the wild west of the USA and the wilder shores of Mother Russia; stories finely balanced between devastation and optimism."
"Among the unforgettable characters Roorbach creates are an adventurous boy who learns what courage really is when an aging nobleman recounts history to him; a couple hiking through the mountains whose vacation and relationship ends catastrophically; a teenager being pursued by three sisters all at once; a tech genius who exacts revenge on his wife and best friend over a stolen kiss from years past; and many more." (Side note: If you ever get a chance to see Roorbach speak, I suggest you take it. He's one of my favorite writers to see in person.)
"In Curtis Dawkins's first short story collection, he offers a window into prison life through the eyes of his narrators and their cellmates. Dawkins reveals the idiosyncrasies, tedium, and desperation of long-term incarceration—he describes men who struggle to keep their souls alive despite the challenges they face." (Dawkins himself is an MFA graduate and convicted murderer serving life without parole.)
Small Beer Press is possibly my favorite publisher when it comes to short story collections, and Rowe has published a couple of dozen short stories, and been a finalist for the Hugo, Nebula, World Fantasy, and Theodore Sturgeon Awards. What I'm saying is that picking up this collection is a no-brainer.
The author of the fantastic Mr. Splitfoot returns with her first debut collection! "Each of these ten haunting, inventive tales brings us to the brink―of creation, mortality and immortality, infidelity and transformation, technological innovation and historical revision, loneliness and communion, and every kind of love."
Hall is also the author of the amazing novels Electric Michelangelo and The Wolf Border! And in "this collection of nine works of short fiction, she uses her piercing insight to plumb the depth of the female experience and the human soul." My body is ready.
This looks sooooo good. "Narrated by the daughters of Chinese immigrants who fled imperiled lives as artists back home only to struggle to stay afloat—dumpster diving for food and scamming Atlantic City casino buses to make a buck—these seven stories showcase Zhang's compassion, moral courage, and a perverse sense of humor reminiscent of Portnoy's Complaint. A darkly funny and intimate rendering of girlhood, Sour Heart examines what it means to belong to a family, to find your home, leave it, reject it, and return again."
I am SO EXCITED for this one. "In The Mountain, Paul Yoon displays his subtle, ethereal, and strikingly observant style with six thematically linked stories, taking place across several continents and time periods and populated with characters who are connected by their traumatic pasts, newly vagrant lives, and quests for solace in their futures."
PEN America Best Debut Short Stories 2017 by Kelly Link (Compiler), Marie-Helene Bertino (Compiler), Nina McConigley (Compiler) (Catapult, Aug. 22)
"Today's most acclaimed writers all got their start when an editor encountered their work for the first time and took a chance. This anthology celebrates twelve such moments of discovery and is the first volume of an annual collection―launched alongside PEN's new Robert J. Dau Short Story Prize for Emerging Writers―that recognizes outstanding fiction debuts published in a print or online literary magazine."
"Shepard's stories explore what we do to lessen our burdens of sadness and isolation; her characters, fiercely true to themselves, are caught between their desire to move beyond their isolation and a fear that it's exactly where they belong."
Fresh Complaint: Stories by Jeffrey Eugenides (

Farrar, Straus and Giroux, Oct. 3)
His first story collection! "Jeffrey Eugenides's bestselling novels have shown that he is an astute observer of the crises of adolescence, sexual identity, self-discovery, family love, and what it means to be an American in our times. The stories in Fresh Complaint continue that tradition."
"In Her Body and Other Parties, Carmen Maria Machado blithely demolishes the arbitrary borders between psychological realism and science fiction, comedy and horror, fantasy and fabulism. While her work has earned her comparisons to Karen Russell and Kelly Link, she has a voice that is all her own. In this electric and provocative debut, Machado bends genre to shape startling narratives that map the realities of women's lives and the violence visited upon their bodies."
Catapult: Stories by Emily Fridlund (Sarabande Books, Oct. 10)
Cannot wait to read this! "Selected by Ben Marcus as winner of the Mary McCarthy Prize in Short Fiction, Catapult follows Emily Fridlund's acclaimed debut novel History of Wolves. Sometimes calculating, at other times bewildered, Catapult's characters orbit around each other, enacting a deeply human tragicomedy of wit, misunderstanding, and loss."

The World Goes On by László Krasznahorkai (Author), George Szirtes (Translator), Ottilie Mulzet (Translator), John Batki (Translator) (New Directions, Nov. 15)
"As László Krasznahoraki himself explains: "Each text is about drawing our attention away from this world, speeding our body toward annihilation, and immersing ourselves in a current of thought or a narrative…" "The excitement of his writing," Adam Thirwell proclaimed in the New York Review of Books, "is that he has come up with this own original forms―there is nothing else like it in contemporary literature.""
Find even more short story recommendations here.