I've recently come to the realization that my life goal is to live each day like a woman who could be played by Maggie Smith in a movie.
Which other actress has such a storied history of embodying bold, powerful women? I mean, before she was the Dowager Countess of elegant badassery, she was Professor Minerva effing McGonagall.
Even better: many of this formidable lady's best big screen roles have been bookish. Let's take a look at some of the most fabulous.
(I know it's cheating to bring up Downton Abbey because even though the TV series has prompted books to be written, it's not based on a book. But what was I supposed to do, not mention it at all? I'm only human.)
Lady Blueberry, Gnomeo & Juliet, 2011.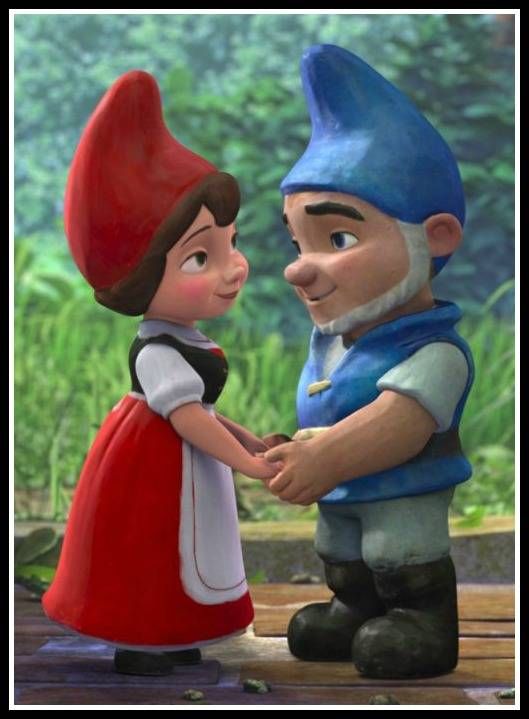 If you haven't seen this movie then you're seriously missing out. It's exactly what it sounds like: a garden gnome version of Romeo and Juliet. Its tagline is "An epic tale on a tiny scale." Maggie Smith lends her voice to Lady Blueberry, the gnome equivalent of Lady Montague.
How can you not love that an actress as legendary as Dame Maggie heard the word "garden gnome adaptation of Shakespeare" and agreed to play ball?
Professor Minerva McGonagall, Harry Potter series, 2001-2011.
Head of Gryffindor House, Deputy Headmistress, Professor of Transfiguration, Quidditch Talent Scout, Creator of Giant Chess Sets, Occasional Cat, Defender of Hogwarts…need I go on?
The glory of Minerva McGonagall, to me, is her incredible blend of loyalty, power, and absolute, iron-clad determination. She may give you detention if you're out of bed at midnight telling stories about dragons, but she will absolutely have your back if a bumbling Minister of Magic tries to slander you.
Say what you will about the Harry Potter movies, but they did right by McGonagall, and I give Maggie Smith a huge amount of credit for that.
Caro Eliza Bennett in Divine Secrets of the Ya-Ya Sisterhood, 2002.
Could this movie have been better? Perhaps. Do I love it with every fiber of my being anyway? Yes. I can't wait to be a little old lady who gets up to hijinks with my little old lady friends.
Mrs. Medlock, The Secret Garden, 1993.
If you are a lady my age, you can also probably picture the VHS cover of this movie (and The Little Princess.) Mrs. Medlock is another in the long list of the great Maggie Smith's history of playing seemingly strict older ladies with hearts of gold.
Wendy Moira Angela Darling, Hook, 1991.
Maggie Smith's role in Hook – as a grandmotherly edition of the original story's Wendy – was small but significant. I actually teared up a little reading the IMDb synopsis just now. Hook is going to the top of my Netflix queue, stat.
I would like to take a moment to note that Dame Maggie has officially been appearing in movies as everyone's dream grandmother for more than twenty years. This is amazing.
Charlotte Bartlett, A Room with a View, 1985.
This is one of the most critically acclaimed of Maggie Smith's bookish movie repertoire. The movie won three Academy Awards and nabbed a BAFTA and a Golden Globe for Dame Maggie. Its excellence is unsurprising when you look down the rest of the cast list, which features Judi Dench, Helena Bonham Carter, and Daniel Day-Lewis.
Jean Brodie, The Prime of Miss Jean Brodie, 1969.
This movie – which won Maggie Smith her first Academy Award – was a movie adaptation of Muriel Spark's novel of the same title. I watched this movie on a flight to England, and I fell asleep in the middle. I can, however, tell you that it has excellent costumes and that the way that Maggie Smith says "in my prime" is amazing.
All of the Shakespearean characters.
Maggie Smith has been Desdemona in Othello (1965), Beatrice in Much Ado About Nothing (1967), and The Duchess of York in Richard III (1995). I haven't seen these movies, but I am so confident that she was amazing in them that I am listing them here. Way to go, Maggie.
Bonus list: Maggie Smith also acted in these book-inspired movies:
Nowhere to Go (1958), The Pumpkin Eater (1964), Young Cassidy (1965), The Honey Pot (1967), Travels with my Aunt (1972), Death on the Nile (1978), Quartet (1981), The Lonely Passion of Judith Hearne (1987), The First Wives Club (1996), Washington Square (1997), The Last September (1999), All the King's Men (1999), David Copperfield (1999), My House in Umbria (2003), Ladies in Lavender (2004), Becoming Jane (2007), From Time to Time (2009), The Best Exotic Marigold Hotel (2011),
What bookish role would you love to see Dame Maggie Smith take on next?
Save