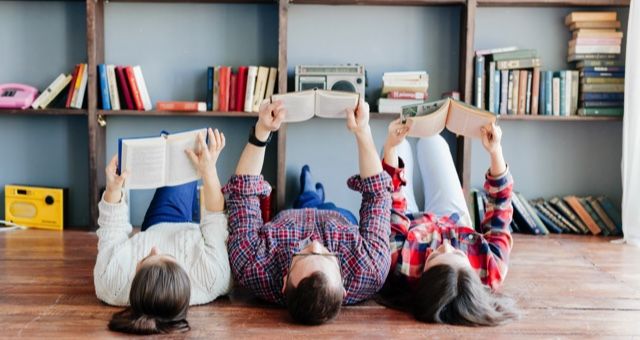 Fiction
15 Book Club Questions for LITTLE FIRES EVERYWHERE
This content contains affiliate links. When you buy through these links, we may earn an affiliate commission.
Looking for Little Fires Everywhere book club questions for your next discussion? We've got you covered.
Why is Little Fires Everywhere a great book club book?
To those out on their own paths, setting little fires
This is the book dedication in Celeste Ng's second novel, Little Fires Everywhere—a New York Times bestseller and the source material that inspired Reese Witherspoon to produce a TV series of the same name (slated to be released in 2020).
When you read a dedication like that, you know you're about to dig into a story, simmering with provocative themes and big questions that will keep your book club thinking and talking for hours.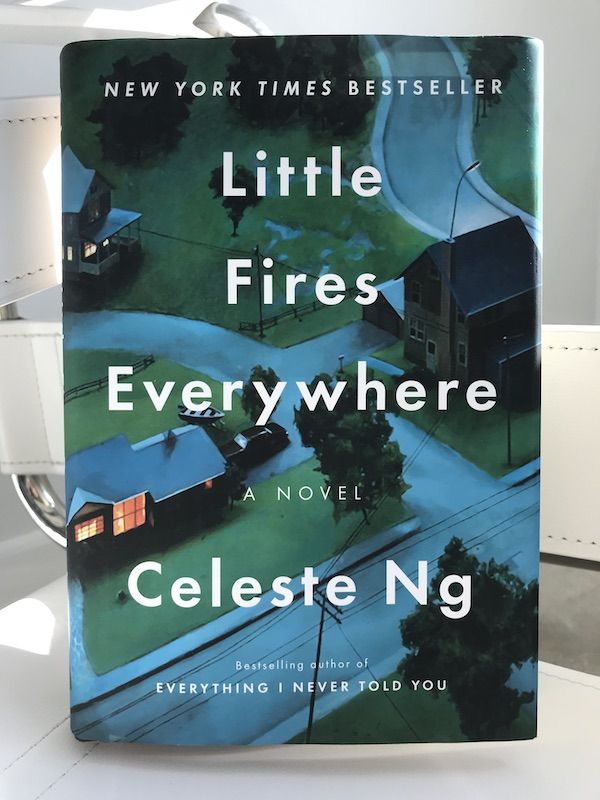 Themes in Little Fires Everywhere
Before jumping into Little Fires Everywhere book club questions, let's talk about some of the book's themes. Note that this post may contain spoilers.
At the center of this story are two families: the affluent Richardsons and their tenants, the Warrens, who rent the second floor of a duplex across town. Both families' lives—and their peaceful suburban community—are upended when friends of the Richardsons become embroiled in a controversial custody battle over an adopted Chinese American baby.
Of course, the theme in this novel that can't be ignored is: How do you decide who makes a better parent to a child? In the case of this particular baby, both racial politics and socio-economic factors come into play. But woven into the overarching adoption narrative are multiple storylines with complex layers of symbolism. Little Fires Everywhere is a story about mothers—their relationships with their children and the choices they make to balance motherhood with the rest of their lives. It's also a story about the burden of secrets, the search for identity, and the complications that can come with living in a carefully planned suburban community.
Little Fires Everywhere Book Club Questions
You could say that this story begins with the ending. Within the first paragraph, we learn that a house has burned down and that the town is divided over the identity of a child. Why do you think Celeste Ng structured the opening this way? How do you think it affects your journey through the story?
Izzy Richardson is the character who literally sets little fires everywhere. What are some of the symbolic little fires being set in the book? What other meanings do fire and burning take on in the book?
The two mothers at the heart of the story, Elena and Mia, take on motherhood in very different ways, from the ways they plan for it to the choices they make as working mothers. How do you think this contributes to their feelings about the adoption controversy?
For much of the story, Elena's daughter, Izzy—and at times, Lexie—feels more comfortable at Mia's house. On the other hand, Pearl, Mia's daughter, feels more comfortable at the Richardsons' house. Which is more surprising to you? How do the mother-daughter dynamics play a role in the girls' feelings?
Elena has spent her life trying to reconcile her desire to fight injustices and her respect for order and rules. She's come to believe that "the elite have a responsibility to share their well-being with those less fortunate" and considers herself to be generous and open-minded. Do you agree?
Do you agree with the way Mia chose to handle her pregnancy with Pearl? What do you think of her decision to keep the details of the pregnancy from Pearl?
Once the custody battle begins, if you consider racial and socio-economic factors, it's easy to understand why some of the characters choose to support the McCulloughs and why others support Bebe Chow. There are, however, exceptions, including Izzy and the differing perspectives of John and Deborah, the parents of Lexie's boyfriend. What other factors do you think influence the characters' positions on the controversy?
Over the course of the custody case, both Lexie and her father waver in their stances. As you learned more about the characters, did your personal opinion evolve? Why and how?
In the TV series, the character of Mia will be portrayed by Kerry Washington, a woman of color. How do you think this will or won't affect the story?
During Brown v. Board of Education and the Little Rock Nine, Shaker Heights residents believed that they were "smarter, wider, more thoughtful and forethoughtful" than the "storm of slurs and spit" they saw on TV. Residents came together to firmly encourage integration in an effort to create a world as close to perfection as possible. In contrast, the custody case tore the town apart. Why do you think this is?
Why do you think Ng chose to set this novel in a suburb and planned community? Is the concept of a planned community working in this situation? How does setting affect the characters' decisions and how different do you think the story would be if it were set in a more urban environment?
Little Fires Everywhere takes place in the 1990s. Do you think the story would play out differently now? How?
Do you think Mia made the right decision to leave with Pearl at the end?
Do you believe Mia and Elena have changed as mothers by the end of the story? How and why?
What do you imagine happens with Izzy after the novel ends?
So, call the club together, grab a round of drinks, and dive into these Little Fires Everywhere book club questions for a lively discussion that will stay with you for days. If you're looking for more, your club might also enjoy reading and discussing these interviews with the author, Celeste Ng.
Want more? Check out this Celeste Ng interview and this interview.