This content contains affiliate links. When you buy through these links, we may earn an affiliate commission.
I'm lucky to live in one of the most literary small cities on the East Coast. Well, in Massachusetts, anyway. It also happens to be the witchiest, which means the town is full of fantasy nerds. Bonus! While the October month-long Halloween bash, Haunted Happenings, is definitely the town's modern claim to fame, Salem is a literary and cultural destination all year long. In fact, the other eleven months of the year are increasing in popularity as people realize how cool this place is. Here's why.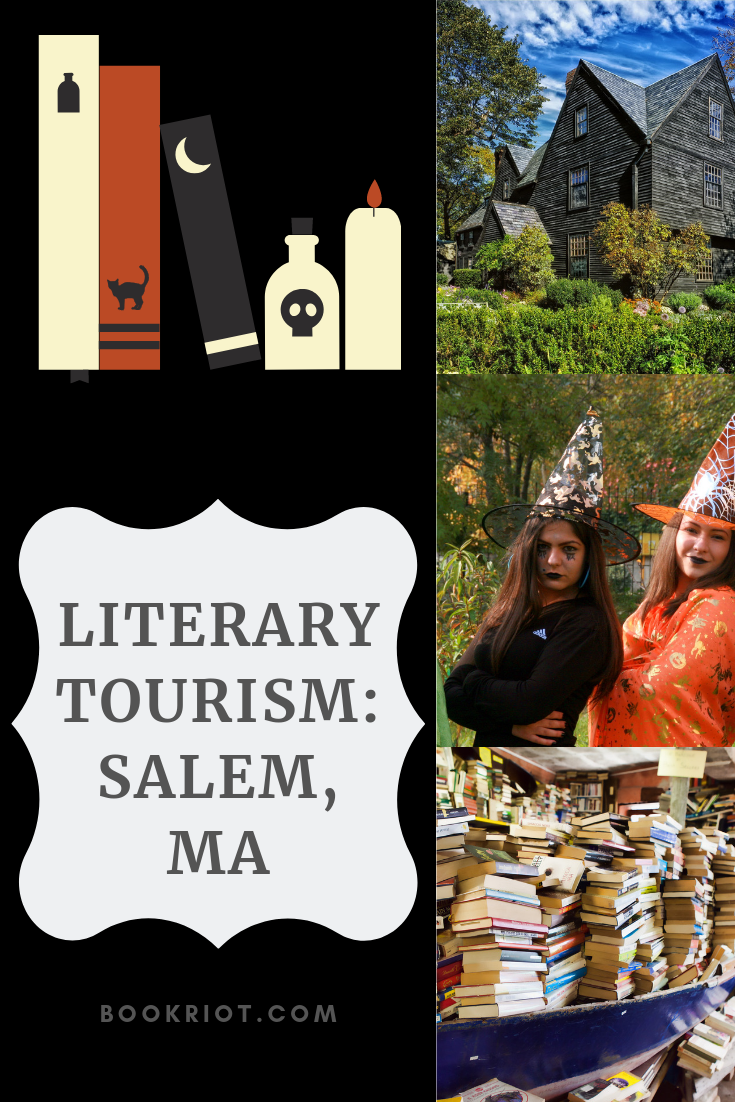 Bookstores
I'd be a fool to try and list all of Salem's booksellers. Nearly every witch store, gift shop, and tourist trap sells serious titles about paganism as well as more sensational literature about ghost stories, witch trials, love spells, pirates, local history, and haunted goings-on. You'll see a lot of repeat titles – Salem may be the only place in the world where you can run to one of five different places for a new copy of To Ride A Silver Broomstick. However, you'll also encounter gems at every turn, and even potentially run into some prominent authors. Laurie Cabot, author of Power of the Witch, official "Witch of Salem," still resides in town.
Mainstream bookstores
Wicked Good Books is definitely the town's flagship bookstore. Originally the site of Derby Books, this shop has a long and storied history in the printed word. For as long as anyone I know can remember, Derby Books was owned by one family, first a couple and then their two children, who stacked used and new books in teetering, ten-foot-high piles. Every surface was booked, including the checkout counter. In later years, whichever brother was manning the register would peer out from a small aperture between piles. Derby had its fans, but I wasn't one of them. True, books were rock-bottom cheap and you never knew what you'd find, but the store's condition only worsened as the years passed. In 2014, it closed.
Then, a miracle: a local devotee bought the place and re-opened as Wicked Good Books. Its lead line is that Salem should ALWAYS have a bookstore. Rock on! Now displaying a mixture of new and used titles in a more traditional manner, this little shop is a charming addition to the Essex Street walking way.
Witch and New Age Books
Of the Wiccan and New Age stores in town, a few stand out as good providers of books. Crow Haven Corner, which arguably sparked a local Pagan renaissance when it opened in 1971, stocks a couple of big bays full of material for the aspiring practitioner. If you're into drama, then know that the current owner of Crow Haven went to court for physically attacking the owners of rival witch shop New England Magic in 2012. New England Magic also sells a perfectly good selection of beginner witch books, in case you'd rather vote with your dollars.
Across the street, Artemesia Botanicals sells not just bulk herbs, spices, and teas, but books for witches who lean toward nature worship in their practice. Pyramid Books, which sits across from the bustling restaurants of Pickering Wharf, has a mix of New Age and metaphysical books, as well as some of the best tchotchkes in a town full to the gills with tchotchkes.
Comic Book Shops
Oh my God. I just realized that I almost forgot to mention the two comic book shops! Harrison's has a better selection, and it used to be my go-to, but some unsavory sexist nonsense went down there in 2014 and I no longer give them my business. Silver Moon Comics, located in the dilapidated but worthwhile Witch City Mall, is a better bet. Despite their smaller selection, they have a lovely array of Funkos to go with your varoius issues.
Libraries
During the 19th century, Salem was still a super important port and kind of a bigger deal in trade than Boston. (Locals still mutter that if the harbor were deeper, Salem would eventually have been as important as New York City.) As a muckety-muck port, it was also moneyed and became a prominent cultural spot. The town briefly had more libraries than Boston.
That's not still the case, but there are still plenty of interesting book lenders active in Salem. It's best to start with the Salem Athenaeum and the Salem Public Library, which are situated directly across Essex street from one another.
The Salem Athenaeum
The Salem Athenaeum can trace its roots back before the Revolutionary War, when a group of wealthy merchants decided to upgrade their fancy social club to a fancy library social club. Eventually, that group merged with a philosophical library maintained by some well-to-do sea captains, and an Athenaeum was born. Nathaniel Hawthorne and Nathaniel Bowditch were both members.
Although you need a paid membership to check books out at the Atheneum, anyone can come in and use the space for free at any open time. Hours are short and sometimes seasonal – checking the website is your best bet. There are also charming exhibits and events year-round, some of which are open to the public. The building itself, which is so small that its attempt at imposing collonades can only be considered adorable, is well worth seeing.
the Salem Public Library
The Salem Public Library is a far more modern structure. You can easily compare the two side by side, since the SPL stands right across Essex Street from the Atheneum. This newer building is brick and severely square, almost a saltbox in structure. There are four floors, one of which is restricted to kids and families. There's a small but well-stocked history and genealogy room on the top floor, as well as a handful of computers accessible with a guest pass. During peak tourist season, SPL is a good place to regroup and take a breather. For you Massachusetts library nerds, the SPL is part of the Noble network.
Research Libraries
As, coincidentally, is Salem State University's collection, the Frederick E. Berry Library. As you might expect from a college in a town with a long history, the university's archives are well stocked and the fact that it's publically accessible makes it a popular place to do research.
Free Books!
Finally, I'd be remiss if I didn't point out Salem's Little Free Libraries and book exchanges. The most popular LFL is located right in the center of town at the corner of Washington and Essex on a little patch of grass called Lappin Square. You can't miss it. Really. There's a statue of Samantha from the TV show Bewitched riding a broom right in front of the itty bitty book box. Another book box, this one decorated with a red dragon, sits in a residential neighborhood near Bridge Street.
There's also a well-kept secret book exchange inside the popular vegan-friendly eatery Jodi Bee Bakes, so if you'd rather read over a grilled tempeh sandwich, that's a good place to stop. For those in the know, this bakery is also the best spot to use the bathroom in the off season. (Don't bother with Witch City Mall's facilities if you don't have to. They're always dreadful.) As an added perk, Jodi Bee's is right across the hall from Silver Moon Comics.
Finally, there's an event whose gloriousness defies categorization. I'm putting it here because it's totally free. About twice a year, SalemRecycles holds a book swap where you can just come and get used books. Just pick 'em out and take 'em home! You can also drop off books that you no longer want. Follow their page for exact date info.
Literary Events
The Salem Literary Festival
Initially, the Salem Literary Festival was a project of Cornerstone Books. Cornerstone is now defunct and that is sad. However, its spirit lives on. The Athenaeum now supports the lit fest, which grows by the year.
If you're more into festivals and workshops, then you'll want to stop by Salem in September or November. Not October. No way. The Lit Fest is serious and not to be confused or associated with Haunted Happenings, the annual citywide Halloween blowout. Check out the Lit Fest website for the exact dates of upcoming events. Keep in mind that it's still young and has jumped around the calendar a bit in past years.
Despite its relative youth, the Lit Fest is well worth visiting and a great hidden gem for book lovers. Most of the events are free and take place in grand old churches and historic spaces. Sometimes, you can even get cool stickers or pins. The headliners are usually names you've heard – Madeline Miller of Circe fame spoke in 2018 – backed up by quality authors you'll be glad to meet.
Random Literary Encounters
Like any college town, Salem is rife with aspiring writers. You can sometimes run into these folks tabling at festivals, artists' markets, the annual Pride parade, or even the Essex Street Halloween fair. Once I even got a bunch of free self-published horror stories in a goodie bag at a goth craft market. Literature sometimes takes you by surprise in this town, partly because it's baked right into the bricks, partly because Salem is random like that. If you want to encounter it, just show up at the Salem Flea, the Freaks Market, the Holiday Market, or the Art Fair. Odds are decent you'll find something interesting.
Bookish Locations
Witch Trials As Far As The Eye Can See
This town is all about the witch trials of 1692. Obviously, there are a LOT of nonfiction books about that the Salem Witch Trials, and the town really does correspond to the historical narrative. Walk down Essex Street, past the psychics and the vampire fang makers and the Bewitched statue, and you're walking in the footsteps of the nineteen doomed people who were marched that way to their hanging deaths. (Fun fact: developers now get to deal with the fact that some of the nicest real estate in town is in a spot still known locally as Gallows Hill.)
We've done a post on Witch Trials books before, and you should definitely check that out before you leave for a Salem vacation. Six Women of Salem is a standout, and A Storm of Witchcraft is also pretty good. These books are well paired with a walking tour, of which the city has many. Guides will gladly – even gleefully – relate the witchy histories of the town's various graveyards, houses, and memorials, and you'll come to recognize the history beneath the hip modern makeover. For example, the old dungeon where Salemites of yore incarcerated their witches has since been converted to condos. For a little while, it even housed an astoundingly tasteless restaurant with a prison theme. (I went there with my mother once because I was unaware of the shtick. The food tasted like cringe! That location is now an arcade bar.)
Finding ghosts
Then there are the ghosts. So many ghosts! If you're into finding all the haunted places in town, then try picking up a copy of The Ghosts of Salem instead of hiring an expensive psychic. If you're into haunted stuff, then this local classic will send you everywhere you need to go. You can spend all day just zipping around to every supposedly ghost-infested saltbox and snapping spirit pics.
Fictional stories, non-fictional setting
Salem is a hotspot for dozens – literally dozens – of witchy books and movies. The Noble Library Network lists a bunch of them, but misses Janet Evanovitch's Lizzie and Deisel series, which starts with Wicked Appetite. Salem's also got a tourist website that hosts its own list of books set in town, which is a little more modern.
Not only is The Lace Reader set in Salem, but it makes really good use of the town as a setting and is very well worth reading during your trip. The Physick Book of Deliverance Dane and The Heretic's Daughter are both fictionalized witch trials books. The star of the bio-drama Carry On, Mr. Bowditch also lived around here, and in reality he was a pretty cool dude. You can still find his seminal navigation book, The American Practical Navigator, at some of the libraries in town.
My good buddy Nate Hawthorne
You are also probably aware that Nathaniel Hawthorne lived and worked in Salem for a critical period early in his professional life. All his old haunts are historic now and you can take wicked cool tours of them. If you weren't aware of this fact, go ahead and squee for a few minutes. I'll wait.
Done? Great! Your premier Hawthorne spot is the House of the Seven Gables. Yes, really. This is the mansion that inspired Hawthorne to write the book The House Of The Seven Gables. On your way, you'll pass his old workplace, the custom house where he literally wore a track in the floor as he paced, bored out of his skull, waiting for a ship to dock. According to legend, he conceived of The Scarlet Letter there while trying not to lose his mind. Without that crappy job, we might not have Hester Pryne. Seven Gables also owns Hawthorne's birthplace and several other literarily connected local spots. It is a must-see located next to the enchanting Pickering Wharf area and if nothing else will get you off of Essex Street.
[Ed.'s Note: Phillips Research Library was removed from this listing as it is no longer located in Salem.]