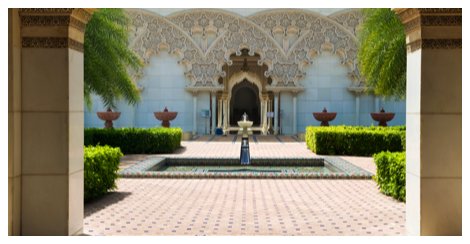 This content contains affiliate links. When you buy through these links, we may earn an affiliate commission.
I recently spent two weeks in Morocco visiting Casablanca, Marrakech, Chefchaouen, Essaouira, Tangier, Asilah, Ifrane, and Fes, my fiance's hometown. In that two weeks I only spotted one person reading a book in public — and he was reading a French translation of a John Grisham novel. That doesn't mean there are no literary offerings in Morocco, however. The country is filled with libraries and book shops and has given the world plenty of great stories, whether from its own people or by inspiring those who travel there.
Libraries
My colleague Kareem has written quite a bit about Khizanat al Qarawiyyin in Fes, aka the oldest library in the world. It was founded by a woman and is being renovated by a woman. This library was at the very top of my "to do" list in Morocco, but I was heartbroken (I shed actual tears in a narrow souk alley and I'm not ashamed to admit that) to discover it is still not open to the public. A nice man who spoke absolutely no English did take a little pity on me and let us into the courtyard, where I could just barely spy some of the bookshelves through the ornate windows. We were told the library would be open again "in a couple more months," but since that's also what Kareem was told on his visit several months ago, make sure you check before you make a special trip for this one.
The Erfoud Library was opened in April 2015 by the Morocco Library Project. It serves motivated students from under-priveliged families thanks to contributions from donors and volunteers. They have an after-school program where students can learn English, but they also offer Kindles, games, puzzles, and National Geographics in addition to books for all ages and from many genres.
Bookstores
While there are bookshops around the country, most of the books I saw for sale were on crooked bookshelves in the narrow alleys of the medinas, rolled or carried inside in twilight when the small multi-purpose shops closed for the night. As they do everywhere in the country, cats curl up in front of the shelves. To the left is a picture of one such shop in Essaouira, Morocco's laid back surfer town, featuring all kinds of books including Gone Girl and Jodi Picoult.
La Librairie des Colonnes in Tangier is one of the most well-known bookstores in Morocco. It sells books in Arabic, French, Spanish, and English (both British and American). Founded in 1949, it was once frequented by the likes of Samuel Becket and William Burroughs, but is now visited often by authors including Tahar Ben Jelloun, Bernard-Henri Lévy, and Tahir Shah. Morocco doesn't have the book distribution system of the US or Canada, so the owners have done a lot of work to expand their selections, especially those written in Arabic.
The aptly named English Book Shop in Rabat opened in 1985. They carry a lot of contemporary American and British favorites like Lord of the Rings and John Green. The walls are stacked high with everything from popular fiction to academic nonfiction to feminist tomes.
Librairie Chatr is one of the oldest and biggest bookstores in Marrakesh. It opened in 1965 and carries everything from novels to technical books to coffee table books in French and Arabic, and a smaller English-language collection.
Cultural Centers
The American Language Center and the Arabic Language Institute in Fez teaches English and Arabic (both classical and Moroccan), but it's also so much more. They have an English bookstore, a library, and cultural activities like lectures, cooking classes, field trips, movie screenings, and language immersion experiences. They also put out a student magazine with snippets about life in Morocco.
While the Cafe Clock in Fes may, at first glance, seem like a peaceful vegetarian-friendly multi-level restaurant close to the famous Bab Boujloud gate, it is so much more. The restored 250-year-old house boasts a library and draws visitors from all over the world. They have a weekly storytelling event, host lectures on a wide range of topics, and is a second home to a wealth of musicians. When we paused here to drink a cold Coca-Cola on a hot day, the French girls at the table next to us sang covers of Colbie Caillat songs.
Books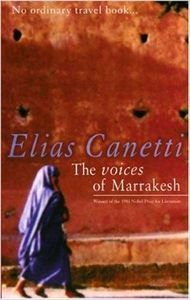 When I first met my now fiance, he figured out pretty quickly how much I love books and reading (most people do; I'm not shy about it). He insisted recommended I read two books: The Voices of Marrakesh by Elias Canetti and Larabi's Ox by Tony Ardizzone. Now that I've been to Morocco, I definitely agree that these two books do a great job of capturing the country's atmosphere, it's rhythm and spirit, from an outsider point of view.
We've written before about Morocco's feminist icon Fatima Mernissi. Another woman of the same name, Fatima Sadiqi is an author and senior professor of Linguistics and Gender Studies at Sidi Mohamed Ben Abdellah University, in Fez. Born in a rural Berber village, she has become another leading voice for Moroccan women.
A Rare Blue Bird Flies With Me by Youssef Fadel is a novel, translated from Arabic, set during Morocco's "Years of Lead," a period during the 1960s through the 1980s remembered for state violence against dissidents and democracy activists. It's about an air force pilot who participates in a 1972 coup against the king and his subsequent imprisonment. Fadel is a novelist, playwright and screenwriter, born in Casablanca, Morocco, who was also imprisoned in the Moulay al-Sheriff prison from 1974 to 1975.
Tahir Shah is an Anglo-Afghan Indian author, journalist and documentary maker who grew in Britain, but now lives in Casablanca. His book, The Caliph's House is about his family's move from London to Casablanca.
Paul Bowles is an American-born author of The Sheltering Sky, about three American travelers in orth Africa after World War II. However, in his 52 years in Tangier, Bowles also worked with five Moroccan writers on English translations: Abdeslam Boulaich, Mohamed Choukri, Larbi Layachi aka Driss ben Hamed Charhadi, author and artist Mohammed Mrabet, and Ahmed Yacoubi.
A House in Fez by Australian photojournalist Suzanna Clarke is about Clarke and her husband's experience with buying and fixing up a riad (a large home with a courtyard) in Fes's medina, the most well-preserved, medieval walled city in the world.
In Morocco is Pulitzer Prize-winning American novelist Edith Wharton's 1920 travel memoir from when she explored the country for a month by military vehicle.
Tahar Ben Jelloun is another author imprisoned during the Years of Lead. He started writing poetry, but made the move to fiction in the 1980s. Inspired by James Joyce and the city of Tangier, he has published many books that have been translated into multiple languages, including The Sand Child and This Blinding Absence of Light.
Mohammed Berrada is a novelist, literary critic, and translator who is one of Morocco's most respected living writers. His book Like a Summer Never to Be Repeated has been translated into English, but I really want to read his experimental short story "Qissat al-Raʾs al-Maqtuʿa" ("The story of the cut-off head"), which surreally conveys the lack of free speech in Morocco through the adventures of a decapitated head.
And of course, if you want more practical tourist information, check out Lonely Planet's Marrakech Encounter and Morocco, Fodor's Morocco, The Rough Guide to Morocco, and DK Eyewitness Travel Guide: Morocco.
If you can't make it to Morocco, experience the cuisine with one of the many cookbooks available: Tagines and Couscous, Grandma Elmaleh's Moroccan Cookbook, Mourad: New Moroccan, Modern Moroccan.