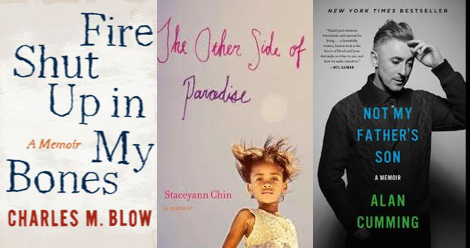 Audiobooks
15 Audiobook Memoirs Written (and Read) by LGBTQ Authors
This content contains affiliate links. When you buy through these links, we may earn an affiliate commission.
I wasn't a big fan of memoirs until I discovered audiobooks. Now I can't get enough of them. In fact, I rarely read memoirs in print anymore. I've come to crave that extra dimension of hearing a person tell their own story. A good audiobook narrator adds emotional depth to the work, and when it is the author narrating, it can be especially poignant. Here are fifteen LGBTQ audiobook memoirs that I've loved, all narrated by the author.
These LGBTQ audiobook memoirs cover a lot of territory. Some of them have to do with being queer, and some of them don't. They are about coming out and transitioning, about parenting and dealing with illness, about grief. Some of them are straight-up memoir, and some of them blend memoir with other forms and genres: true crime, poetry, history and social justice, politics and activism. They are at turns heartbreaking, funny, devastating, and insightful. These authors represent a wide range of LGBTQ experiences—the one thing they have in common is that they are all truly exceptional narrators of their own stories.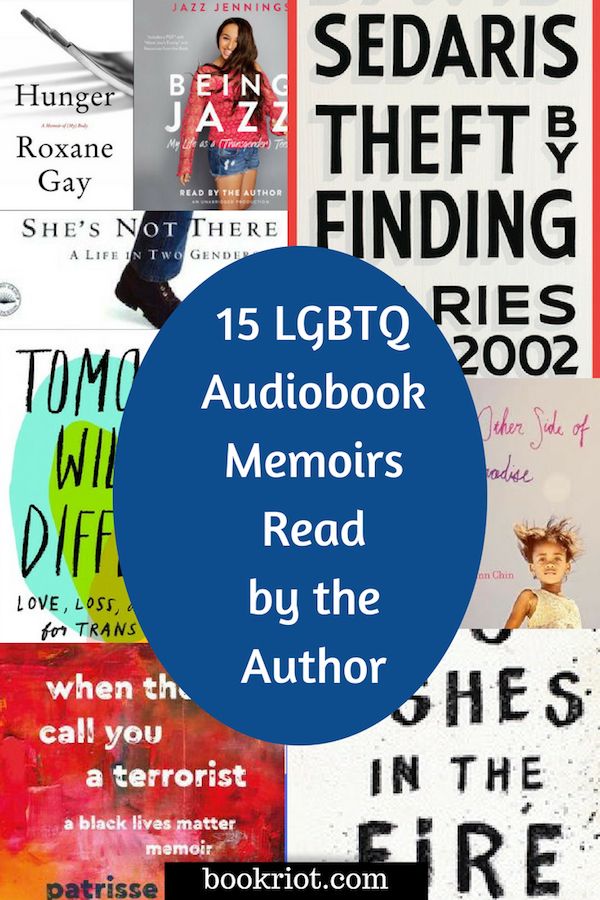 Blow's powerful coming-of-age memoir is about growing up poor and black in a small Louisiana town, surviving sexual abuse, and his journey away from home to college, where he begins to explore his sexuality and wrestle with his past.
In this funny, honest, and moving memoir, Jennifer Finney Boylan writes about her transition experience, while also beautifully exploring so many human truths about sex, love, identity, and family.
In this memoir, poet and performance artist Staceyann Chin writes about growing up in Jamaica, coming out as a lesbian, and her journey to finding her voice as an activist and poet. Born unexpectedly to a mother who did not want her and a father nowhere in sight, she spent much of her childhood bouncing from home to home. She tells her story with humor, warmth, and the raw honesty and keen observation of a poet.
This book is so much more than an account of the founding of Black Lives Matter. Khan-Cullors writes beautifully and courageously about her childhood and young adulthood, and about the ways that mass incarceration and police brutality have deeply hurt her family. It's hard to read at times, as Khan-Cullors describes so many atrocities committed against black people in this country. But it's also full of fierce queer love. This is a book that centers black women and black queerness, and though much of it is painful, it is ultimately a celebration of reliance and resistance.
In this funny, heartwarming and heartbreaking memoir, Cumming recounts his experience uncovering long-held and unexpected family secrets during the filming of a reality TV show about genealogy. He seamlessly weaves together childhood memories about growing up in Scotland with an abusive father and snippets of his present-day life as a celebrated film and TV actor. Cumming is so open, so inviting, so funny and insightful that listening to him tell this story it's hard not to fall in love with him a little bit.
Hunger by Roxane Gay
Roxane Gay's memoir about living with her "unruly body" (as she puts it) is perhaps the most painful, vulnerable, and astoundingly honest books I have ever read. It's about sexual violence, trauma, being fat, and living in a world that despises bodies that refuse to conform to societal expectations. Listening to her read it was almost unbearable at times, but always, always worth it.
Tackling a diverse range of subjects—race, money language, family, queerness—Hernández's far-ranging memoir about growing up a bisexual Cuban-Colombian American woman is told in a series of poignant and powerful thematically-related sections. She writes about the importance of honoring the past while also making space for change in her own life.
Jazz Jennings transitioned in childhood, with the support of her family, and became a national celebrity and vocal advocate for trans rights after she was interviewed by Barbara Walters. In her memoir (written when she was fifteen), she tells her own story with heart, warmth and the exuberance of a young teenage girl.
Marzano-Lesnevich's breathtaking book, part memoir and part true crime, is unlike any other work of nonfiction I've ever read. She expertly weaves together the story of her own childhood trauma with the story of Ricky Langley, a young man who murdered a six-year-old boy. The result is a powerful meditation on trauma, truth, narrative, and, ultimately, the astounding power of stories. This book is graphic and upsetting; it goes into details about child murder, pedophilia, and sexual abuse. If you can stand to read about these horrors, I cannot recommend it highly enough.
In this memoir, Sarah McBride, national activist and press secretary for the Human Rights Campaign, recounts her journey from young college student struggling with her gender identity to national transgender activist. Against the backdrop of the national movement for transgender rights, she tells her own story of self-discovery, as well as the heartbreaking story of the death of her partner shortly after they were married.
Janet Mock's moving memoir is about growing up black and poor and trans in Hawaii, about the deep power of trans sisterhood, about family and identity and her journey into herself. She writes with such honesty and also with a keen self-awareness that made this book a joy to read. She patiently delves into a lot of trans issues, making this a great book for readers interested in learning more transgender experiences. But this memoir goes much deeper than Trans 101 (which is still important), and is ultimately a book about identity, family, and the importances of what Mock calls our "places of becoming."
In this fierce and beautiful memoir, Moore recounts his childhood growing up black and gay in Camden, New Jersey, coming of age as a gay man and exploring his sexuality during the height of the AIDS epidemic, and ultimately finding his calling, as well as a home, as an organizer and activist in the Black Lives Matter movement.
In this short but moving memoir, comedian Tig Notaro brings her brand of dark and honest humor to one of the worst years of her life. Over the span of a few short months, she was hospitalized with a terrible intestinal disease, diagnosed with breast cancer, went through a breakup, and lost her mother. Notaro writes about all this awfulness with humor, generosity, and a gift for reveling in the unexpected.
I've enjoyed all of Sedaris's work, but this book, a selection of entries from over twenty years of his diaries, is by far my favorite. It's full of his characteristic humor, but there's an honest and unpolished openness about it that isn't always present in his essays. These diaries were compulsively readable—I laughed out loud through much of the book, but I was also often struck by a moments of true insight and wisdom. If you haven't yet had the pleasure of listening to Sedaris read his own work, you are in for a rare treat.
In this series of autobiographical poems, Woodson recounts into her childhood in South Carolina in New York, her first awareness of herself a black girl, and her lifelong love of words, stories, and writing. The poems flow together beautifully—at times it is almost dreamlike, but in a good way. Hearing her read it out loud, I could taste her wonder and love of the written word.
What are your favorite LGBTQ audiobook memoirs?