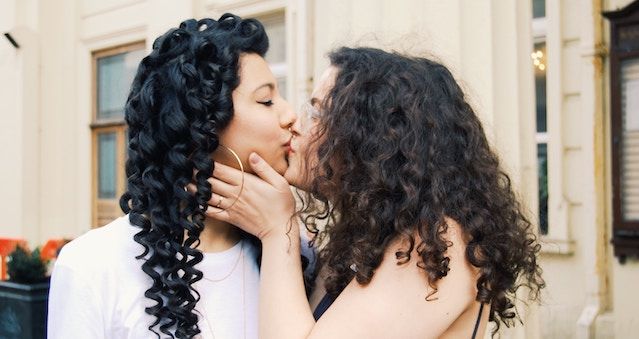 This content contains affiliate links. When you buy through these links, we may earn an affiliate commission.
Author's Note: I've used the phrase "lesbian romance" here to harken back to the 2005 move to keep lesbians out of the Romance Writers of America (RWA). Women Loving Women (WLW) stories are not necessarily lesbian. The spectrum of sexual orientation and identity reflected by "lesbian romances" is not fully accurate, and excludes non-lesbian WLW and F/NB stories, and I want readers to know I realize that.
Romance readers and writers have been navigating a garbage fire of rumors, rash decisions, and what seem to be (at the time of writing this post) a stalemate at the national level with the Romance Writers of America. Others have done a much better job than I can at summarizing the information, so if you'd like to take a moment and get caught up, try these posts:
Our own Jess Pryde wrote up a reaction.
Claire Ryan wrote an exhaustive piece detailing all of it.
The Guardian interviewed the initial complainant.
Nora Roberts Tells Us a Story
What I want to do is focus on Nora Roberts's statement on all of this. Ms. Roberts has not been an RWA member in many years. She details her history with the organization in a post she made on December 29, 2019, and it's this history that I want to engage with for a moment. Nora Roberts writes this of the RWA in 2005, after people in the organization launched a strong effort to define romance as being between one man and one woman.
I received an email from the then president urging me to be quiet, basically, explaining to me–and I am not kidding–I didn't understand that the lesbians would take over RWA. Jeez, those terrifying lesbians!
I'll tell you, I read this and nearly did a spit take. Lesbians would take over? Is that a joke? Queer publishing is predominantly M/M novels. Books that center F/F relationships—or WLW (women loving woman) stories—are fewer and further between in romance.
I was reeling. Is this move from RWA—this stonewalling of an entire group of authors on the basis of their sexual orientation—the reason there are far fewer lesbian romances? Why, for the longest time, Bold Strokes Books seemed to be the only place to find those stories?
Those questions are still to be answered—I just got back from vacation—but I think as ever that the best way to support a lesbian romance uprising, past, present, and future, is to support authors writing stellar WLW books. So on that note, let's get to it.
WLW Stories for the Uprising
One of 2019's most popular romances, this F/F book from Avon tells the story of an astronomer and an embroiderer. Lucy has just lost her lover to a sham marriage, and her only hope for avoiding a similar fate is when she finds correspondence from Catherine St. Day, a widow looking for someone to help translate a French astronomy text. The two undertake the translation together, but bigger things emerge: fighting the (science) patriarchy, and true love. The story is so, so good, and that clinch cover is my happy place.
There are a lot of great Rebekah Weatherspoon titles to choose from, and if you're looking for something that doesn't have vampires, Treasure is a popular suggestion. However! I read Better Off Red this fall and loved it. All you need to know is Vampire Sorority.
Freshman Ginger Carmichael is not interested in sororities, but even she can't help but feel an undeniable draw to the girls of Alpha Beta Omega. So when her roommate begs her to rush, Ginger goes along. What she doesn't expect is a sorority of vampires, their sisters, and an intricate network of loyalty to the vampire sisterhood. Ginger also doesn't bargain for the sorority queen, or their love affair. Sexy, funny, with the suspense of a Buffy episode, this book is so fantastic.
I'm going to scream about this book for months to come. Kiskeya Burgos left the Dominican Republic for a better life and the freedom to be who she is: a lesbian and a pastry chef. But for now, she needs to focus on the pastry part, and she does not need distraction by her adorable, spunky teammate at the Holiday Baking Challenge, fellow Dominicana Sully Morales. But the heat and attraction between them is palpable. They're only together for a week; can they keep their eyes on the prize, or will they give in to their desires? (Look, y'all, it's two hot women, baking, in a holiday baking competition, in Scotland, and there's only one bed.)
Look, it's billed as "spicy super hero romance" [sic]. But in case we need more, here's the deal. Cinnamon Blade is a crime fighter trying to redeem a dark past. Soledad Castillo is a woman in need of rescuing—more than once. And every time Cinnamon Blade rescues her, their chemistry grows stronger and stronger. But romance is hard to nurture in a city constantly threatened by aliens and vampires.
Mercy Alston serves as maid to Eliza Hamilton, and if there's one thing that job has taught her, it's to avoid pesky feelings like love and hope. But when Andromeda Stiel, a dressmaker, shows up for an interview, she throws off Mercy's resolve. Mercy is left wondering: What's better, pain-free living or true love with all its dangers?
And honestly, just go listen to the Hamilton soundtrack after, because you will have that song in your head.
Rachel Bauer is reeling from a breakup when she goes to meet friends and finds herself unexpectedly thrown into a blind date with Griffin Sutton, sexy celebrity chef with a bad reputation. Griffin's never met a woman she couldn't seduce—until she meets Rachel. As the old saying goes, the way to a woman's heart is through her stomach, and Griffin proposes a culinary trip around the world, one Sunday date at a time. This was the book that got me into romance, and I recommend it forever and always.
Tate Grafton has ragged edges and a heart of gold. She's fiercely loyal to the owner of the coffee shop where she works, someone who took her in as a homeless teenager. But the shop is floundering and Tate's life is passing her by. When a beautiful stranger blows through her life, they share an intimate night, and then she disappears. Laura Enfield is beautiful, a shrewd business woman, and the closeted daughter of a Republican political candidate. She was only supposed to be in Portland long enough to shut down a coffee shop her company was buying out. She didn't expect a whirlwind romance with Tate.
As lies begin to unravel and secrets are exposed, both women must decide whether they're ready for something true.
Mrs. Beatrice Martin is a 73-year-old widow and likes her life as it is. She's spiteful, she doesn't cater to people's feelings, and she prefers to ignore her Terrible Nephew, sparing him none of her consideration. But when Miss Violetta Beauchamps—a 69 year-old firecracker—shows up, Mrs. Martin's world is upended. Mrs. Martin's Terrible Nephew is living in Miss Violetta's rooming house, and she wants him gone.
Mrs. Martin doesn't see how this has anything to do with her. That is, until she finds herself wanting to make Miss Violetta smile. If she can terrorize her Terrible Nephew and win Miss Violetta's hand at the same time? That seems a worthwhile adventure.
Icy British A-lister Elizabeth Thronton is the star of a medical drama. She hates the medical drama. And now she's been rumored to be in a thing with her perky costar, Summer, because Summer is a klutz. If she could just get a film role, Elizabeth is sure she could turn her career around. One catch: the French director looking to cast her wants to meet her "girlfriend," Summer. Elizabeth must convince Summer to play along after being 100% terrible to her. Summer should say no. Except Summer is maybe a little in love with Elizabeth Thornton.
This modern retelling of Emma, set in Hawaii, is the story of Theodosia Sullivan, a sunny, striking woman who sees little need for marriage. But her unwillingness to tie the knot doesn't stop her from matchmaking every single person she comes across, locals and tourists alike. One person who does not want Theo's services is local baker Kini 'Opunui, owner of Queen's Sweet Shop since her parents passed away. Kini warns Theo about meddling and matchmaking, but Theo doesn't listen, and in the end, she finds she may be too good at her job: Kini could end up with someone else, when Theo is in love with her.
Y'all. Underwater lesbian pirates.
Okay, more details: Rose is a born navigator, the ability bred right into her bones, which is why she earns a coveted place among the Archipelago Fleet elite. She is sent on a secret mission in pirate territory, aboard the ship Man O' War, with a crew who has no interest in making things easy for her. Alliances are dangerous, even more so with the wrong people. And the captain, Miranda, is bloodthirsty and irresistible. Rose will have to rely on her intuition—her navigation skills—but the waters aren't the most dangerous thing she must navigate. (Methinks the human heart will be her greatest challenge.)
---
Women-loving-women stories are everywhere, and even more great ones are coming out this year. For more recommendations, check out The Lesbian Review and WOC in Romance, where you can search specifically for lesbian romances written by women of color.
For more from Book Riot about F/F stories (though not necessarily romance), check out Lesbian Romance Recommendations; More Than 40 Sapphic Titles to Add to Your TBR; and 8 Amazing Historical Fiction Books with Lesbian and Bisexual Women.