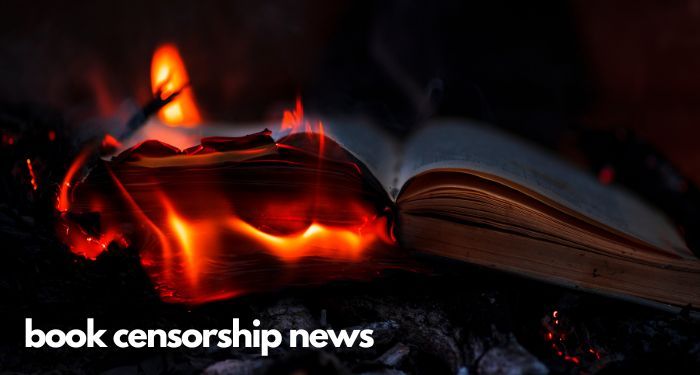 Censorship
How To Own A News Cycle: Book Censorship News, July 21, 2023
One of the checks I make in doing the weekly censorship news research is ensuring that the news comes from a reliable source. This is out of accuracy, of course, as much as it is also about media literacy. As it stands, right-wing "activists" are doing a bang up job of creating a fake controversy, pushing it through the media, keeping their names in the mouths of those outlets, then reaping (fake) benefits from the outrage cycle. Case in point: a news story that popped up earlier this month about the National Education Association and the books they were recommending their teacher members to read over the summer.
Here's a Google news search for "Gender Queer Book," time limited to the last month.
The top four stories all use similar headlines, noting that the "largest teachers union" in the U.S. has recommended Gender Queer for summer reading to its members. There is a Daily Mail story and a New York Post story, both of which send red flags to me, as those aren't going to be reliable sources for sharing news (which is not to say they cannot be leads for news, but they aren't news itself). But two sources I am less familiar with pop up: The Maine Wire, whose "About" page doesn't readily give away its political leanings, and then KATV news, which is an ABC affiliate in Little Rock, Arkansas.
Whenever I come across a search that shows a similar story pop up several times and some of those sources could be credible — like the KATV one* — I'll then look into the keywords from that story more closely to see what's going on. Let's pop in some of those and see what the true story is: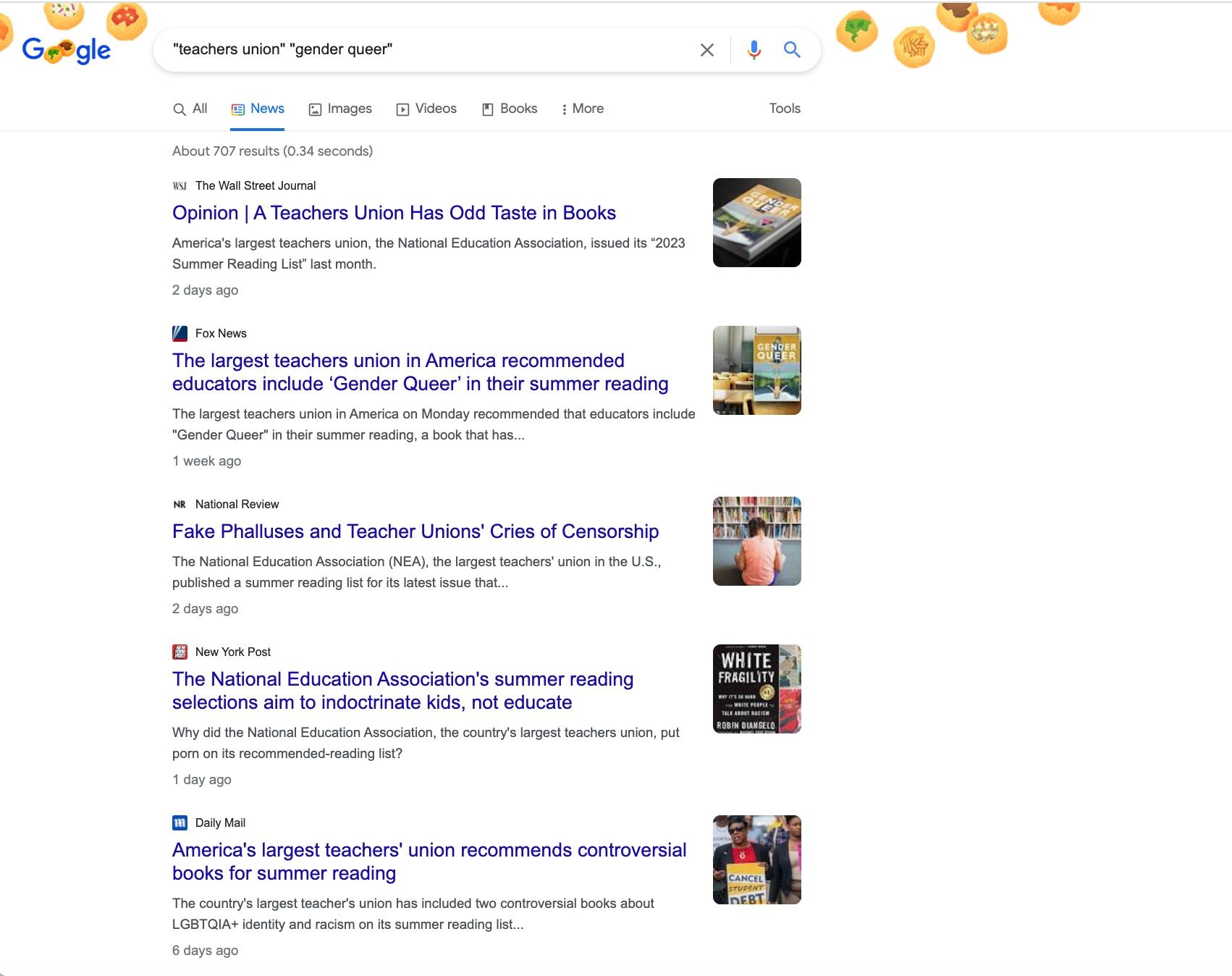 Interesting results list, huh? Wall Street Journal, a conservative outlet, is the first hit and, despite being right-leaning, it doesn't play into the same rhetoric as the following results do. We get Fox News, National Review, and then down the page, some more "reputable" outlets: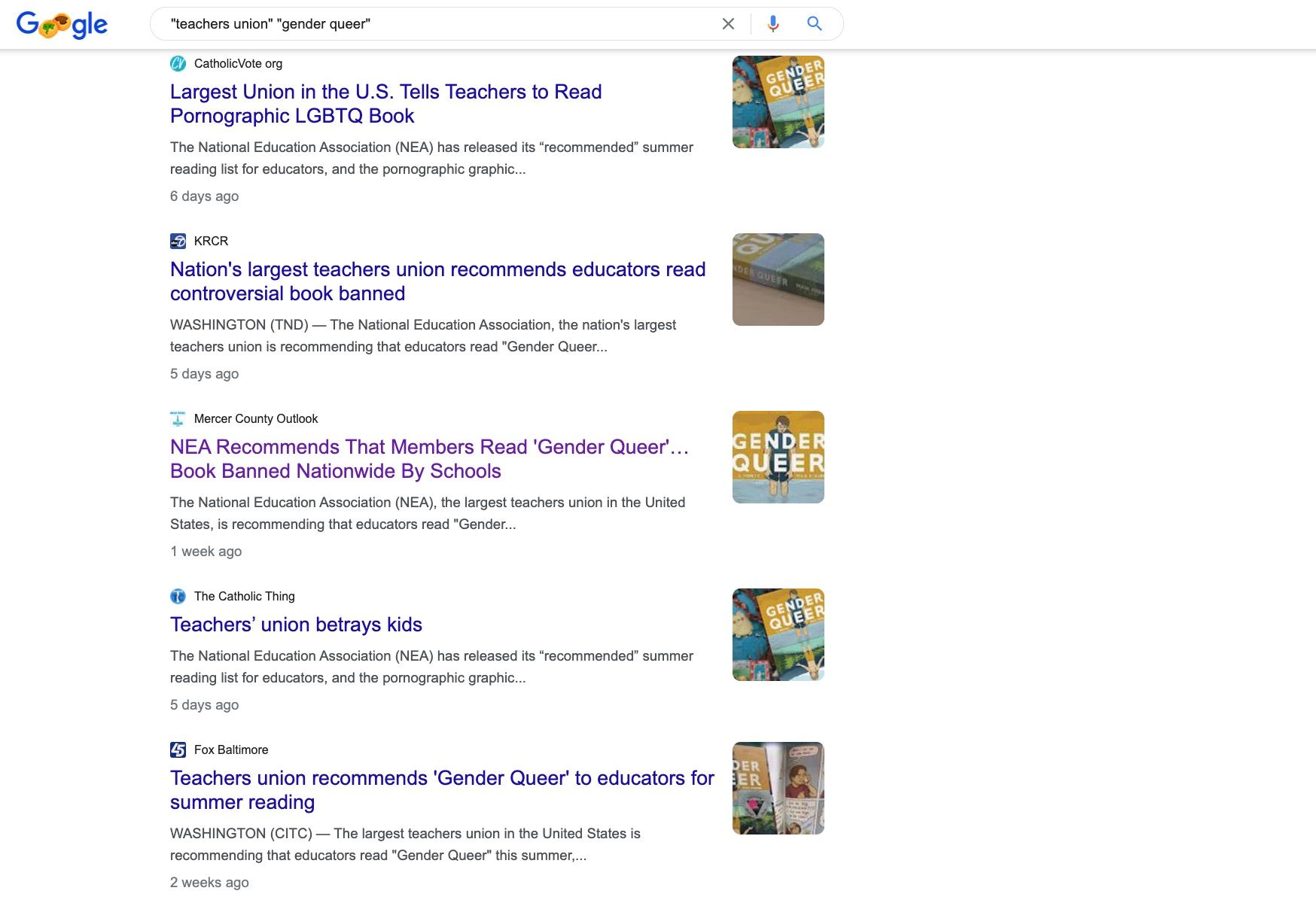 CatholicVote, who runs the bigoted book censorship campaign "Hide the Pride," follows, then KRCR, which is Redding, California's ABC affiliate. KRCR's piece isn't original reporting though. It's republished from The National Desk, a Sinclair product known for its conservative bent, despite claiming to be neutral. This is precisely what the KATV source in the first search is, too — not original reporting, but a story pushed from elsewhere to their own site. Then we get a nice headline from a source called The Catholic Thing that goes in a slightly different direction; no longer is this about what the teachers union is recommending for teachers but how that union is letting down the kids.
That reframing tugs at the heartstrings, doesn't it? (I'm going to redirect you now to why the Shiny Happy People docuseries is a must-watch).
The final result on my first page is from a Fox affiliate.
Note that no where in these results is there a source that is not overtly or covertly biased in presentation. This is the big red flag: this story has not been picked up in other outlets but instead shared across those with similar slants and missions.
So what's the truth of the story? As with most biased reporting, some of what is said is true, but the bulk of it is a convenient spin.
The National Education Association (NEA) — the national teacher's union above — does indeed recommend Gender Queer for its teachers' summer reading.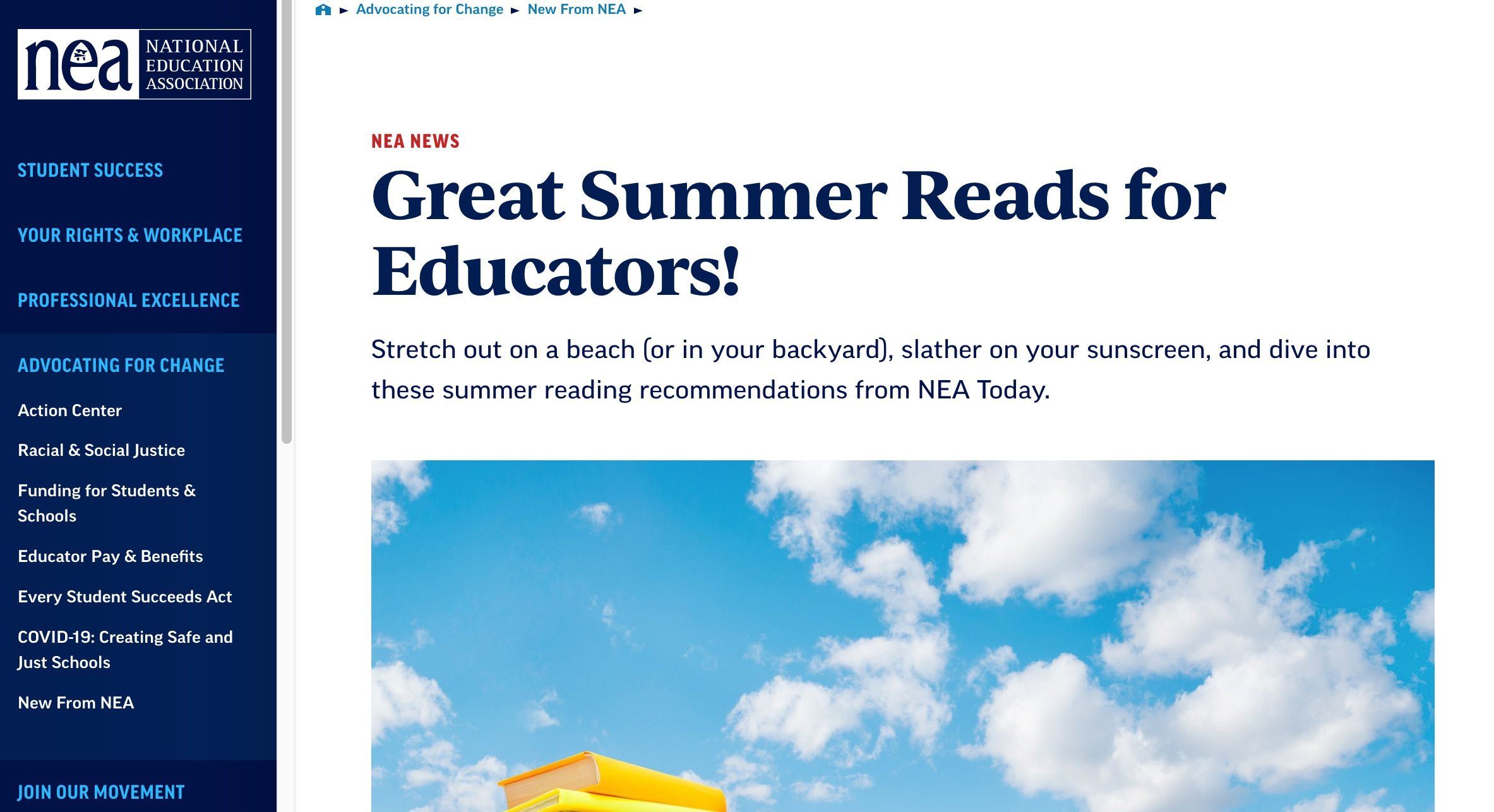 The book, which is the most banned book in America and a favorite among the book crisis actors, is included alongside several other books for teachers to consider picking up to read over break. This is a post like any you'd see on a national professional organization's page: content for those in the field and this one sources its recommendations from members. In the case of this one, it's a literal list of books which includes other titles like Dolly Parton and James Patterson's Run Rose Run, Ready Player One by Ernest Cline, and Adele Faber and Elaine Mazlish's book How To Talk So Kids Will Listen & Listen So Kids Will Talk.
So it must be the blurb causing controversy, right?
Twilight used to be at the top of banned-book lists for its racy content. Today, those lists are much more likely to feature LGBTQ+ people or People of Color. Indeed, the top two books banned in 2022 were Gender Queer: A Memoir by Maira Kobabe, about identifying outside the gender binary, and All Boys Aren't Blue: A Memoir-Manifesto by George M. Johnson.

Illinois high school librarian Amanda Shaffer learned to love reading because of a banned book. "I hated reading until I was in early high school," she says. "A friend basically threw [Twilight by Stephenie Meyer] at me, and I haven't stopped reading since."
That little blurb is what launched a thousand nonsense "news" pieces in July.
Here is where things take an even more absurd turn. Why did this suddenly become news in July when the post had been live and active on the NEA website since June 5? Must be the summer news slump and the fact these outlets can't get videos from outrageous school board meetings to promote as quickly as they could when more schools were in session.
The story could end here, but it doesn't. The right-wingers love owning the entire rage rollercoaster, and as part of it, their on-air stories covering this non-starter controversy falsely claimed the book was being recommended by the NEA for kids. The Poynter Institute breaks down that story over here and it's worth a read.
Despite the fact that this is fake news, packaged neatly to look real, it made its way across real news channels who pick up press releases to run for content. Chances are your family bigots saw it and, once you told them to stop letting Fox News rot their minds, they could now point to more "legitimate" news sources.
Perhaps the part of this that is most enraging though is that even when the story is deemed patently false, these outlets keep their names and reputations growing. First, through infiltration like above. Then through stories like this very one and the one linked above at the Poynter Institute: debunking the stories continues to raise their profiles, and yet, debunking is a necessity in a world of mis/dis/mal information perpetuated and circulated by these very outlets.
They own the cycle start to finish.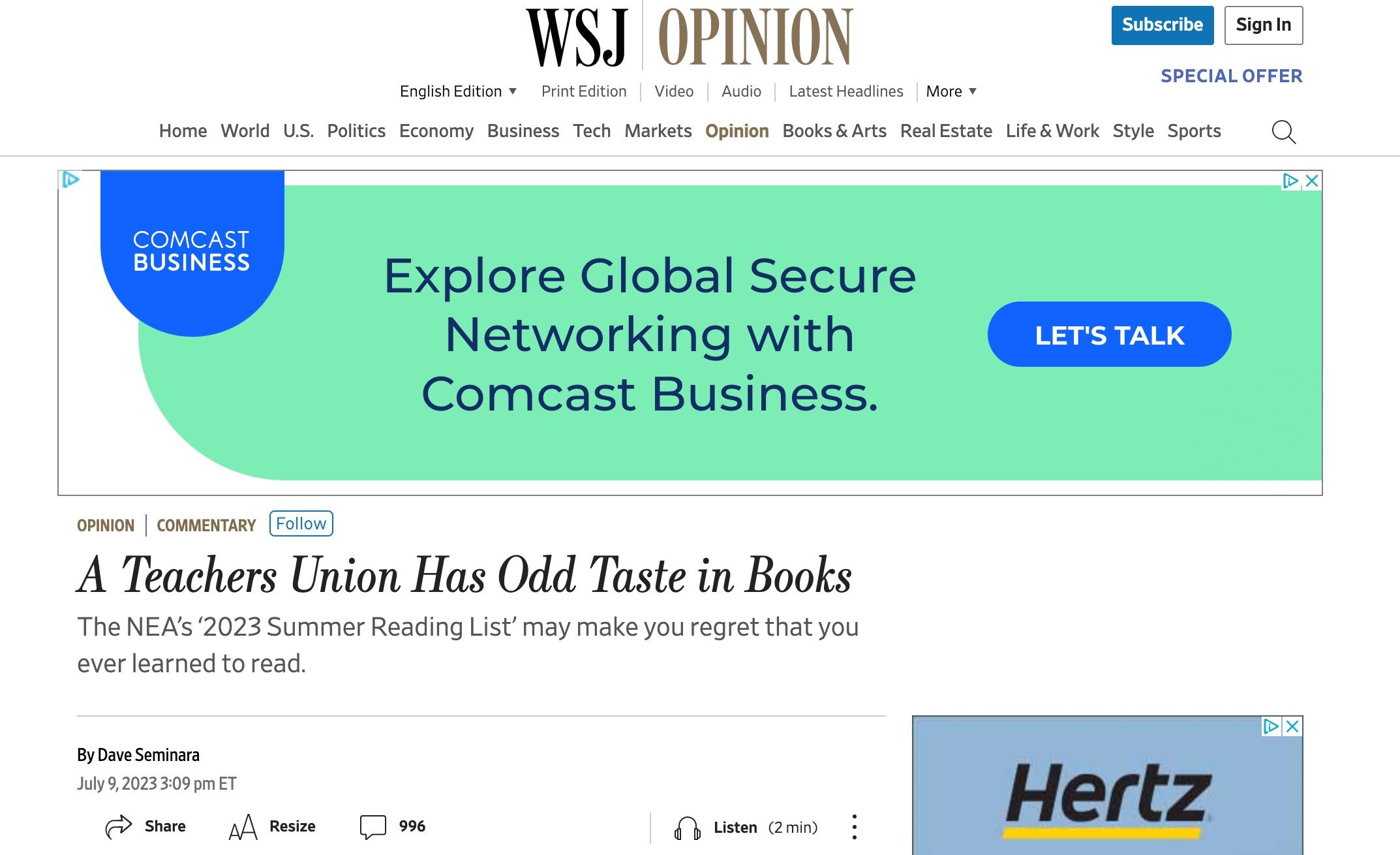 Good to know that teachers, who are individual humans with their own tastes and interests and not some imagined monolithic monster created by right wing conspiracy theorists, aren't event allowed to share the books they're reading this summer without being judged by major outlets.
I guess a teacher reading and recommending the most banned book in America sure is a sign of odd tastes that would lead you to regret learning to read.
Book Censorship News: July 21, 2023