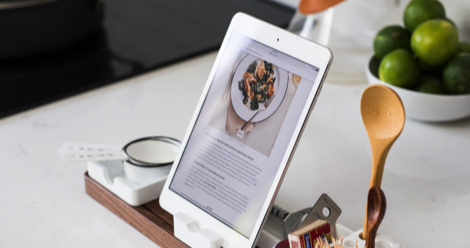 Nonfiction
15 Funny Cookbooks, From the Silly to the Macabre
This content contains affiliate links. When you buy through these links, we may earn an affiliate commission.
I'm a firm believer that as many elements go into a good joke as go into a good recipe… sometimes a lot, sometimes a few, but good is good. And there are many ways to be good at both. Check out Chrissy Teigen over here:
I fucking haaaaaate testing a new recipe for the book/site and knowing halfway through I'm gonna have to do it all over again. having to finish a failure to figure out its faults kjshfoiahyeforeqwrfnlaif

— chrissy teigen (@chrissyteigen) March 15, 2019
I can relate. Most people can. But not everyone can articulate it in a way that makes their reader both sympathize AND laugh aloud. In this post, I've compiled 15 funny cookbooks. They range in content from straightforward recipes with puns as titles, to themed books about your favorite TV shows, to desserts so intense and artful that you have to stare at them before you can eat them. For example, this architecturally sound pumpkin pie by the indomitable Christine McConnell:
In case you're wondering what makes ME qualified to say whether a cookbook is funny, I present you with a piece of situational humor: THIS GUACAMOLE RECIPE BY BORIS KARLOFF.
BOOM, QUALIFIED.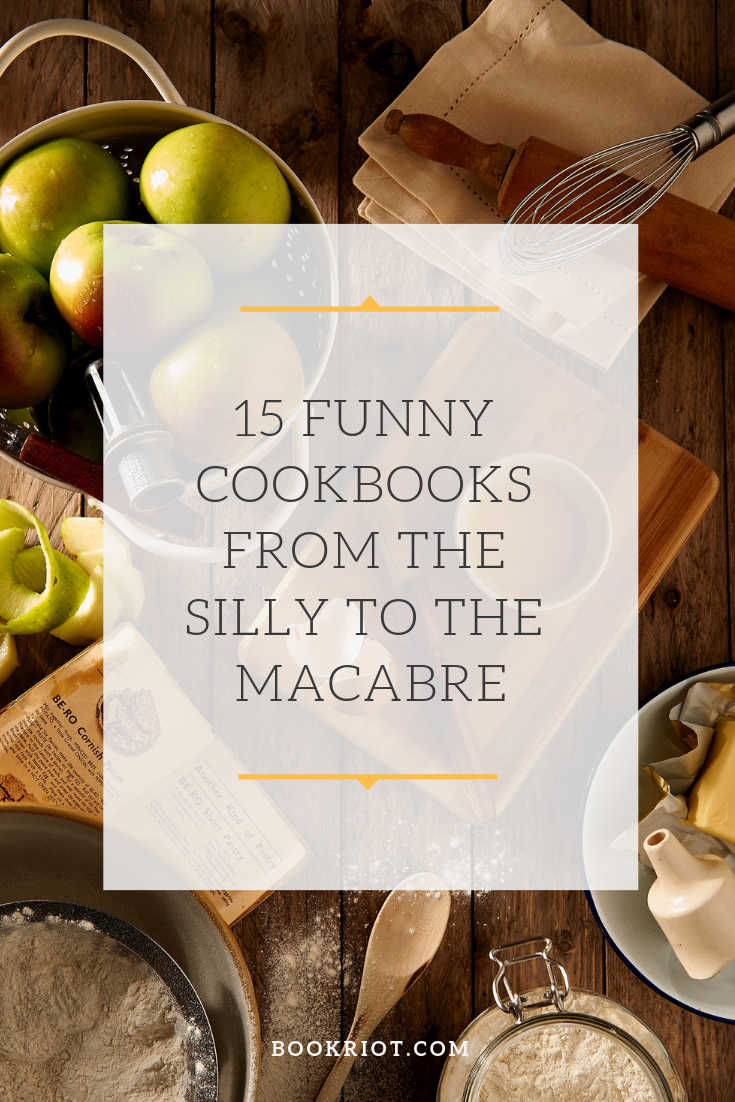 So with no further ado, here they are, your 15 funny cookbooks. You can thank me later. In the form of other funny cookbooks.
I bought this book for the jokes, because I loved Amy Sedaris, but it is, for real, the book that made me want to learn to cook. It's part etiquette, part cookbook, part jokes. For example, she details what appropriate hostess gifts are, and why you shouldn't bring a dish to a dinner party unless it's a potluck. She also has the best recipe for oatmeal cookies—and I know what you're thinking, but YES, OATMEAL—and she includes wisdom in her jokes, like "Nobody wants to be the first to crack the liquor bottles at a funeral," and what to prepare for the unwanted guest.
It's also the inspiration for the TV show, At Home with Amy Sedaris on TruTV, so if you like the book, you'll love the show.
We all know and love Chrissy Teigen already, but if you are not familiar with her cookbook Cravings, the time has come, because now there is a second! She's hilarious, and her recipes are awesome. They detail everything from her fried chicken favorites to her mom's Thai classics.
Hausmagick by Erica Feldmann is not EXACTLY funny, and this is not EXACTLY a cookbook, either, but I still think it merits being on the list. Here's why: Erica Feldmann runs an online lifestyle brand (and a store in Salem, MA), so she includes cooking (check out that FULL MOON CAKE recipe!). Her knowledge (and spells) extends out of the kitchen and into the rest of a witch's house and life.
If you're unfamiliar with Christine McConnell, I'm so excited to be the one to tell you about her and her work. This gorgeous woman makes scary desserts (in addition to her own gowns and Halloween house decorations!), and a lot of their recipes are located right here in her book Deceptive Desserts. What I like about this book is that the baking part is easy: the exciting part is the decoration. Who doesn't want their basic, yellow bridal shower cake to take the literal form of BRIDEZILLA?!
And if you love her book, you should absolutely watch her show on Netflix, The Curious Creations of Christine McConnell, which is a macabre amalgam of The Addams Family and a baking show if hosted in the Henson studio.
The Hip Hop Cookbook Rapper's Delight compiled by Joseph Inniss includes all your favorite rappers' dishes and the recipes for them. And they're all accompanied by a piece of artwork developed just for that recipe! Although this isn't exactly a humorous cookbook, the theme is pretty awesome! It's the perfect gift for a rap fan.
When Snoop Dogg's episode on Martha Stewart's cooking show was a wild success, he wrote From Crook to Cook, which lists 50 of Snoop's favorite recipes, from soul food classics to filet mignon. And of course, there are a lot of munchies in here, too.
The Odd Bits by Jennifer McLagan is not exactly a "joke cookbook," but it IS interesting, and deserves mentioning if only for its wackiness. This book shows how to cook the whole animal, and it's meant for the adventurous cook and the adventurous eater. Want to know how to prepare lamb neck? What about braised heart, Moroccan style? This book has it all—and mostly recipes you've never thought to think about.
Fans of Bob's Burgers will love The Bob's Burgers Burger Book by Loren Bouchard. It's a great gag gift for anyone who likes to snack while they watch cartoons made for adults. (I am winking right now.)
The Snacking Dead by D.B. Walker are meant for any fan of The Walking Dead. Most of the recipes are practical hors d'oeuvre for every-day consumption, but with fun back stories and snazzy puns as recipe titles.
Tequila Mockingbird and Gone with the Gin are the perfect funny cookbooks to buy for a friend who either loves literature or loves classic Hollywood, respectively. Although they don't detail food, these cocktail how-to books are both funny and informative!
The Nightmare Before Dinner by Zach Neil was one of the funny cookbooks recommended to me by a fellow lover of creepy things. It might not be "funny," per se, if you don't have a distinctly macabre sense of humor, but the recipes in this cookbook come directly from the Halloween-themed restaurant, Beetle House. They include everything from Sweeney Beef to Alice's Cup of Tea. I am seriously so excited about this cookbook… and I'm so weird that I definitely won't wait till Halloween to try out all these goodies.
While discussing Matilda at a wedding reception this past weekend, I realized and shouted aloud, "Man, Roald Dahl HATES kids, am I right?" and this book, Roald Dahl's Revolting Recipes proves me right. Sure, Bruce got to eat chocolate cake, but he had to eat THE WHOLE THING, and his mom's was better! For more disgustingly delicious recipes, you need this book… like, who can bear life without knowing how to bake Stink Bug Eggs?
You think this murderino thing is a new trend? Oh no no no: people have been obsessed with criminals since law existed! The Lucretia Borgia Cookbook by Dorothy Blinder is a perfect gag gift for the true-crime obsessed person in your life because it gives the favorite recipes of infamous people (VERY INFAMOUS, as in Grigori Rasputin, John Dillinger, and Bonnie Parker level infamous!), as the subtitle says, but it also tells its reader how to make them for themselves!
You probably know Coolio from his hit, "Gangsta's Paradise," but did you know about his cookbook, Cookin' with Coolio: 5 Star Meals for a 1 Star Price? After rap, cooking is Coolio's best trade. These inexpensive recipes are twists on soul food favorites, including "Blasian" and "Ghettalian" dishes that won't break the bank.
15. The New InterCourses: An Aphrodisiac Cookbook by Martha Hopkins
The New Intercourses by Martha Hopkins could serve as both a gag gift AND a really useful present. Its table of contents lists sensual recipes by type (like "coffee," "chocolate," and "oysters," and the book includes an appendix for easy-access, and photographs of its recipes on the human body. You read me right. Photographs of its recipes ON the human body.
But in case I missed your favorite funny cookbooks, PLEASE leave them in the comments section—especially if you have any love spell or voodoo books to recommend! Find even more cookbook recommendations here!