Nonfiction
The 25 Best Cookbooks of 2018 to Get You in the Kitchen
This content contains affiliate links. When you buy through these links, we may earn an affiliate commission.
The end of the year is approaching and with it comes all of those pesky, joyful, and exhausting holidays and family gatherings. It seemed like the perfect time to round up some of the best cookbooks of 2018 to serve as inspiration for your own upcoming feasts and celebrations. Take a look through this list of amazing cookbooks that came out this year. It is by no terms an exhaustive list, but I hope that you'll find it exciting nonetheless.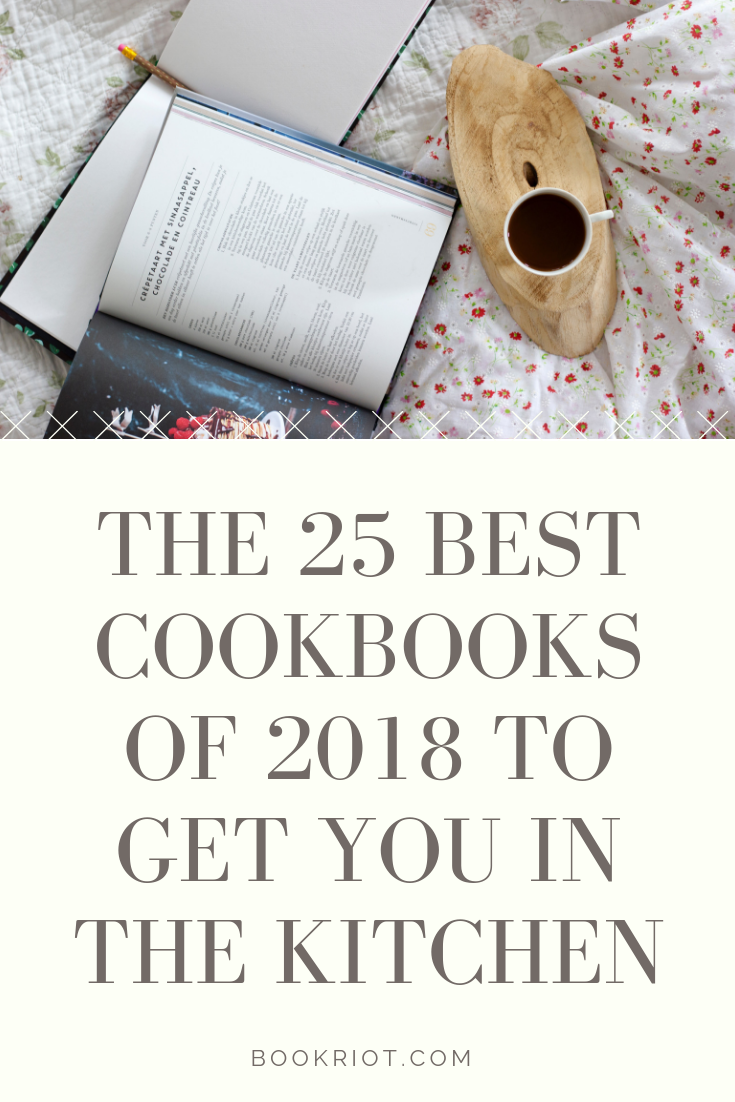 Names/Faces You Probably Already Know
This is a great follow up to the model and television personality's first cookbook by the same name. The recipes range from blueberry pie–inspired pancakes to something called Pad Thai Carbonara.
Recipes focused on leftovers and reinventing the classics from the bestselling cookery author of Small Victories.
This cookbook from renowned TV personality Carla Hall features classic southern recipes for everything from buttermilk biscuits to more modern takes on the recipes, like Sweet Potato Pudding with Clementines.
From the esteemed author of Plenty and Jerusalem comes a new title that focuses on all things simple. Recipes feature everything from a 30 minute or less preparation to using fewer than ten ingredients.
World renowned recording artist Snoop Dogg has published his first cookbook, following the success of his food television show with Martha Stewart. The recipes are full of the rapper's take on everything from mac and cheese to filet mignon.
International Cuisines
Part cookbook and part travel journal, this work is full of recipes, photos, and stories from Palestine. It is bright in flavour and colour and will teach you about this incredible nation through dishes like slow-cooked stews of chicken and lamb flavored with Palestinian barahat spice blends.
This book by Brooklyn restauranteur Sohui Kim offers those new to this cuisine an opportunity to experiment with these flavours at home, even going so far as to provide hints and pictures to help novices find what they're looking for in their local Korean grocery stores.
"It begins with rice. It always has." That is how this incredible work begins. With a focus on Persian cuisine through a global context, this home cook shares incredibly achievable dishes full of spice and flavour.
The first cookbook from a well-known food blogger who used the experience of living on a 17th century Norwegian farm as an inspiration source while teaching herself to cook. Her recipes are seasonal to Norway (which means that some ingredients can be hard to find), but her work also has easy to make and adapt classics like potato dumplings and apple cake.
Simple techniques to achieve the signature dishes of the cuisine of the second-largest Asian population in America at home. This book features recipes for sour adobos and kare-kare that you can easily add into your cooking repertoire.
Southern Greats
Buttermilk Graffiti: A Chef's Journey to Discover America's New Melting-Pot Cuisine by Edward Lee
From Netflix's Mind of a Chef comes a book that explores how immigrant chefs have influenced American cuisine. Lee draws a link between narrative storytelling and recipes that is at once singular and universal. Proving that to get to know someone you need to eat the food they eat. Described as tradition, innovation, and memory all rolled into one it features recipes for everything from Green Tea Beignets to Butternut Squash Schnitzel.
Magnolia Table: A Collection of Recipes for Gathering by Joanna Gaines and Marah Sets
The host of HGTV's Fixer Upper brings us her southern recipes for family favourites for everything from biscuits to bisques. I would particularly recommend the Brussells sprouts recipe as a great vegetable side dish for your upcoming family celebrations.
This book does an incredible job of showing how the cuisines of the south and Mexico intersect. Featuring recipes such as turnip greens in "pot likker" spiked with chiles and Memphis barbecue pork tacos.
Another example of young chef staking claim to the intersections between her international cuisine and the cuisine of the southern United States. We're so blessed to have a year full of incredible chefs developing cookbooks that brought us recipes like funche (grits kicked up with coconut milk) and pinchos de pollo (chicken skewers featuring a guava BBQ sauce).
Sweet Home Cafe Cookbook: A Celebration of African American Cooking, by National Museum of African American History and Culture, with contributions by Jessica B. Harris, Albert Lukas, and Jerome Grant
The cafe from this new and incredibly important museum has published its first cookbook and features a collection of recipes that reflect how "African Americans have played in creating and re-creating American foodways". This includes southern classics like: Fried Green Tomatoes, Shrimp and Grits, and Fried Chicken and Waffles.
Vegetable Focused Cookbooks
Following up on their popular food, travel, and lifestyle blog the Food Gays is this incredible recipe book full of vegetable delights. The recipes aren't vegetarian, but rather put the beauty of fresh produce at its core. It even has a page dedicated to how to take better food pictures yourself.
With an emphasis on flavour and simplicity, this cookbook is meant to encourage meat eaters not to completely take on vegan-ism but to simply add more vegan dishes to their repertoire. Featuring vegan "Fish and Chips" and Deep Purple Soup, you are bound to feel inspired by these bold and vibrant recipes.
After being personal chef to the Obamas, Kass turned to food policy creation. His first cookbook is full of vegetable-focused recipes (including an entire chapter on sweet potatoes) and tips on how to eat mindfully.
Crave-worthy recipes that use simple vegan ingredients and elevate them to indulgent status. Everything from Philly cheesesteaks to raspberry funfetti cake pops. It will have even the most ardent carnivores drooling.
Full of recipes and tips to help ensure your vegetables are never overcooked or under-seasoned again, this book vows to turn veggie haters into veggie lovers. Features everything from Hatch Chile Chowder to Garlic Cheddar Biscuit-Topped Vegetable Pot Pie.
Baking and Desserts
Black Girl Baking: Wholesome Recipes Inspired by a Soulful Upbringing by Jerelle Guy
Based in the memories of herself and her family, this incredible book features recipes that tell a story. The author has reworked the overly sweet classics we all know to be better for us (every recipe has a vegan alternative), while still ultimately very comforting. Recipes include Brown Sugar Plantain Galette, Orange Peel Pound Cake, and Plaited Dukkah Bread.
Sister Pie: The Recipes and Stories of a Big-Hearted Bakery in Detroit by Lisa Ludwiski
From a young Detroit baker comes this incredible love letter to pies. Covering everything from savoury hand pies to a drool-worthy Toasted Marshmallow-Butterscotch Pie, you're sure to find inspiration for your family gatherings.
Southern style recipes from a small town Virginia bakery that will fill your home with the smell of butter and baking apples. Do yourself a favour and don't skip over the stories between the recipes, which add context and give the readers a sense of the place behind the recipes. Featured recipes include: Mom's Walnut Chews, Jubilee Cake, and Caramel Pumpkin Pie.
Christina Tosi, the genius baker behind Momofuku's Crack Pie and glorious judge on Masterchef Junior, has finally come out with a new cookbook. Dedicated to the wondrous majesty of cake, you will love her sugary sweet takes on everything from simple mug cakes to multi-tiered signature naked layer cakes.
A heavyweight in cookery writing, Rose Levy Beranbaum's latest cookbook offers a stress-free approach to the classics, including everything from banana bread to cobbler. You'll be sure to wow your friends and family if you follow Rose's tried and true tips.
---
What do you think were the best cookbooks from 2018? Want even more cookbooks? We got you.