Classics
Flowchart Fridays: Date Night for Literary Men
Last week, when I posted a few little flowcharts about what YA heroines might do in a crisis, people seemed to be quite tickled. Someone suggested, via Twitter I think, that I should do one with Ahab from Moby Dick — why should teen girls take all the heat? So this week, three more flowcharts: Ahab, Hamlet, and John Proctor from The Crucible have all been asked on dates. What happens next?
Captain Ahab first:
Now Hamlet:
And finally, good John Proctor: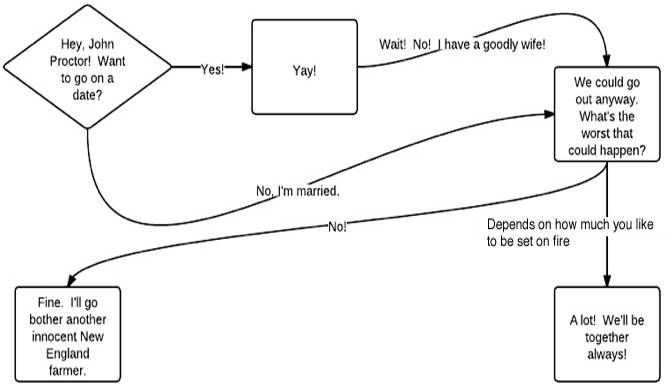 ____________________________
Brenna Clarke Gray holds a PhD in Canadian Literature and teaches in the Vancouver area. She posts about graphic narratives at Graphixia, and occasionally she remembers to update her own blog, Not That Kind of Doctor. Follow her on Twitter: @mittenstrings.