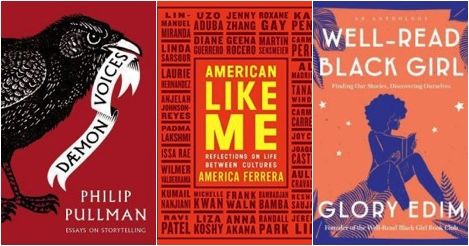 This content contains affiliate links. When you buy through these links, we may earn an affiliate commission.
2018, for me, has been the Year of the Essay. I don't usually read a lot of essays, but after reading a few fantastic collections early this year, I've become completely hooked. There are so many great essay collections out there! Whether you're looking for something serious or funny, a collection that will shatter you or one that will comfort you, whether you're interested in politics or cooking or pop culture or fashion—essay collections are a great way to dip into a whole lot of subjects, or one subject in-depth.
Luckily for me (and you!) there's a slew of exciting essay collections coming out this fall. These are books I've read and loved, and books from beloved authors I can't wait to get my hands on. The end of the summer is always bittersweet, but with such a great lineup of essays coming out in September and October, there's a lot to get excited about this fall.
In her latest collection, Rebecca Solnit, with her typical grace and thoughtfulness, tackles some big and ugly issues, including gun violence and toxic masculinity. Her writing always reminds me that the world holds both beauty and terror equally, and she manages to weave essays that are angry, tender, heartbroken, and hopeful all at once.
Robinson's first essay collection had me laughing out loud one minute and fiercely nodding my head the next. She expertly blends humor with real, biting insight on race, gender, pop culture, and politics. She's a talented comedian, and it comes through in her writing. Her work is funny truth-talking at its best, and I can't wait to read what she's got to say about feminism (and Bono) in her newest book.
In this collection of non-traditional nature essays, Corbett reexamines what we mean when we say "nature." Delving into the differences between wild and tame, human-made and natural, she explores all the ways that nature plays a role in our everyday lives. Whether ruminating on garbage, noise, or language, Corbett's fresh take on the natural world shines through in these delightful and insightful essays.
Daemon Voices by Philip Pullman (September 18)
Philip Pullman's His Dark Materials was one of the first series I fell in love with as a teenager. I can't wait to read what he has to say about storytelling, both in his own process and in the wider world. I always love getting a glimpse into the mind of fiction writers I love, and I'm sure this collection will be as smart and creative as Pullman's fictional worlds.
In this anthology about life between and among cultures, thirty-one writers, actors, artists, and others reflect on their experiences as Americans who are also immigrants or the children or grandchildren of immigrants, indigenous, or grew up with strong connections to more than just one culture. Wide-ranging and heartfelt, this timely collections is quintessentially American. It's about the complex relationships that exist between home and country, family and culture, language, and belonging.
In her newest collection, Havrilesky tackles the vast array of misleading and dangerous messages that the world tosses at us every day. From our various cultural delusions about romance and success to the allure of the shiny and new (things, technologies, diets, lifestyles), she deconstructs the various ways these messages harm us, and then offers her thoughts on living another kind of life. Thoughtful, direct, and often funny, these essays are a lovely blend of personal reflection and cultural critique.
The Reckonings by lacy m. johnson (October 9)
The Reckonings is a beautiful and complicated collection of essays. In essence, these essays are an exploration of violence—sexual violence, environmental violence, racial violence, economic violence. It can be bleak, because Johnson writes about rape and mass shootings and nuclear waste. But it's also intellectually rigorous, big-hearted, and nuanced. A gorgeous combination of personal narrative and investigative journalism, these essays ask more questions than they answer—in the best possible way.
I've been following Glory Edim (Well-Read Black Girl) on Instagram for a while, so when I saw she was edited an essay anthology I squealed with excitement. This collection contains essays from a slew of incredible black female writers, including Jesmyn Ward, Morgan Jerkins, Tayari Jones, Jacqueline Woodson, and many more. From a variety of angles, these women explore the importance of stories and storytelling, and the importance of finding belonging—especially for those from marginalized communities—in the pages of books.
Looking for some essay collections that you can read right now? Check out 50 Must-Read Contemporary Essay Collections, 20 Great Essay Collections from 2017 and 25 Great Essay Collections from 2016.