Lists
20 Great Essay Collections from 2017
This content contains affiliate links. When you buy through these links, we may earn an affiliate commission.
Essay collections are perfect for filling bits of time when you need something to read but don't want to settle into anything long. I am almost always in the middle of a collection, and it doesn't matter in the least if I take a long time to finish it. They are perfect for dipping into, for trying out, for reading at whim.
2017 is a great year for essays. The 20 collections featured below give you a taste of the kind of material available: there are books about what it's like to live in Trump's America, about being a woman today, about living in the age of Black Lives Matter. You will also find collections about art and literature and about the ups and downs of everyday life. Some collections contain all of the above. The richness and variety of essays available today is overwhelming, in the best possible way. So check out this list of 20 of the year's best collections and see if something catches your interest.
These essays chart Chelsea Martin's life from her girlhood into her early adult years. They are personal, revealing, funny, and wince-inducing all at once. Martin grew up poor in a poor California town, and here she lays it all out: her struggles with family, love, sex, money, illness, and more. This is a quick read, and one that will stay with you.
Rebecca Solnit, Cheryl Strayed, Samantha Irby, Katha Pollitt, and Nicole Chung are among the 23 women writers in this collection about living in Trump's America. This is an essential book for those who want to think about how our country ended up where it is and how we move forward.
Here you will find 35 short pieces by a humor writer and performer who can bring out the comedy of everyday life. Allen mixes comedic pieces with more serious essays on illness, motherhood, and single life after decades of being in a relationship. This is a book for when you want to laugh and then sigh with rueful recognition.
Authors included in this anthology are Bryan Stevenson, Sherrilyn Ifill, Jeremy Travis, and more. It's a look at issues surrounding the Black Lives Matter movement and the ways the criminal justice system affects black boys and men. It's one of a large group of books out this year that help explain the impact of racism on black Americans and on the culture at large.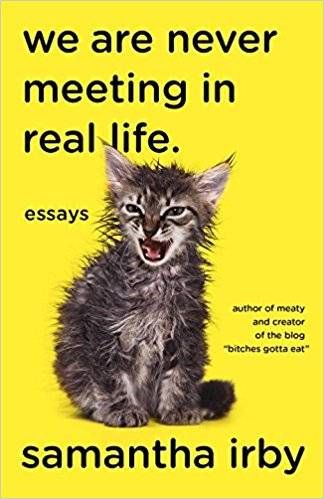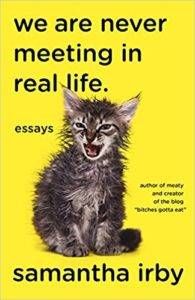 Irby's previous essay collection Meaty was hilarious. Here is her follow-up, with more of what she is so good at: comic personal essays on the trials and tribulations of contemporary life. The essays will move you and entertain you both.
This collection is for writers and those who like to read about books and writing. It's part a study of literature, part writing class, and part memoir. You can read Livesey's thoughts on Flaubert and Austen and learn her thoughts on how to create characters and how to write dialogue. Livesey is a beloved writing teacher sharing the wisdom gained by years of teaching.
Here you will find personal essays that cover a range of topics: motherhood, education, art, academia, the internet, and more. It's personal, smart, moving, and funny, the kind of book that will make you think and feel both, and where the writer feels like she's keeping you company while you read.
In a similar vein as Sady Doyle's great 2016 book Trainwreck, this collection looks at women in the public eye. Analyzing figures such as Lena Dunham, Nicki Minaj, and Kim Kardashian, Peterson discusses why we love to hate these powerful, controversial women and what our obsession with celebrity tells us about who we are.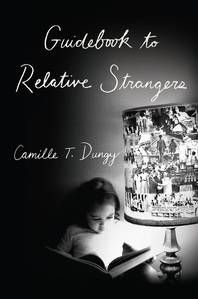 Camille Dungy covers a broad range of topics: traveling as a mother, working in the literary world as a woman of color, hiking, visiting slave-trading ports in Ghana, watching her daughter learn language. In every essay, Dungy is incisive and revealing, both of her own experience and of the state of the world as she sees it.
This one is for bookshop lovers and those who love to read about books (as I do!). Here you will find 15 essays on the significance, function, pleasures, and possibilities of bookstores from around the world. Contributors include Alaa Al Aswany, Michael Dirda, Yiyun Li, Elif Shafak, Ali Smith, and more.
A new book by Ta-Nehisi Coates is always an exciting event, and here he is writing about the Obama years. This collection contains work that appeared in magazines to great acclaim and much discussion such as "Fear of a Black President," and "The Case for Reparations." It contains eight new essays as well, each of which covers a year of the Obama administration.
These are essays about music, but also about culture, race, and life in America today. Willis-Abdurraqib writes about attending a Bruce Springsteen concert the day after visiting Michael Brown's grave, what it was like growing up in America in the 1990s, the first time he was thrown on the ground by police officers, and much more.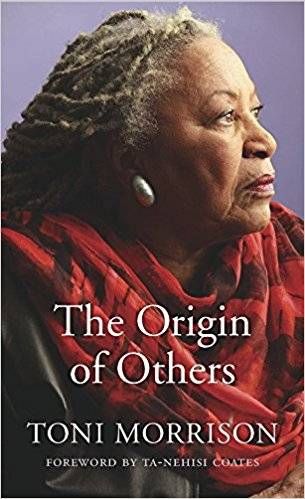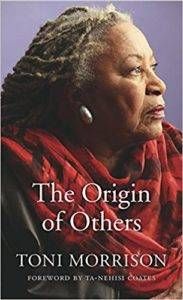 These essays began as lectures. They cover history, politics, and literature, including an examination of authors such as Harriet Beecher Stowe, William Faulkner, and Flannery O'Connor. Any book by Toni Morrison is an essential one, and here she delivers the incisive observations about race and American culture we have come to expect from her.
Like many on this list, Sarah Gerard's collection has a lot to tell us about America. She focuses on Florida and from there moves into the personal, and into politics, the economy, and the environment. The essays are a mix of reporting, memoir, and cultural critique.
Mary Gaitskill is known for her novels Veronica, Two Girls Fat and Thin, and others, and now we have her first essay collection. These pieces were written over the course of a couple decades and cover a range of topics including books and authors; musicians, artists, and celebrities; and cultural and political movements and debates.
Here's a collection for anyone who wants to read a series of smart, provocative essays on feminism today, including subjects such as the 2016 election, online harassment, being a woman writer, transgender rights, and more. Laurie Penny makes a fiercely intelligent companion in our quest to understand feminism and contemporary culture.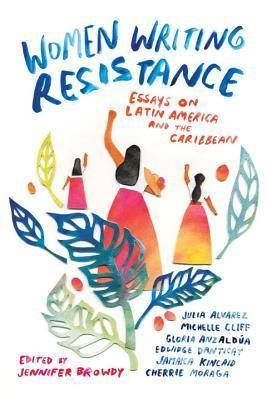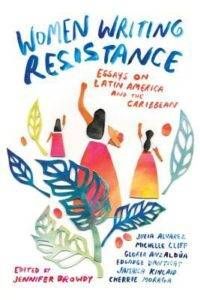 This collection contains the work of 16 writers including Julia Alvarez, Edwidge Danticat, Jamaica Kincaid, Gloria Anzaldua, and more. It contains both poetry and essays on the topic of resistance: how women can collaborate across race and class boundaries to fight patriarchy and white supremacy.
Full of examples of what gets called the "lyric essay," this book is varied in subject matter and beautifully written. It opens with a long essay called "Heart Museum" that takes us into Chew-Bose's life and around the world, and from there moves to shorter essays on family, identity, race, and culture.
Fenton Johnson's subjects include sexuality, religion, art, basketball, and more. The essays are also about travel: he wanders from Kentucky to San Francisco to Paris to Calcutta. It's a collection of pieces that appeared in places like Harper's as well as new work.
If you're in the mood for some humorous essays, this is the book for you: a debut collection that touches on race and culture, gender roles, parents, the internet, and more. She will make you laugh as she tells personal stories and analyzes what it's like to grow up shaped by two cultures, Western (Canadian) and Indian.