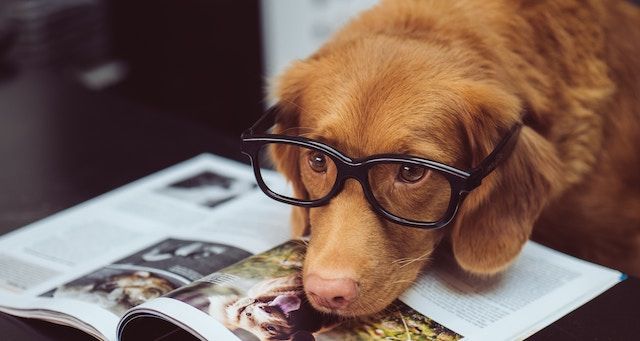 Lists
10 Helpful Dog Training Books for Every Personality
This content contains affiliate links. When you buy through these links, we may earn an affiliate commission.
For many of us dog-loving bookworms, there's nothing better than a stack of good dog training books to inspire us to spend even more quality time with our pups. And as happy as our dogs are to curl up at our feet while we read, they'll be even more thrilled to interact in new and challenging ways practicing what we read. Of course, every student learns in a different way, so we've gathered up a list of dog training books to suit every owner—and dog—personality.
Comprehensive Dog Training Books
You might like this if:
You appreciate details and want an extremely comprehensive guide to classic, AKC (American Kennel Club)-style obedience training.
About the book:
Written by a team of monks who have been raising and training dogs for more than 30 years, this book teaches you everything you want to know about dog ownership. It takes you through the entire process, from selecting the breed that suits your lifestyle to training your puppy at home to proper care for your dog through every phase of life. The authors also recognize the differences between raising a dog in urban, suburban, and rural areas and give you specific guidance for each setting.
You might like this if:
You want to understand the science behind what you're learning and practical tips on how to apply it.
About the book:
Penned by the late Dr. Sophia Yin, who was regarded as a pioneer in the field of animal behavior applied to pet training, this book helps you understand the science behind your dog's behavior and motivations so you can more effectively communicate. She then provides training and problem-solving exercises, broken down into short sections complete with illustrations. To keep things fun, she includes quizzes throughout the book to make sure you're absorbing all the key information.
You might like this if:
You like to learn through anecdotes and case studies—and if you're a fan of TV's Dog Whisperer with Cesar Millan.
About the book:
In this book, Cesar Millan shares how his own life experiences have shaped his views on what makes dogs tick. In addition to covering the basics of his formula for a contented and balanced dog—exercise, discipline, and affection—Millan gives advice on how to pick the dog that's right for you and your family. The book also takes you inside some of Millan's most interesting cases to illustrate how common behavioral issues develop and how they can be corrected, based on his understanding of dogs' needs and instincts.
Dog Training Books with Unique Perspectives
You might like this if:
You want to get the whole family engaged and involved with training a puppy.
About the book:
Author Colleen Pelar, who has years of experience in helping kids and dogs live together happily, introduces kids to both the fun and the hard work that comes with owning a puppy. Topics include house training, socializing, buying supplies, understanding body language, keeping the puppy out of trouble, and games you can play together. Instructive color photos accompany the text while sidebar features give parents advice on how to guide their kids to be responsible puppy owners.
You might like this if:
You're a visual learner and you're curious about what your dog is feeling and thinking.
About the book:
This book is filled with photos of dogs engaging in their day-to-day activities, plus detailed explanations from the author about what is happening in each photo. Brenda Aloff helps you understand what your dog is thinking by interpreting body language and subtle changes in posture. Not only will Aloff's information help you prevent problems and improve behavior, but it will also strengthen your bond with your animals and give you a greater appreciation for their intelligence.
You might like this if:
You're looking for an innovative, non-verbal way to communicate with your dogs.
About the book:
Written by the creator of K9Sign, which is a language of gestures specifically for dogs, this book is designed to teach you how to communicate with your dog through signing. Some of the signs Sean Senechal teaches you are concepts such as "food" and "play," objects such as "ball" and "frisbee," and even questions such as "Who's that?" Not only will Senechal's method open up a whole new range of possibilities for communication, but your dog will also love spending time working through these unique challenges with you.
You might like this if:
You feel your dog doesn't respond to training the way other dogs do or you have multiple dogs with varying personalities.
About the book:
Based on a personality color system for dogs created by Joel Silverman, this book helps you figure out what motivates your pet, then gives you methods of training that are most effective based on personality. Read about each personality type in the first part of the book. After identifying your dog, get specific techniques and cues that will speak to your dog. The author also includes a chapter of unique tips for working with puppies.
You might like this if:
You're looking for an entertaining and challenging way to deepen your bond with your dog.
About the book:
In this book, Larry Kay and Chris Perondi reveal some of the secrets they've learned as professional dog trainers through step-by-step photos. You'll find tricks and stunts for every level, from rolling over and fetching to dance routines and flying acrobatics. Plus, you'll learn some of the principles of filmmaking with dogs. The authors believe that teaching tricks can improve your dog's behavior, reinforce socialization, prevent boredom, and give your pet a boost of confidence.
You might like this if:
You have a dog that was born without or is starting to lose sight and/or hearing.
About the book:
Written by Debbie Bauer, who has extensive experience training blind and deaf dogs, this book helps you understand and communicate with dogs who can't hear your commands or see your body language. Get tips and ideas that will help your dog interact with you, other dogs, and other people. Plus, learn games adapted for your dog's unique condition so you can make the most of your relationship.
You might like this if:
You're a dog owner with disabilities.
About the book:
Teamwork, Book 1 is the first of two dog training books in this series, written by authors who have extensive experience in working with dog owners with disabilities. This book not only focuses on basic obedience exercises, explained step-by-step, but also includes tips for people on crutches, in manual wheelchairs, or using power chairs. The second book in the series, Teamwork II: A Dog Training Manual for People with Disabilities, teaches you how to train your dog to do service exercises, such as retrieving dropped objects, turning on lights, and pulling a wheelchair.
---
Looking for more ways to combine your love of dogs and books? Check out these canine-friendly Book Riot posts that offer up literary dog names, children's books about dogs, and books for happier pets.