Lists
9 Books To Help Your Pets Lead Happier Lives
This list of books for happier pets is sponsored by Workman Publishing, publisher of Engineering for Cats by Mac Delaney.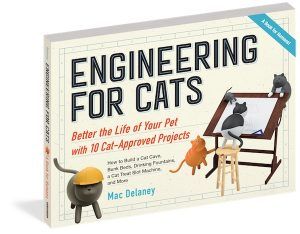 In this inventive, surprisingly funny, and highly entertaining and practical book, Mac Delaney addresses the quirks of cat behavior through the mindset of an aerospace engineer (because that's what he is!)—and gives us 10 projects, from a cat water fountain to feline bunk beds, that solve the most common sources of friction affecting cats and their doting owners. For any cat lover with a modicum of DIY skills, here's a whole new approach to living happily ever after with your pet(s).
---
Our pets are our best friends and family. They bring endless hours of joy into our lives. In fact, check the camera roll on your phone right now—I bet it's full of hilarious pet pictures on an endless scroll. If you're a pet parent you know what I'm talking about. Books for happier pets are out there to read, aside from the ones they chew on, lay on while you're trying to read, or knock over just after you leave the room. Here are a few books that will get you to connect with your fur babies and help your pets lead happier lives.
Books for Happier Pets
Yoga with Cats: 31 Yoga Stretches Inspired by Cats by
"Starting with simple moves such as "Banzai! Arms Up!" and "Happy Cat", and moving on to the more challenging and cheeky "Hoist a Leg!" and "Go Upside Down", the reader moves through a full relaxing and fun yoga program of 31 moves, complete with both human and feline full-color photos as examples and how-tos. Yoga with Cats is a lighthearted yet illuminating take on a traditional yoga practice, and is a fun way to connect even further with our furry feline friends."
Inside of a Dog: What Dogs See, Smell, and Know
by

Alexandra Horowitz

"[I]n Inside of a Dog, Alexandra Horowitz fuses her perspectives as both scientist and dog-owner to deliver a fresh look at the world of dogs—as seen from the animal's point of view. Inspired by her years of living with her own dog, Pumpernickel, who was a constant source of delight and mystery, Horowitz's mind became filled with questions and ideas. In crisp, clear prose, she draws on her research in the field of dog cognition to give readers a sense of a dog's perceptual and cognitive abilities—and paints a picture of what the canine experience is like."
Animals Make Us Human: Creating the Best Life for Animals
by

Temple Grandin, Catherine Johnson

"It's usually easy to pinpoint the cause of physical pain in animals, but to know what is causing them emotional distress is much harder. Drawing on the latest research and her own work, Grandin identifies the core emotional needs of animals. Then she explains how to fulfill them for dogs and cats, horses, farm animals, and zoo animals.Whether it's how to make the healthiest environment for the dog you must leave alone most of the day, how to keep pigs from being bored, or how to know if the lion pacing in the zoo is miserable or just exercising, Grandin teaches us to challenge our assumptions about animal contentment and honor our bond with our fellow creatures."
Cooking for Sugar: Spoiling Your Pup With Doglicious Homemade Treats by
"Cooking for Sugar is the definitive cookbook for any dog parent. Rosalyn Acero, founder of Golden Woof, includes over 30 recipes to share with your pup. This beautifully photographed, user-friendly, bowl-licking collection of cooking tips, recipes and anecdotes is the perfect gift to share with any dog-loving parent. Going beyond the recipes, Acero includes detailed nutritional facts. With one in four pets being classified as obese leading to joint problems, digestive disorders, and more, caring for your best friend can feel scary. But with homemade, nutrition-conscious meals, you'll avoid all the unknown, all the chemicals and all the dangers of pre-processed bags of mystery. Your dog will forever be grateful as you cook FOR them!"
The Trainable Cat: A Practical Guide to Making Life Happier for You and Your Cat
by

John Bradshaw, Sarah Ellis

"We often assume that cats can't be trained, and don't need to be. But in The Trainable Cat, bestselling anthrozoologist John Bradshaw and cat expert Sarah Ellis show that cats absolutely must be trained in order to enrich the bond between pet and owner. Full of training tips and exercises–from introducing your cat to a new baby to helping them deal with visits to the vet–The Trainable Cat is the essential cat bible for cat owners and lovers."
In a Dog's Heart: What Our Dogs Need, Want, and Deserve—and the Gifts We Can Expect in Return
by

Jennifer Arnold

"Over the two decades she has spent raising and training service dogs for people with disabilities, Jennifer Arnold has come to a unique and profound understanding of the human-dog bond. Though it may seem simple and instinctive, the friendship and devotion we share with our pets is a wondrous evolutionary development. Our two species have come to rely on each other for protection, companionship, comfort, and happiness—needs and benefits that go both ways."
The Emotional Lives of Animals: A Leading Scientist Explores Animal Joy, Sorrow, and Empathy—and Why They Matter
by

Marc Bekoff

"Based on award-winning scientist Marc Bekoff's years studying social communication in a wide range of species, this important book shows that animals have rich emotional lives. Bekoff skillfully blends extraordinary stories of animal joy, empathy, grief, embarrassment, anger, and love with the latest scientific research confirming the existence of emotions that common sense and experience have long implied."
The Science Behind a Happy Dog: Canine Training, Thinking and Behaviour
by

Emma K. Grigg, Tammy Donaldson

"How can you be sure that your dog is happy? What can owners do to ensure their dog has the best chance at a long, happy life? Experts in animal behavior, Emma Grigg and Tammy Donaldson, set out to explore our current understanding of canine well-being in this engaging and authoritative guide to dog training. Making use of the latest in animal behaviour research and studies, The Science Behind a Happy Dog covers both scientific approaches to dog raising and practical solutions to common behavioral problems in a clear and accessible style. The science behind canine cognition and body language shows how we can use the clues that our dogs give us to maximize their well-being."
The Nine Emotional Lives of Cats: A Journey into the Feline Heart
by

Jeffrey Moussaieff Masson

"Drawing from literature, history, animal behavioral research, and the wonderful true stories of cat experts and cat lovers around the world, Jeffrey Moussaieff Masson vividly explores the delights and mysteries of the feline heart. But at the core of this remarkable book are Masson's candid, often amusing observations of his own five cats. Their mischievousness, aloofness, and affection provide a way to examine emotions from contentment to jealousy, from anger to love."

And if you just stopped by this little corner of the internet looking for some cinnamon roll content, I give you this purity: