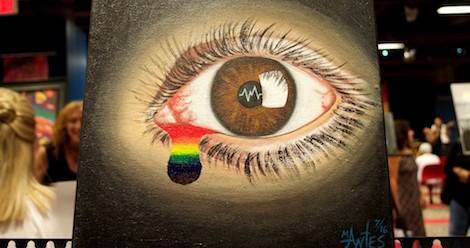 News
Dispatches from Library Land: October 2016
Welcome to our monthly open love letter to libraries. Our librarian staff and contributors have hand-picked some of the most interesting topics affecting libraries at this very moment — cool projects, important news, innovative programs, awesome people — and gathered them here in a handy roundup for everyone who hearts libraries as much as we do.
This month we talk about an Orlando library's touching tribute to Pulse, a Kansas City library where a librarian was arrested for defending a patron's free speech, a report that shows diversity in Children's literature is under attack, and more.
Have a library tip? Find us on Facebook, Twitter, or email and let us know!
The Story: Paint Strong Orlando is the Touching Pulse Tribute Worth Seeing at Orlando Public Library
What It's About: The Orlando Public Library hosts 200 pieces of art created by artists of all levels, paying tribute to those lost and injured during the Pulse shooting on June 12th. The library hosted an opening reception for the collection on September 15th.
Why I'm Talking About It: The people of Orlando, especially the LBTQIA+ and Latinx segments of our community, are still doing their best to heal from the events that shattered our world on June 12th. I'm so proud that the library I work for is doing so much to help our community's healing process. I saw the weeks of hard work that went into hosting this collection, as well as the kickoff event. Now I see dozens of members of the public every day gazing at the pieces of art in contemplation and remembrance. I love when libraries step outside of their "normal" roles when the community calls upon them, so it's great to witness our "concrete fortress of books" transform into a temporary art gallery/museum. There are some really great, moving pieces in this collection and I love to look at them when I find myself walking around the library.
The Story: Library Worker Heroically Defends Patron's Free Speech, Is Brutally Arrested in Library Where He Works
What It's About: A librarian was arrested defending a patron's free speech at a library event where a controversial political figure was speaking.
Why I'm Talking About It: Most people don't think of librarianship as a high-risk job, but it's an important one. Libraries are one of the last public places open to all where people can participate in civil discourse. I'm horrified that this occurred, but proud that a librarian and the library where he works is standing up for free speech.
The Story: Missing From the Shelf: Book Challenges and Lack of Diversity in Children's Literature
What It's About: PEN America's most recent report about banned and challenged books for young readers in the US specifically addresses books by and featuring members of marginalized groups.
Why I'm Talking About It: I was thrown by one line in the report (which doesn't take very long to read) by Malinda Lo: "Diversity is actually under attack." Based on findings from the study, which is both anecdotal and empirical, we can say that a significantly larger percentage of books by authors of color, members of the LGBTQ+ community, books by and about disabled people, books about or featuring non-Christian religions, and other marginalized groups, are being challenged in school and public libraries for their content. I'm sure it's not surprising to most of us, but the fact that it isn't is also a bit disheartening. The more we talk about these things going on, the more we can try to address them and what we do about them. Sometimes it's really hard to follow when this or that remote town is pulling something off the shelves because one parent doesn't want their kid reading it. But it goes beyond that. The study itself talks about actual legislature that made it all the way to the Governor of Virginia's desk before he vetoed it. There are states taking drastic actions to "sanitize" what kids are reading, which will do no good for anyone if it means future generations are less educated, less understanding, and more narrow-minded about what's going on in their world. The "Moving Forward" section is a good first step, but only if it helps to reach the people whose ways have been impeded by people who want to push their personal feelings onto complete communities.
The Story: A Southwest-Side Library Has Become A Neighborhood Lifeline
What It's About: As part of a series where Chicago residents write about their own lives, a teen services librarian discusses the way he and the library try to help people with difficult lives.
Why I'm Talking About It: It's no surprise that a library is a place for people to come when they are in need or experience struggles. This article stands out to me, though, because it talks about a part of teen librarianship that's very important to me. Some people imagine the teens who spend a lot of time in the library to be bookworms, nerds, quiet, straight edge, etc. But there it is just as common that a teen with a turbulent home life or socio-economic disadvantages – the kind who might be labeled trouble or 'at-risk' – spends a great deal of free time at the library. Part of the job of a teen librarian, maybe the hardest part but certainly the most fulfilling in my life, is to be a stable, safe refuge for teens. I take that role very seriously, and I'm glad to see others doing the same.
The Story: Islamic Art Exhibit at San Jose Public Library for Asia Week San Francisco
What It's About: As part of Asia Week San Francisco, celebrating Asian – including Indian, Chinese, Japanese, Korean, Southeast Asian, Islamic & Middle Eastern – art and culture in the diverse San Francisco Bay Area, the San Jose Public Libraries have an awesome Islamic Art Exhibit open to the public.
Why I'm Talking About It: The SF Bay Area is home to so many diverse people, and I love that libraries are participating in this celebration honoring Asian culture. And it's fitting that the San Jose King Library branch is hosting this event, as it's the library that partners with San Jose State University (my MLIS alma mater), where 32% of the student population identifies as Asian. That's paying attention to your community in a great way. The library exhibit includes a day of free calligraphy lectures and a workshop (I heart calligraphy) and is open through the end of the month, so if you're in town you should stop by!
The Story: Librarians Get Their GAME On
What It's About: The inaugural Gaming as Meaningful Education (GAME) conference met in September to explore ways in which games can be used in education and programming to inspire creativity, critical thinking and problem-solving skills.
Why I'm Talking About It: I love everything about this event. Bringing games into the regular programming fold of libraries as well as incorporating them into an increasingly pressure filled academic environment is a great way to inspire our patrons and students and drive home the message that libraries have something for everyone. Many teen librarians working in the field list gaming-based programs as their biggest draw with teens. As the author mentions in the article, gaming programs in the library have a unique way of breaking down barriers between gender, age and race. In recent years, gaming has enjoyed a surge of serious attention from the education world who now see the benefit and attraction of using games and video games to encourage technological literacy and prepare kids for the future. This is also an exciting opportunity for game-savvy public librarians to work more closely with school media specialists on the need and place for games in the library.