This content contains affiliate links. When you buy through these links, we may earn an affiliate commission.
Have we all recovered from Logan yet? What a movie. It's been a couple weeks, and I'm still thinking about it. But putting aside the question of where the X-Men movies can go from here, let's focus on X-23, aka Laura, and her relationship with Wolverine.
What made the Logan and Laura dynamic, in addition to the obvious canon-based connections, is that it built upon Wolverine's history of looking after young women. Shadowcat and Jubilee anyone? What about people that aren't familiar with the comicbooks though? Whose main exposure to the X-Men is via the films?
Maybe it has something to do with the teaming up of a world-weary killer and an innocent-looking child who may not be as defenseless as they first appear. We can go back and forth about why this dynamic appeals to many people—a tired fighter finding new meaning in life again, a child who can take care of themselves—but there's no denying that it works. So, inspired by Logan, I put together a list of manga fighter-and-child duos.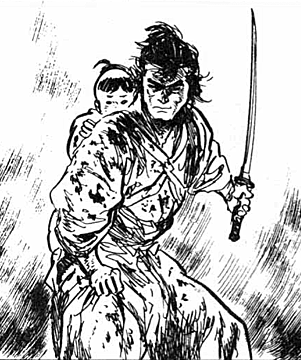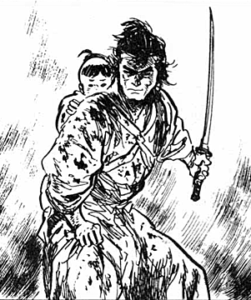 Ogami and Daigoro
No list of this type would be complete without this father-and-son ronin duo. From the seminal chanbara manga, Lone Wolf and Cub by Kazuo Koike and Goseki Kojima, Ogami and Daigoro embody this trope. Formerly the Shogun's executioner, Ogami finds himself forced into the life of a ronin through betrayal and false accusations. In what has since become an iconic scene in the chanbara genre, Ogami offers his infant son, Daigoro, a choice between a child's toy and a weapon. If Daigoro chooses the ball, Ogami will grant him a merciful death and spare him the brutal future ahead. Instead, Daigoro chooses the sword, dooming him to share the same blood-soaked fate as his father. Bears more than a little resemblance to Logan and Laura, doesn't it?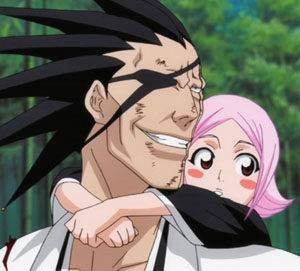 Zaraki and Yachiru
While Bleach is better known for its red-headed main character Ichigo Kurosaki or perhaps Tite Kubo's inconsistent writing, fans are quite familiar with the manga's extensive, but memorable, supporting cast. And who could be more memorable that the Eleventh Division. Infamous for being filled with powerful fighters, no one is stronger than its captain, Kenpachi Zaraki. In fact, the name "Kenpachi" is bestowed upon the strongest swordsman in the spirit world. Given Zaraki's brutal nature, it seems fitting that his foil come in the form of a pink-haired little girl named Yachiru who, coincidentally, is his vice-captain.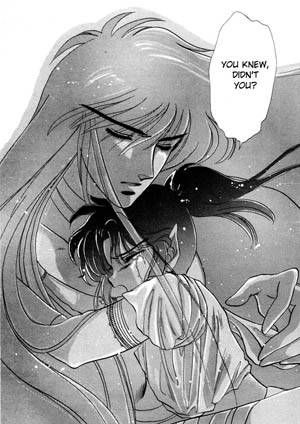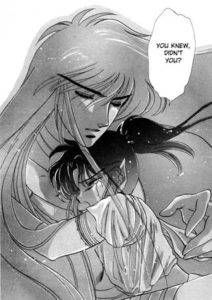 Yasha and Ashura
Sometimes it's not circumstances and chance meetings that lead to partnerships between strong fighters and children. In CLAMP's RG Veda, Yasha is one of the strongest fighters in heaven. But in an act of rebellion against the emperor, he awakens Ashura, a sweet-faced child with the potential to destroy the world. The decision dooms his clan, but Yasha allows duty, loyalty, and love to guide him.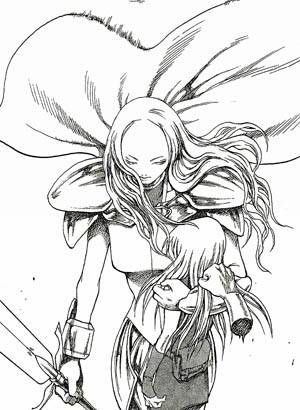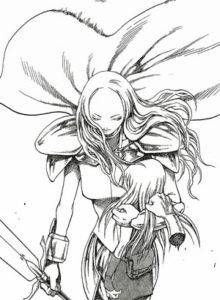 Clare and Teresa & Clare and Raki
Not all badass kids start out that way. Sometimes they need inspiration from their older fighting counterparts. Norihiro Yagi's Claymore follows Clare, a supernaturally-enhanced female warrior on a mission to find and destroy the monster that killed the only person who showed any concern for her welfare. The relationship between Teresa and child Clare forms the foundation of this shonen manga series—a connection that is mirrored when adult Clare picks up her own lost foundling, Raki. Just as Teresa inspired Clare to become strong and a fighter, so too does Clare inspire Raki to become a warrior as well.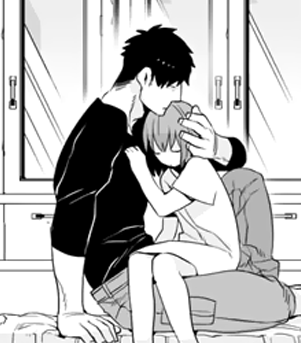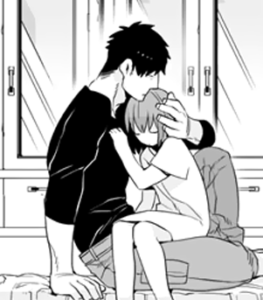 Nicolas and Nina
I've talked a lot about adult and kid fighter pairs in this list, but strength comes in many forms. In Kohske's Gangsta., mercenary Nicolas Brown is descended from a group of genetically enhanced super soldiers. While many people fear him because of this, he is also surprisingly kind in the most unexpected ways. His relationship with Nina, a young girl who wages her battles in clinics and surgeries, is one of the most charming aspects of this series.
What about y'all? Do you have any favorite adult fighter and badass kid duos?