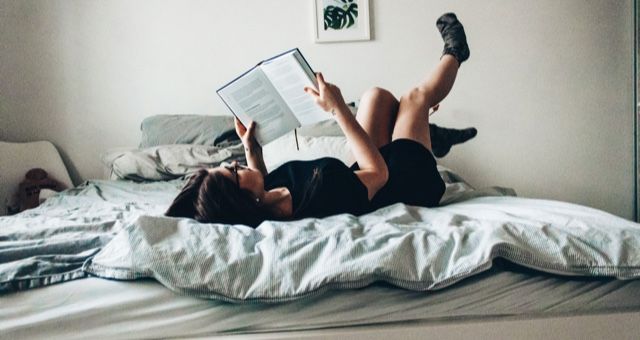 Lists
50 Must-Read Contemporary YA Novels of the 2010s
This list of contemporary YA novels of the 2010s is sponsored by Soho Teen.
Brave teens facing impossible odds in two unforgettable debuts and a groundbreaking YA anthology. Fall for a diversity of voices with the latest YA titles from Soho Teen, which span countries, cultures, and experiences. Queer girls will battle anti-gay prejudice, friendships will be forged amidst tense political climates around the globe, love will bloom in every shape and color, and patriarchy will be smashed. Spoilers: These reads will make you fist-pump, laugh out loud, and openly weep.
---
With the 2010s approaching their end, we're taking a long look at the best YA novels of the decade. The past ten-ish years have seen an explosive growth in YA publishing and a broader readership of young adult literature. No longer are YA books "just for teens." At the same time, with real progress being seen on inclusivity and diversity in children's and young adult literature, the YA novels being published today are perhaps more relevant and urgent than ever. The new leading and emerging YA authors provide a necessary and welcome wave of representation to all young adult experiences that was missing from the genre's past. This list focuses on the best contemporary YA novels of the 2010s.
How many have you read?
A Little Note on Methodology
How best to tackle the question: what are the best contemporary YA novels? To curate this list, I focused first on basic criteria: to be eligible, a book must have been published in 2010 or later and take place in modern day settings. Science fiction, fantasy, and paranormal stories were excluded, though books set in contemporary situations that incorporated magical elements were allowed.
Rather than go right down my Goodreads list and add every four and five-star YA read, I consulted lists of acclaimed, award-winning novels (plus honorable mentions) in the young adult categories from the National Book Award, the American Library Association (ALA)'s Michael L. Printz Award, the Edgar Awards for mystery and crime fiction, Canada's Governor General Awards, the Lambda Literary Awards and the ALA's Stonewall Awards (both for excellence in LGBTQ publishing), the Goodreads Choice Awards, and a few of Book Riot's Best Books of the Year lists.
Representation of diverse identities and experiences (disability, race, poverty, gender, sexuality, and many more) were crucial selection criteria. To that end, I did add in a few under-the-radar reads that were not on one of the lists above but provide a necessary voice for marginalized identities.
Descriptions generously supplied by publishers.
The Astonishing Color of After by Emily X.R. Pan
"Leigh Chen Sanders is absolutely certain about one thing: When her mother died by suicide, she turned into a bird.
Leigh, who is half Asian and half white, travels to Taiwan to meet her maternal grandparents for the first time. There, she is determined to find her mother, the bird. In her search, she winds up chasing after ghosts, uncovering family secrets, and forging a new relationship with her grandparents. And as she grieves, she must try to reconcile the fact that on the same day she kissed her best friend and longtime secret crush, Axel, her mother was taking her own life." (Amazon)
A Very Large Expanse of Sea by Tahereh Mafi
"It's 2002, a year after 9/11. It's an extremely turbulent time politically, but especially so for someone like Shirin, a sixteen-year-old Muslim girl who's tired of being stereotyped.
Shirin is never surprised by how horrible people can be. She's tired of the rude stares, the degrading comments—even the physical violence—she endures as a result of her race, her religion, and the hijab she wears every day. So she's built up protective walls and refuses to let anyone close enough to hurt her. Instead, she drowns her frustrations in music and spends her afternoons break-dancing with her brother.
But then she meets Ocean James. He's the first person in forever who really seems to want to get to know Shirin. It terrifies her—they seem to come from two irreconcilable worlds—and Shirin has had her guard up for so long that she's not sure she'll ever be able to let it down." (Amazon)
All the Bright Places by Jennifer Niven
"Theodore Finch is fascinated by death. Every day he thinks of ways he might kill himself, but every day he also searches for—and manages to find—something to keep him here, and alive, and awake.
Violet Markey lives for the future, counting the days until graduation, when she can escape her small Indiana town and her aching grief in the wake of her sister's recent death.
When Finch and Violet meet on the ledge of the bell tower at school—six stories above the ground— it's unclear who saves whom. Soon it's only with Violet that Finch can be himself. And it's only with Finch that Violet can forget to count away the days and start living them. But as Violet's world grows, Finch's begins to shrink. . . ." (Amazon)
American Street by Ibi Zoboi
"On the corner of American Street and Joy Road, Fabiola Toussaint thought she would finally find une belle vie—a good life.
But after they leave Port-au-Prince, Haiti, Fabiola's mother is detained by U.S. immigration, leaving Fabiola to navigate her loud American cousins, Chantal, Donna, and Princess; the grittiness of Detroit's west side; a new school; and a surprising romance, all on her own.
Just as she finds her footing in this strange new world, a dangerous proposition presents itself, and Fabiola soon realizes that freedom comes at a cost. Trapped at the crossroads of an impossible choice, will she pay the price for the American dream?" (Amazon)
Aristotle and Dante Discover the Secrets of the Universe by Benjamin Alire Sáenz
"Aristotle is an angry teen with a brother in prison. Dante is a know-it-all who has an unusual way of looking at the world. When the two meet at the swimming pool, they seem to have nothing in common. But as the loners start spending time together, they discover that they share a special friendship—the kind that changes lives and lasts a lifetime. And it is through this friendship that Ari and Dante will learn the most important truths about themselves and the kind of people they want to be." (Amazon)
Autoboyography by Christina Lauren
"Three years ago, Tanner Scott's family relocated from California to Utah, a move that nudged the bisexual teen temporarily back into the closet. Now, with one semester of high school to go, and no obstacles between him and out-of-state college freedom, Tanner plans to coast through his remaining classes and clear out of Utah.
But when his best friend Autumn dares him to take Provo High's prestigious Seminar—where honor roll students diligently toil to draft a book in a semester—Tanner can't resist going against his better judgment and having a go, if only to prove to Autumn how silly the whole thing is. Writing a book in four months sounds simple. Four months is an eternity.
It turns out, Tanner is only partly right: four months is a long time. After all, it takes only one second for him to notice Sebastian Brother, the Mormon prodigy who sold his own Seminar novel the year before and who now mentors the class. And it takes less than a month for Tanner to fall completely in love with him." (Amazon)
Beauty Queens by Libba Bray
"The fifty contestants in the Miss Teen Dream Pageant thought this was going to be a fun trip to the beach, where they could parade in their state-appropriate costumes and compete in front of the cameras. But sadly, their airplane had another idea, crashing on a desert island and leaving the survivors stranded with little food, little water, and practically no eyeliner.
What's a beauty queen to do? Continue to practice for the talent portion of the program – or wrestle snakes to the ground? Get a perfect tan – or learn to run wild? And what should happen when the sexy pirates show up?" (Amazon)
Bone Gap by Laura Ruby
"Everyone knows Bone Gap is full of gaps.
So when young, beautiful Roza went missing, the people of Bone Gap weren't surprised. But Finn knows what really happened to Roza. He knows she was kidnapped by a dangerous man whose face he cannot remember.
As we follow the stories of Finn, Roza, and the people of Bone Gap, acclaimed author Laura Ruby weaves a tale of the ways in which the face the world sees is never the sum of who we are." (Amazon)
Burn Baby Burn by Meg Medina
"Meg Medina transports readers to a time when New York seemed balanced on a knife-edge, with tempers and temperatures running high: the infamous summer of 1977, when the city is besieged by arson, a massive blackout, and a serial killer named Son of Sam who shoots young women on the streets. Seventeen-year-old Nora Lopez's family life isn't going so well, either. Before she turns eighteen and can strike out on her own, Nora will discover that the greatest dangers are often closer than we like to admit — and the hardest to accept." (Amazon)
Calvin by Martine Leavitt
"He was born on the day the last strip was published. His grandpa put a stuffed tiger named Hobbes in his crib. And he even had a best friend named Susie.
Then Calvin's mom washed Hobbes to death. Susie grew up beautiful and stopped talking to him. And Calvin pretty much forgot about the strip―until now.
Now he is seventeen years old and has been diagnosed with schizophrenia. Hobbes is back, as a delusion, and Calvin can't control him. Calvin decides that cartoonist Bill Watterson is the key to everything―if he would just make one more comic strip, but without Hobbes, Calvin would be cured.
Calvin and Susie (is she real?) and Hobbes (he can't be real, can he?) set out on a dangerous trek across frozen Lake Erie to track down Watterson." (Amazon)
Challenger Deep by Neal Shusterman
"Caden Bosch is on a ship that's headed for the deepest point on Earth: Challenger Deep, the southern part of the Marianas Trench.
Caden Bosch is a brilliant high school student whose friends are starting to notice his odd behaviour.
Caden Bosch is designated the ship's artist in residence to document the journey with images.
Caden Bosch pretends to join the school track team but spends his days walking for miles, absorbed by the thoughts in his head.
Caden Bosch is split between his allegiance to the captain and the allure of mutiny.
Caden Bosch is torn." (Amazon)
Eliza and Her Monsters by Francesca Zappia
"Eighteen-year-old Eliza Mirk is the anonymous creator of the wildly popular webcomic Monstrous Sea, but when a new boy at school tempts her to live a life offline, everything she's worked for begins to crumble.
Rainbow Rowell's Fangirl meets Noelle Stevenson's Nimona in this acclaimed novel about art, fandom, and finding the courage to be yourself. "A must-have."—School Library Journal
In the real world, Eliza Mirk is shy, weird, and friendless. Online, Eliza is LadyConstellation, anonymous creator of a popular webcomic called Monstrous Sea. With millions of followers and fans throughout the world, Eliza's persona is popular. Eliza can't imagine enjoying the real world as much as she loves her digital community.
Then Wallace Warland transfers to her school and Eliza begins to wonder if a life offline might be worthwhile. But when Eliza's secret is accidentally shared with the world, everything she's built—her story, her relationship with Wallace, and even her sanity—begins to fall apart." (Amazon)
Fangirl by Rainbow Rowell
"In Rainbow Rowell's Fangirl, Cath is a Simon Snow fan. Okay, the whole world is a Simon Snow fan, but for Cath, being a fan is her life―and she's really good at it. She and her twin sister, Wren, ensconced themselves in the Simon Snow series when they were just kids; it's what got them through their mother leaving.
Reading. Rereading. Hanging out in Simon Snow forums, writing Simon Snow fan fiction, dressing up like the characters for every movie premiere.
Cath's sister has mostly grown away from fandom, but Cath can't let go. She doesn't want to.
Now that they're going to college, Wren has told Cath she doesn't want to be roommates. Cath is on her own, completely outside of her comfort zone. She's got a surly roommate with a charming, always-around boyfriend, a fiction-writing professor who thinks fan fiction is the end of the civilized world, a handsome classmate who only wants to talk about words . . . And she can't stop worrying about her dad, who's loving and fragile and has never really been alone.
For Cath, the question is: Can she do this? Can she make it without Wren holding her hand? Is she ready to start living her own life? And does she even want to move on if it means leaving Simon Snow behind?" (Amazon)
Far From the Tree by Robin Benway
"Being the middle child has its ups and downs.
But for Grace, an only child who was adopted at birth, discovering that she is a middle child is a different ride altogether. After putting her own baby up for adoption, she goes looking for her biological family, including—
Maya, her loudmouthed younger bio sister, who has a lot to say about their newfound family ties. Having grown up the snarky brunette in a house full of chipper redheads, she's quick to search for traces of herself among these not-quite-strangers. And when her adopted family's long-buried problems begin to explode to the surface, Maya can't help but wonder where exactly it is that she belongs.
And Joaquin, their stoic older bio brother, who has no interest in bonding over their shared biological mother. After seventeen years in the foster care system, he's learned that there are no heroes, and secrets and fears are best kept close to the vest, where they can't hurt anyone but him." (Amazon)
The Fault In Our Stars by John Green
"Despite the tumor-shrinking medical miracle that has bought her a few years, Hazel has never been anything but terminal, her final chapter inscribed upon diagnosis. But when a gorgeous plot twist named Augustus Waters suddenly appears at Cancer Kid Support Group, Hazel's story is about to be completely rewritten." (Amazon)
Girl in Pieces by Kathleen Glasgow
"Charlotte Davis is in pieces. At seventeen she's already lost more than most people do in a lifetime. But she's learned how to forget. The broken glass washes away the sorrow until there is nothing but calm. You don't have to think about your father and the river. Your best friend, who is gone forever. Or your mother, who has nothing left to give you.
Every new scar hardens Charlie's heart just a little more, yet it still hurts so much. It hurts enough to not care anymore, which is sometimes what has to happen before you can find your way back from the edge." (Amazon)
Girl Mans Up by M-E Girard
"All Pen wants is to be the kind of girl she's always been. So why does everyone have a problem with it? They think the way she looks and acts means she's trying to be a boy—that she should quit trying to be something she's not. If she dresses like a girl, and does what her folks want, it will show respect. If she takes orders and does what her friend Colby wants, it will show her loyalty.
But respect and loyalty, Pen discovers, are empty words. Old-world parents, disintegrating friendships, and strong feelings for other girls drive Pen to see the truth—that in order to be who she truly wants to be, she'll have to man up." (Amazon)
Grasshopper Jungle by Andrew Smith
"Sixteen-year-old Austin Szerba interweaves the story of his Polish legacy with the story of how he and his best friend , Robby, brought about the end of humanity and the rise of an army of unstoppable, six-foot tall praying mantises in small-town Iowa.
To make matters worse, Austin's hormones are totally oblivious; they don't care that the world is in utter chaos: Austin is in love with his girlfriend, Shann, but remains confused about his sexual orientation. He's stewing in a self-professed constant state of maximum horniness, directed at both Robby and Shann. Ultimately, it's up to Austin to save the world and propagate the species in this sci-fright journey of survival, sex, and the complex realities of the human condition." (Goodreads)
The Hate U Give by Angie Thomas
"Sixteen-year-old Starr Carter moves between two worlds: the poor neighborhood where she lives and the fancy suburban prep school she attends. The uneasy balance between these worlds is shattered when Starr witnesses the fatal shooting of her childhood best friend Khalil at the hands of a police officer. Khalil was unarmed.
Soon afterward, his death is a national headline. Some are calling him a thug, maybe even a drug dealer and a gangbanger. Protesters are taking to the streets in Khalil's name. Some cops and the local drug lord try to intimidate Starr and her family. What everyone wants to know is: what really went down that night? And the only person alive who can answer that is Starr.
But what Starr does—or does not—say could upend her community. It could also endanger her life." (Amazon)
I Am Not Your Perfect Mexican Daughter by Erika Sanchez
"Perfect Mexican daughters do not go away to college. And they do not move out of their parents' house after high school graduation. Perfect Mexican daughters never abandon their family.
But Julia is not your perfect Mexican daughter. That was Olga's role.
Then a tragic accident on the busiest street in Chicago leaves Olga dead and Julia left behind to reassemble the shattered pieces of her family. And no one seems to acknowledge that Julia is broken, too. Instead, her mother seems to channel her grief into pointing out every possible way Julia has failed.
But it's not long before Julia discovers that Olga might not have been as perfect as everyone thought. With the help of her best friend, Lorena, and her first love (first everything), Connor, Julia is determined to find out. Was Olga really what she seemed? Or was there more to her sister's story? And either way, how can Julia even attempt to live up to a seemingly impossible ideal?" (Amazon)
I Believe in a Thing Called Love by Maurene Goo
"Desi Lee knows how carburetors work. She learned CPR at the age of five. As a high school senior, she has never missed a day of school and never had a B. But in her charmed school life, there's one thing missing―she's never had a boyfriend. In fact, she's a known disaster in romance, a clumsy, stammering humiliation magnet.
When the hottest human specimen to have ever lived walks into her life one day, Desi decides it's time to tackle her flirting failures. She finds her answer in the Korean dramas her father has watched obsessively for years―in which the hapless heroine always seems to end up in the arms of her true love by episode ten. Armed with her "K Drama Rules for True Love," Desi goes after the moody, elusive artist Luca Drakos. All's fair in love and Korean dramas, right? But when the fun and games turn to feelings, Desi finds out that real-life love is about way more than just drama." (Amazon)
I'll Give You the Sun by Jandy Nelson
"At first, Jude and her twin brother are NoahandJude; inseparable. Noah draws constantly and is falling in love with the charismatic boy next door, while daredevil Jude wears red-red lipstick, cliff-dives, and does all the talking for both of them.
Years later, they are barely speaking. Something has happened to change the twins in different yet equally devastating ways . . . but then Jude meets an intriguing, irresistible boy and a mysterious new mentor.
The early years are Noah's to tell; the later years are Jude's. But they each have only half the story, and if they can only find their way back to one another, they'll have a chance to remake their world."
I'll Meet You There by Heather Demetrios
"If Skylar Evans were a typical Creek View girl, her future would involve a double-wide trailer, a baby, and the graveyard shift at Taco Bell. But after graduation, the only thing separating straightedge Skylar from art school is three months of summer… until Skylar's mother loses her job, and Skylar realizes her dreams may be slipping out of reach.
Josh had a different escape route: the Marines. But after losing his leg in Afghanistan, he returned home, a shell of the cocksure boy he used to be.
What brings Skylar and Josh together is working at the Paradise―a quirky motel off California's Highway 99.
Despite their differences, their shared isolation turns into a friendship and soon, something deeper." (Amazon)
If I Was Your Girl by Meredith Russo
"Amanda Hardy is the new girl in school. Like anyone else, all she wants is to make friends and fit in. But Amanda is keeping a secret, and she's determined not to get too close to anyone.
But when she meets sweet, easygoing Grant, Amanda can't help but start to let him into her life. As they spend more time together, she realizes just how much she is losing by guarding her heart. She finds herself yearning to share with Grant everything about herself, including her past. But Amanda's terrified that once she tells him the truth, he won't be able to see past it." (Amazon)
The Impossible Knife of Memory by Laurie Halse Anderson
"For the past five years, Hayley Kincaid and her father, Andy, have been on the road, never staying long in one place as he struggles to escape the demons that have tortured him since his return from Iraq. Now they are back in the town where he grew up so Hayley can attend school. Perhaps, for the first time, Hayley can have a normal life, put aside her own painful memories, even have a relationship with Finn, the hot guy who obviously likes her but is hiding secrets of his own. Will being back home help Andy's PTSD, or will his terrible memories drag him to the edge of hell, and drugs push him over?" (Amazon)
Like Water by Rebecca Podos
"In Savannah Espinoza's small New Mexico hometown, kids either flee after graduation or they're trapped there forever. Vanni never planned to get stuck—but that was before her father was diagnosed with Huntington's disease, leaving her and her mother to care for him.
Now she doesn't have much of a plan at all: living at home, working as a performing mermaid at a second-rate water park, distracting herself with one boy after another.
That changes the day she meets Leigh. Disillusioned with small-town life and looking for something greater, Leigh is not a "nice girl." She is unlike anyone Vanni has met, and a friend when Vanni desperately needs one. Soon enough, Leigh is much more than a friend.
But caring about another person threatens the walls Vanni has carefully constructed to protect herself and brings up the big questions she's hidden from for so long." (Amazon)
Little & Lion by Brandy Colbert
"When Suzette comes home to Los Angeles from her boarding school in New England, she's isn't sure if she'll ever want to go back. L.A. is where her friends and family are (as well as her crush, Emil). And her stepbrother, Lionel, who has been diagnosed with bipolar disorder, needs her emotional support.
But as she settles into her old life, Suzette finds herself falling for someone new…the same girl her brother is in love with. When Lionel's disorder spirals out of control, Suzette is forced to confront her past mistakes and find a way to help her brother before he hurts himself–or worse." (Amazon)
Long Way Down by Jason Reynolds
"A cannon. A strap.
A piece. A biscuit.
A burner. A heater.
A chopper. A gat.
A hammer
A tool
for RULE
Or, you can call it a gun. That's what fifteen-year-old Will has shoved in the back waistband of his jeans. See, his brother Shawn was just murdered. And Will knows the rules. No crying. No snitching. Revenge. That's where Will's now heading, with that gun shoved in the back waistband of his jeans, the gun that was his brother's gun. He gets on the elevator, seventh floor, stoked. He knows who he's after. Or does he?
As the elevator stops on the sixth floor, on comes Buck. Buck, Will finds out, is who gave Shawn the gun before Will took the gun. Buck tells Will to check that the gun is even loaded. And that's when Will sees that one bullet is missing. And the only one who could have fired Shawn's gun was Shawn. Huh. Will didn't know that Shawn had ever actually USED his gun. Bigger huh. BUCK IS DEAD. But Buck's in the elevator?
Just as Will's trying to think this through, the door to the next floor opens. A teenage girl gets on, waves away the smoke from Dead Buck's cigarette. Will doesn't know her, but she knew him. Knew. When they were eight. And stray bullets had cut through the playground, and Will had tried to cover her, but she was hit anyway, and so what she wants to know, on that fifth floor elevator stop, is, what if Will, Will with the gun shoved in the back waistband of his jeans, MISSES.
And so it goes, the whole long way down, as the elevator stops on each floor, and at each stop someone connected to his brother gets on to give Will a piece to a bigger story than the one he thinks he knows. A story that might never know an END…if Will gets off that elevator." (Amazon)
More Happy Than Not by Adam Silvera
"In the months after his father's suicide, it's been tough for sixteen-year-old Aaron Soto to find happiness again—but he's still gunning for it. With the support of his girlfriend Genevieve and his overworked mom, he's slowly remembering what that might feel like. But grief and the smile-shaped scar on his wrist prevent him from forgetting completely.
When Genevieve leaves for a couple of weeks, Aaron spends all his time hanging out with this new guy, Thomas. Aaron's crew notices, and they're not exactly thrilled. But Aaron can't deny the happiness Thomas brings or how Thomas makes him feel safe from himself, despite the tensions their friendship is stirring with his girlfriend and friends. Since Aaron can't stay away from Thomas or turn off his newfound feelings for him, he considers turning to the Leteo Institute's revolutionary memory-alteration procedure to straighten himself out, even if it means forgetting who he truly is." (Amazon)
The Nerdy and the Dirty by B.T Gottffed
"Penelope 'Pen' Lupo is sick and tired of being fake―not fake in a mean girl way, but in a way that hides who she really is. On the outside, Pen is popular, quiet, and deferential to her boyfriend. On the inside, however, Pen is honest, opinionated―and not quite sure that she's like other girls. Do they have urges like she does?
His classmates may consider him a nerd, but Benedict Pendleton knows he's destined for great things. All he has to do is find a worthy girlfriend, and his social station will be secured. Sure, Benedict is different―but that's what he likes about himself.
When fate intervenes, both Pen and Benedict end up at the same vacation resort for winter break. Despite their differences, the two are drawn together. But is there such a thing as happily ever after for a nympho and a nerd?" (Amazon)
Please Ignore Vera Dietz by A.S. King
"Vera's spent her whole life secretly in love with her best friend, Charlie Kahn. And over the years she's kept a lot of his secrets. Even after he betrayed her. Even after he ruined everything.
So when Charlie dies in dark circumstances, Vera knows a lot more than anyone—the kids at school, his family, even the police. But will she emerge to clear his name? Does she even want to?"
The Poet X by Elizabeth Acevedo
"Xiomara Batista feels unheard and unable to hide in her Harlem neighborhood. Ever since her body grew into curves, she has learned to let her fists and her fierceness do the talking.
But Xiomara has plenty she wants to say, and she pours all her frustration and passion onto the pages of a leather notebook, reciting the words to herself like prayers—especially after she catches feelings for a boy in her bio class named Aman, who her family can never know about.
With Mami's determination to force her daughter to obey the laws of the church, Xiomara understands that her thoughts are best kept to herself. So when she is invited to join her school's slam poetry club, she doesn't know how she could ever attend without her mami finding out. But she still can't stop thinking about performing her poems.
Because in the face of a world that may not want to hear her, Xiomara refuses to be silent." (Amazon)
Radio Silence by Alice Oseman
"Frances Janvier spends most of her time studying.
Everyone knows Aled Last as that quiet boy who gets straight As.
You probably think that they are going to fall in love or something. Since he is a boy and she is a girl.
They don't. They make a podcast.
In a world determined to shut them up, knock them down, and set them on a cookie cutter life path, Frances and Aled struggle to find their voices over the course of one life-changing year. Will they have the courage to show everyone who they really are? Or will they be met with radio silence?" (Amazon)
Sadie by Courtney Summers
"Sadie hasn't had an easy life. Growing up on her own, she's been raising her sister Mattie in an isolated small town, trying her best to provide a normal life and keep their heads above water.
But when Mattie is found dead, Sadie's entire world crumbles. After a somewhat botched police investigation, Sadie is determined to bring her sister's killer to justice and hits the road following a few meager clues to find him.
When West McCray―a radio personality working on a segment about small, forgotten towns in America―overhears Sadie's story at a local gas station, he becomes obsessed with finding the missing girl. He starts his own podcast as he tracks Sadie's journey, trying to figure out what happened, hoping to find her before it's too late." (Amazon)
The Serpent King by Jeff Zentner
"Dill isn't the most popular kid at his rural Tennessee high school. After his father fell from grace in a public scandal that reverberated throughout their small town, Dill became a target. Fortunately, his two fellow misfits and best friends, Travis and Lydia, have his back.
But as they begin their senior year, Dill feels the coils of his future tightening around him. His only escapes are music and his secret feelings for Lydia–neither of which he is brave enough to share. Graduation feels more like an ending to Dill than a beginning. But even before then, he must cope with another ending–one that will rock his life to the core." (Amazon)
Simon vs. the Homo Sapiens Agenda by Becky Albertalli
"Sixteen-year-old and not-so-openly gay Simon Spier prefers to save his drama for the school musical. But when an email falls into the wrong hands, his secret is at risk of being thrust into the spotlight. Now change-averse Simon has to find a way to step out of his comfort zone before he's pushed out—without alienating his friends, compromising himself, or fumbling a shot at happiness with the most confusing, adorable guy he's never met." (Amazon)
Since You've Been Gone by Morgan Matson
"It was Sloane who yanked Emily out of her shell and made life 100% interesting. But right before what should have been the most epic summer, Sloane just…disappears. All she leaves behind is a to-do list.
On it, thirteen Sloane-inspired tasks that Emily would normally never try. But what if they could bring her best friend back?
Apple picking at night? Okay, easy enough.
Dance until dawn? Sure. Why not?
Kiss a stranger? Um…
Emily now has this unexpected summer, and the help of Frank Porter (totally unexpected), to check things off Sloane's list. Who knows what she'll find?
Go skinny-dipping? Wait…what?" (Goodreads)
Starfish by Akemi Dawn Bowman
"Kiko Himura has always had a hard time saying exactly what she's thinking. With a mother who makes her feel unremarkable and a half-Japanese heritage she doesn't quite understand, Kiko prefers to keep her head down, certain that once she makes it into her dream art school, Prism, her real life will begin.
But then Kiko doesn't get into Prism, at the same time her abusive uncle moves back in with her family. So when she receives an invitation from her childhood friend to leave her small town and tour art schools on the west coast, Kiko jumps at the opportunity in spite of the anxieties and fears that attempt to hold her back. And now that she is finally free to be her own person outside the constricting walls of her home life, Kiko learns life-changing truths about herself, her past, and how to be brave." (Amazon)
The Sun Is Also a Star by Nicola Yoon
"Natasha: I'm a girl who believes in science and facts. Not fate. Not destiny. Or dreams that will never come true. I'm definitely not the kind of girl who meets a cute boy on a crowded New York City street and falls in love with him. Not when my family is twelve hours away from being deported to Jamaica. Falling in love with him won't be my story.
Daniel: I've always been the good son, the good student, living up to my parents' high expectations. Never the poet. Or the dreamer. But when I see her, I forget about all that. Something about Natasha makes me think that fate has something much more extraordinary in store—for both of us.
The Universe: Every moment in our lives has brought us to this single moment. A million futures lie before us. Which one will come true?" (Amazon)
Tash Hearts Tolstoy by Kathryn Ormsbee
"After a shout-out from one of the Internet's superstar vloggers, Natasha "Tash" Zelenka suddenly finds herself and her obscure, amateur web series, Unhappy Families, thrust in the limelight: She's gone viral.
Her show is a modern adaption of Anna Karenina–written by Tash's literary love Count Lev Nikolayevich "Leo" Tolstoy. Tash is a fan of the 40,000 new subscribers, their gushing tweets, and flashy Tumblr gifs. Not so much the pressure to deliver the best web series ever.
And when Unhappy Families is nominated for a Golden Tuba award, Tash's cyber-flirtation with a fellow award nominee suddenly has the potential to become something IRL–if she can figure out how to tell said crush that she's romantic asexual.
Tash wants to enjoy her newfound fame, but will she lose her friends in her rise to the top? What would Tolstoy do?" (Amazon)
This Is Where It Ends by Marieke Nijkamp
"Everyone has a reason to fear the boy with the gun…
10:00 a.m.: The principal of Opportunity, Alabama's high school finishes her speech, welcoming the entire student body to a new semester and encouraging them to excel and achieve.
10:02 a.m.: The students get up to leave the auditorium for their next class.

10:03: The auditorium doors won't open.

10:05: Someone starts shooting.
In 54 minutes, four students must confront their greatest hopes, and darkest fears, as they come face-to-face with the boy with the gun." (Amazon)
This One Summer by Mariko and Jillian Tamaki
"Every summer, Rose goes with her mom and dad to a lake house in Awago Beach. It's their getaway, their refuge. Rosie's friend Windy is always there, too, like the little sister she never had. But this summer is different. Rose's mom and dad won't stop fighting, and when Rose and Windy seek a distraction from the drama, they find themselves with a whole new set of problems. One of the local teens – just a couple of years older than Rose and Windy – is caught up in something bad… Something life threatening.
It's a summer of secrets, and sorrow, and growing up, and it's a good thing Rose and Windy have each other." (Amazon)
To All the Boys I've Loved Before by Jenny Han
"Sixteen-year-old Lara Jean Song keeps her love letters in a hatbox her mother gave her. They aren't love letters that anyone else wrote for her; these are ones she's written. One for every boy she's ever loved—five in all. When she writes, she pours out her heart and soul and says all the things she would never say in real life, because her letters are for her eyes only. Until the day her secret letters are mailed, and suddenly, Lara Jean's love life goes from imaginary to out of control." (Amazon)
Two Boys Kissing by David Levithan
"Based on true events—and narrated by a Greek Chorus of the generation of gay men lost to AIDS—Two Boys Kissing follows Harry and Craig, two seventeen-year-olds who are about to take part in a 32-hour marathon of kissing to set a new Guinness World Record. While the two increasingly dehydrated and sleep-deprived boys are locking lips, they become a focal point in the lives of other teens dealing with universal questions of love, identity, and belonging." (Amazon)
The Walls Around Us by Nova Ren Suma
"The Walls Around Us is a ghostly story of suspense told in two voices–one still living and one dead. On the outside, there's Violet, an eighteen-year-old ballerina days away from the life of her dreams when something threatens to expose the shocking truth of her achievement. On the inside, within the walls of a girls' juvenile detention center, there's Amber, locked up for so long she can't imagine freedom. Tying these two worlds together is Orianna, who holds the key to unlocking all the girls' darkest mysteries: What really happened on the night Orianna stepped between Violet and her tormentors? What really happened on two strange nights at Aurora Hills? Will Amber and Violet and Orianna ever get the justice they deserve–in this life or in another one?" (Amazon)
We Are Okay by Nina LaCour
"You go through life thinking there's so much you need. . . . Until you leave with only your phone, your wallet, and a picture of your mother. Marin hasn't spoken to anyone from her old life since the day she left everything behind. No one knows the truth about those final weeks. Not even her best friend Mabel. But even thousands of miles away from the California coast, at college in New York, Marin still feels the pull of the life and tragedy she's tried to outrun. Now, months later, alone in an emptied dorm for winter break, Marin waits. Mabel is coming to visit and Marin will be forced to face everything that's been left unsaid and finally confront the loneliness that has made a home in her heart." (Amazon)
We Were Liars by E. Lockhart
"A beautiful and distinguished family.
A private island.
A brilliant, damaged girl; a passionate, political boy.
A group of four friends—the Liars—whose friendship turns destructive.
A revolution. An accident. A secret.
Lies upon lies.
True love.
The truth.
We Were Liars is a modern, sophisticated suspense novel from New York Times bestselling author, National Book Award finalist, and Printz Award honoree E. Lockhart.
Read it.
And if anyone asks you how it ends, just LIE." (Amazon)
When Dimple Met Rishi by Sandhya Menon
"Dimple Shah has it all figured out. With graduation behind her, she's more than ready for a break from her family, from Mamma's inexplicable obsession with her finding the "Ideal Indian Husband." Ugh. Dimple knows they must respect her principles on some level, though. If they truly believed she needed a husband right now, they wouldn't have paid for her to attend a summer program for aspiring web developers…right?
Rishi Patel is a hopeless romantic. So when his parents tell him that his future wife will be attending the same summer program as him—wherein he'll have to woo her—he's totally on board. Because as silly as it sounds to most people in his life, Rishi wants to be arranged, believes in the power of tradition, stability, and being a part of something much bigger than himself.
The Shahs and Patels didn't mean to start turning the wheels on this "suggested arrangement" so early in their children's lives, but when they noticed them both gravitate toward the same summer program, they figured, Why not?
Dimple and Rishi may think they have each other figured out. But when opposites clash, love works hard to prove itself in the most unexpected ways." (Amazon)
When the Moon Was Ours by Anna-Marie McElmore
"To everyone who knows them, best friends Miel and Sam are as strange as they are inseparable. Roses grow out of Miel's wrist, and rumors say that she spilled out of a water tower when she was five. Sam is known for the moons he paints and hangs in the trees and for how little anyone knows about his life before he and his mother moved to town. But as odd as everyone considers Miel and Sam, even they stay away from the Bonner girls, four beautiful sisters rumored to be witches. Now they want the roses that grow from Miel's skin, convinced that their scent can make anyone fall in love. And they're willing to use every secret Miel has fought to protect to make sure she gives them up." (Amazon)
Where Things Come Back by John Corey Whaley
"In the remarkable, bizarre, and heart-wrenching summer before Cullen Witter's senior year of high school, he is forced to examine everything he thinks he understands about his small and painfully dull Arkansas town. His cousin overdoses; his town becomes absurdly obsessed with the alleged reappearance of an extinct woodpecker; and most troubling of all, his sensitive, gifted fifteen-year-old brother, Gabriel, suddenly and inexplicably disappears.
Meanwhile, the crisis of faith spawned by a young missionary's disillusion in Africa prompts a frantic search for meaning that has far-reaching consequences. As distant as the two stories initially seem, they are woven together through masterful plotting and merge in a surprising and harrowing climax." (Amazon)
---
How many have you read? What are your favorite contemporary YA novels of the 2010s?
For more YA coverage from Book Riot, check out: