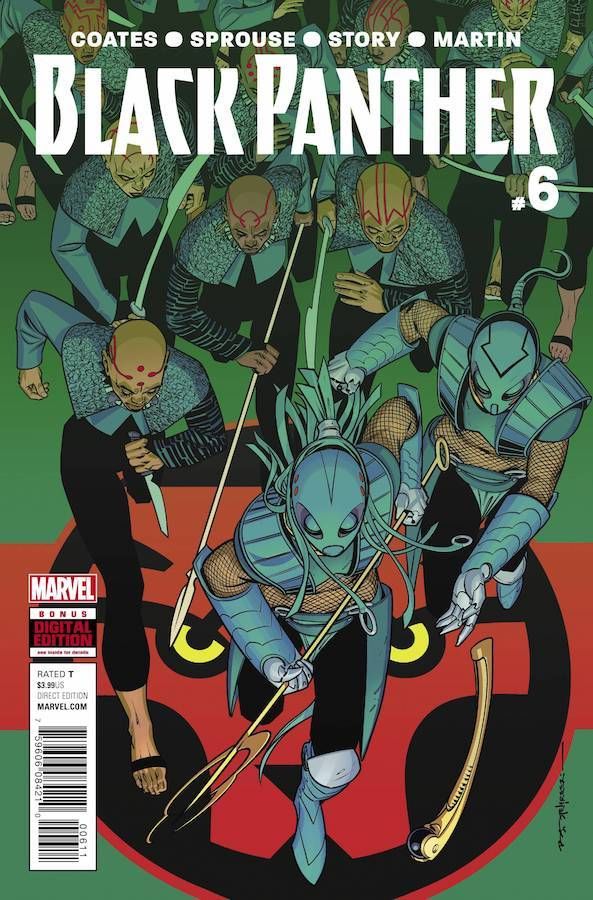 Hey all! I work for Fantom Comics in Washington, DC, and every month I track the most-subscribed comics at my shop. It's by no means totally indicative of worldwide sales trends, but it's a neat little snapshot into the reading habits of one city's comics community.
Disclaimer: These are subscription numbers, not total sales, so it represents our regular customers rather than casual walk-ins. It means #1 issues are under-represented, as people tend to pick up the first issue off the rack before they subscribe to it. In addition, this ranking is measured by number of subscribers, not by revenue.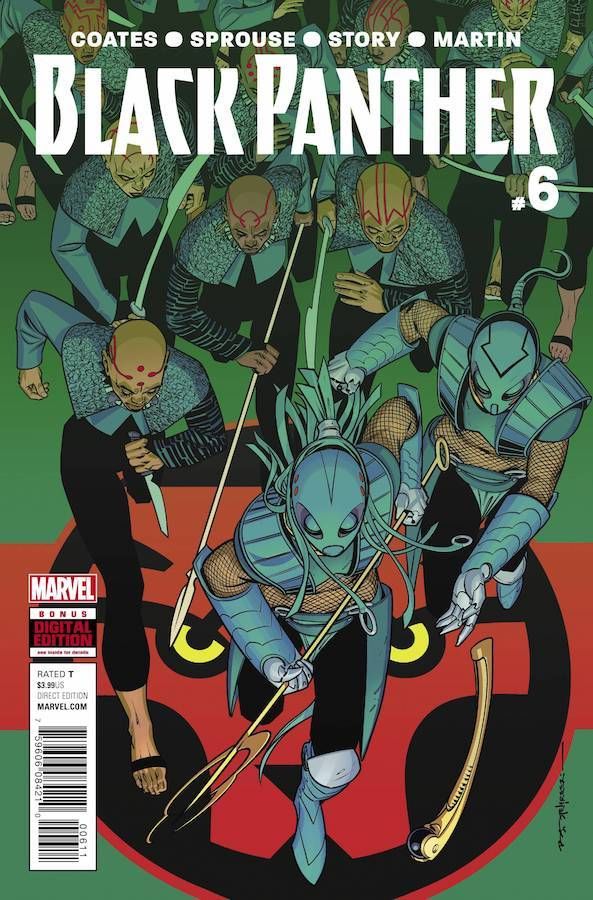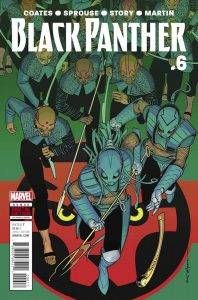 1. Black Panther #6 by Ta-Nehisi Coates and Chris Sprouse
Black Panther is reaching standard comic book sales attrition where each issue drops a few subscribers, but it's so astronomically far ahead of everything else at Fantom Comics that it'll sit comfortably in the top spot for the foreseeable future, delays notwithstanding.
Original series artist Brian Stelfreeze's return in issue #9 has just been solicited for December, but honestly, fill-in artist Chris Sprouse has done a far better job than we would've expected, with an art style similar enough in tone and aesthetic that his four issues (#5-8) seamlessly bridge the gap in Stelfreeze's run.
The upcoming World of Wakanda spin-off comic looks like it's already building up a significant number of subscribers, so we're excited to see if that book can crack our top ten as well!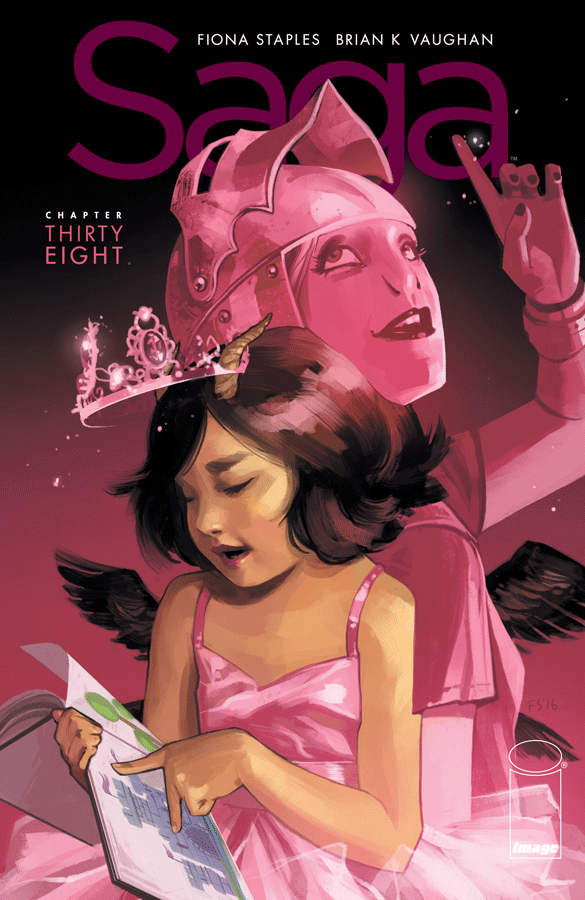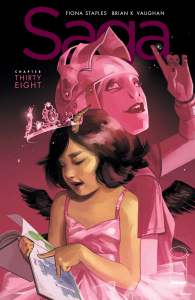 2. Saga #38 by Brian K. Vaughan and Fiona Staples
I wrote in-depth last month about the keys to Saga's success, and with this second issue of the seventh story arc, issue #38 has actually gained subscribers over #37–presumably this means some of the "trade-waiters" who had been reading Saga in the collected paperbacks decided to jump into the new arc by buying #37 off the rack, and they enjoyed it enough to subscribe to the series for #38's release.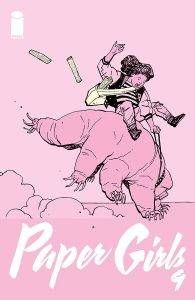 3. Paper Girls #9 by Brian K. Vaughan and Cliff Chiang
Going unapologetically sci-fi now with that tardigrade on the cover! Maintains a steady readership from last issue. Paper Girls has seen renewed hype the last few months because of its similarities to the new smash hit Netflix series Stranger Things (even though Paper Girls came first!). The increased visibility could mean big things for the series once this story arc wraps up and the vol. 2 trade paperback arrives November 30, so new readers can jump into the single issues for the third arc.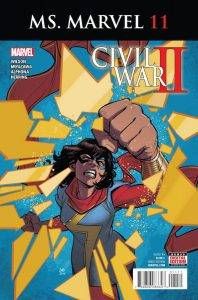 4. Ms. Marvel #11 by G. Willow Wilson, Takeshi Miyazawa, and Adrian Alphona
The final Civil War II tie-in issue for Ms. Marvel. The previous big Marvel event, last year's Secret Wars, didn't have any effect whatsoever on Ms. Marvel readership–but in that case, Ms. Marvel went on a short hiatus and returned with a renumbered #1 issue.
This time around, the regular Ms. Marvel series is continuing on in the middle of Civil War II; next month we'll see whether the crossover connection brought more attention to the series, or if we'll see a drop-off from readers who only cared about it from a Big Event perspective.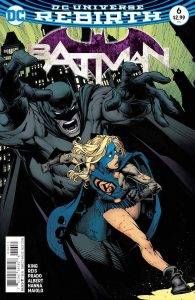 5. Batman #6 by Tom King and Ivan Reis
The epilogue to the new Batman run's first story arc "I Am Gotham," drawn by guest artist Ivan Reis and focusing on new character Gotham Girl. By all accounts the new Batman series has been a massive success, the crown jewel of DC Comics' big "Rebirth" reboot, with more subscribers than any DC book has ever had in the history of Fantom Comics. The publisher will be hard pressed to find anything that can top this!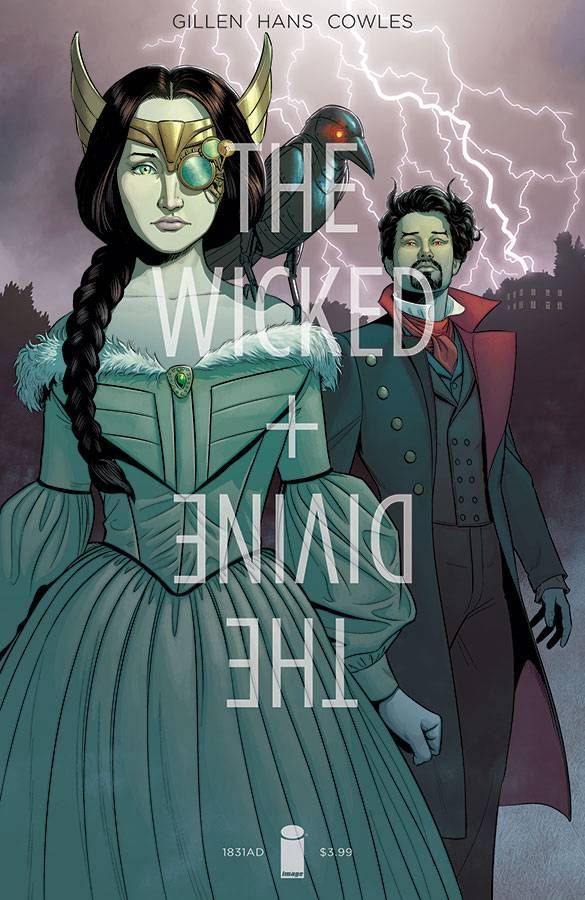 6. The Wicked + the Divine: 1831 AD one-shot by Kieron Gillen and Stephanie Hans
One of the advantages Marvel and DC series have over creator-owned books is their relentless schedule, utilizing fill-in artists to put out at least one issue every single month. Writer Kieron Gillen, veteran of both work-for-hire and creator-owned comics, has figured out a way to bridge this gap with The Wicked + the Divine: while previous story arcs saw months-long gaps between them like Saga, WicDiv's new schedule features a guest artist one-shot issue between each arc focusing on a previous pantheon of gods.
The first up is the 1831 pantheon, with art by Stephanie Hans (who drew the Amaterasu-focused WicDiv #15). This story is largely disconnected from the main plot of WicDiv, so it won't be collected in trade until the end of the series in a volume of all the one-shots. Because of this, there's added incentive to pick this up in single issue format, and it gets a boost in subscribers from the last regular Wicked + Divine by trade-waiters who have added it to their list.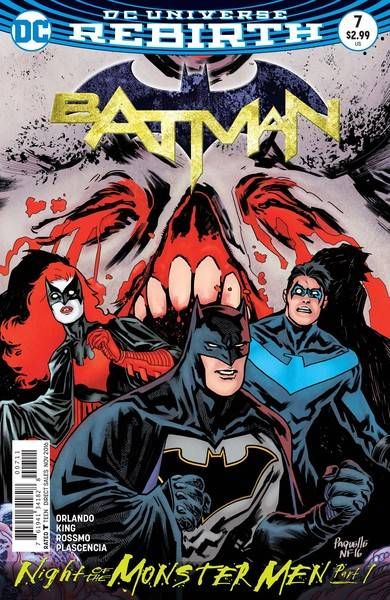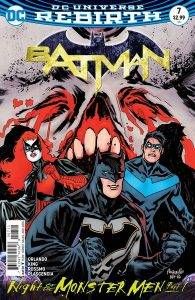 7. Batman #7 by Steve Orlando, Tom King, and Riley Rossmo
As you can see, standard comic book sales attrition is starting to affect Batman with issue #7 dropping a few places below #6. The accelerated twice-a-month schedule may be partially to blame; in my previous tracked numbers, when Marvel's Star Wars books went through a few months of twice-a-month releases, they dropped subscription numbers much more quickly than when they focused on one issue per month.
This issue is also part of the first crossover of DC's Rebirth era, with the "Night of the Monster Men" event crossing through two issues each of Batman, Nightwing, and Detective Comics. It features co-writer Steve Orlando (Midnighter, Supergirl) and guest artist Riley Rossmo (Constantine the Hellblazer, Rasputin), two of my personal favorites. They're both known for doing offbeat books, and they're perfect fits for this event.
I was worried Rebirth would signal a move back towards more traditional, conservative cape comics, but "Night of the Monster Men" is an ultra-weird, appropriately Halloweeny crossover that shows DC isn't afraid of being a little goofy. Orlando and Rossmo may be polarizing for a few old-school readers, but while the event doesn't seem to be benefitting Batman subscription numbers, this tie-in to the flagship DC book has boosted subscriptions for Detective Comics and Nightwing as Bat-fans try to catch all the issues of the crossover.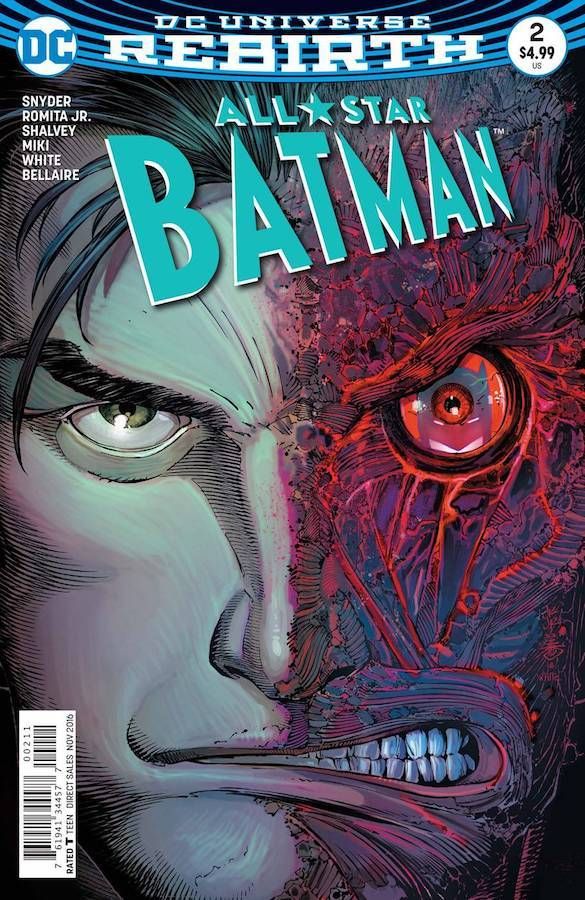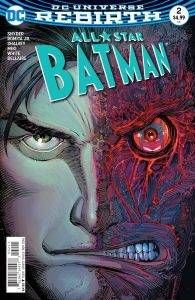 8. All-Star Batman #2 by Scott Snyder and John Romita, Jr.
DC's third book on our top ten list! It's another Batman book! The publisher might have a dilemma diversifying their bestsellers, but All-Star Batman absolutely deserves to be up here. After a definitive five-year run on the New 52 iteration of Batman, writer Scott Snyder felt he was done with the character. He didn't want to have to deal with crossover events or DC's new grinding release schedule… so they gave him his own new Bat-book where he can do whatever the hell he wants, with oversized $4.99 once-a-month issues.
All-Star Batman is a road trip comic about Bruce Wayne getting into the more esoteric nooks and crannies of his rogues gallery, drawn by a rotating cast of all-star artists handpicked by Snyder. This first arc is drawn by John Romita, Jr., and future issues will see pencils by the likes of Paul Pope, Tula Lotay, Jock, Sean Murphy, and Declan Shalvey. ASB may be the best part of Rebirth so far, and it has almost nothing to do with Rebirth.
9. Tie: Civil War II #5 by Brian Michael Bendis and David Marquez; Island #11, edited by Brandon Graham and Emma Ríos
It's been two months since the last issue of Civil War II, and hot on the heels of a major character death, readers have been clamoring for the next issue; this may be an instance where a short delay (key word: short!) actually helped sales by boosting anticipation. As long as delays don't become standard (see: Marvel's previous summer event Secret Wars), Civil War II should be fine.
On-and-off delays through its entire release history have hurt my favorite thing happening in comics right now, Island. It still cracks the top ten, impressive for such a left-field book, but if it were performing on schedule the indie comics anthology magazine would still be in the top half of this list every month.
Hopefully the gorgeous collected editions of Island stories like Emma Ríos' I.D., Malachi Ward and Matt Sheean's Ancestor, and Simon Roy's Habitat will sell well enough to sustain the magazine as an engine for successful Image Comics collections of amazing independent comics. Issue #11 features the off-the-wall finale of Ancestor, as well as a republishing of Grim Wilkins' beautiful Kickstarted comic Mirenda.
And that's a wrap. Did everything fall where you thought it would? Let us know in the comments!