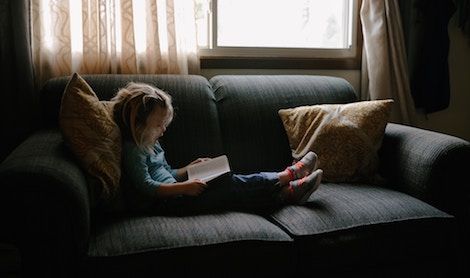 Children's
20 Children's Books about Divorce: A Reading List
This content contains affiliate links. When you buy through these links, we may earn an affiliate commission.
There are a lot of children's books about divorce. Some focus on the divorce itself, while others cushion the divorce plot inside an adventure or sports story. Some depict the stories that come of post-divorce life: telling friends, moving away, or adapting to new step-families. Regardless of the specifics, they all provide details about the experience of divorce on a child – being embarrassed, hopeful, anxious, or angry. Children's books about divorce can be very healing, as they remind children that they are not alone in what they are going through.
I've split my reading list into picture books and middle grade novels, but didn't include YA because there's already a list for them here. You will also find some wonderful picture books about non-traditional families here.
Preschool Children's Books About Divorce
Munsch is a classic Canadian picture book author, and this novel is a funny take on a difficult situation. Kelsey keeps bringing her favourite belongings back and forth from her mom's house to her dad's, because "I think I should live in one house and both of you should visit me…". I like her spirit.
My Two Homes by Claudia Harrington and Zoe Persico
Lenny follows Skye to her home for a school project, only to discover that she actually has two homes and a great relationship with all her parents ­– father, mother, and stepfather. The book is very upbeat, and presents post-divorce life as normal and even fun. It's part of a series that includes books on various forms of diverse families: My Military Mom, My Two Dads, etc.
No real narrative in this one, just comforting sentiments from the point of view of well-adjusted children. Each vignette is about a different family, normalizing divorce for the reader and showing the reader that it can happen to anyone. The cozy art shows a nice range of families from different races and areas.
Jackson's mom is getting married and he has the big responsibility of being the ring bearer. Unfortunately, Jackson is nervous that he won't do it right! He's also anxious that his new sister Sophie isn't taking her role as flower girl seriously enough. A warm story about a new family coming together.
The art is fun and bright, and the story is one that many children from divorced families will find relatable. Lou measures time as it passes so that he can keep track of when he will see each parent again. This one is for slightly older children, as the story is a bit more detailed.
"When Picasso was sad for a while," says Emily, "he only painted in blue. And now I am in my blue period." Emily's dad has moved out and she is struggling to deal with all the changes in her life. One thing that is helping? Art. Another book for older picture book readers, this is an important and poignant read.

A very specific experience for divorced children – what happens for holidays? How will the family be able to celebrate? Set over the course of three years, readers see how a family develops and creates new traditions.
Part of the Higginbotham's Ordinary Terrible Things Series, which portrays kids dealing with issues like divorce and death. I appreciate how straightforward the text is, and her collage images support the messy, chaotic feelings that divorce brings up. Be aware that it isn't a sugar-coated, addressing the many complicated and negative feelings that a child might experience, but that it also reinforces that divorce isn't the child's fault.
Middle Grade Books About Divorce
Two Naomis by Olugbemisola Rhuday-Perkovich
A realistic fiction novel about two girls, both named Naomi, who do not want to get to know each other better. Naomi Marie's mom and Naomi Edith's dad begin dating and the girls are not having it. This novel boasts strong, endearing characters and it explores very complex emotions.
It wasn't easy to find newish books on this topic with a male protagonist! Lincoln mostly keeps to himself at his new school. He and his mother have escaped an abusive relationship, and he doesn't want to discuss his experiences with the other kids. Instead, in an effort to remain on his own, he spends his time writing fictional stories in his notebook. That is, until a girl named Kandi starts to pry into his life…
Blended by Sharon M. Draper
Isabella is used to people commenting on her mixed-race family (her dad is black, her mom is white), but now that her parents are splitting she's sure that it will only get worse. A book about feeling torn between identities and not knowing how to stitch yourself back together. Draper is a brilliant middle grade author and this will not disappoint.
Set in 1986, Maya lives in Malaysia and wants nothing more than to play soccer. Unfortunately, her beloved sport is seen as a "boy's game" so she doesn't get much support. Despite that, Maya organizes a girls' team and wins a chance to watch her favourite team play in England. The side plot of this novel is that she is trying to reunite her family. A funny, realistic story with a strong-willed protagonist.
Hatchet by Gary Paulson
This is a wilderness survival narrative about a boy named Brian. While traveling from his mom's place in New York to visit his father in Northern Canada, tragedy strikes and Brian has to fend for himself with nothing but a hatchet – a gift given to him by his mother before he boarded the plane. While on his own, Brian struggles to deal with his complicated feelings toward his mother, who he saw cheating on his father.
I love this book madly and try to recommend it as much as possible. Set over one (crazy) summer in 1968, Delphine and her sisters travel from Brooklyn to Oakland to stay with their distant, seemingly uninterested mother. A poet, printer, and member of the Black Panthers, their busy mother sends them to a Black Panther summer camp.
Erin Entrada Kelly is one of my absolute favourite middle grade authors working today. Charlotte and Ben are Scrabble-playing friends who live very far apart. Both are struggling with family complications and feelings of alienation, and their friendship brings them solace in ways neither of them would not have expected. Kelly's novel is, as usual, poignant and hopeful.
G-Baby (Georgie) is adjusting to her new life in a small town after her mother remarries. She's desperate to get the approval of her older stepsister Tangie, so much so that she starts treating her little sister Peaches like a nuisance. Then Peaches gets sick, and G-Baby feels like she has to try to fix things for everyone. She knows that she's the only person who can help Peaches feel strong again. This is a very sweet novel about how families shift and adapt.
Listen, it's not high on realism. Winnie's parents are getting divorced and have decided that every Wednesday she will spend the night in a treehouse between their two homes, allowing the rest of the week to be split evenly between them. After doing this for a while, Winnie is done and takes a stand. She will live in the treehouse full time until her parents stop acting nuts. A treehouse war ensues. Fun, if a bit flawed in terms of consequences.
Rebecca is having trouble coping with her parent's separation. Not only that, in an extra bummer of a situation, she and her mom have moved to a new state to live with her grandmother. Then she finds a magical breadbox in the attic, one that gives you whatever you want and things begin to feel a bit easier again…A wonderful fantasy novel that tackles some very big themes.
Melly and her best friend Olivia join the school band together. Turns out that Melly loves playing the drums, and she's psyched for summer fun with Olivia at Camp Rockaway. Unfortunately, everything is going wonky – her parents have split up, Olivia ditches her, and Melly's beginning to fall in love with a girl named Adeline. My question about all this is: why didn't this book exist when I was a kid?
An uplifting if bittersweet story about divorce, eating disorders, and fitting in. Emily doesn't want change, but it's happening all around her anyway because her parents have divorced. The stress of it has taken its toll on her family, and the shift in her life is suddenly overwhelming. On top of all that, her best friend Hazel is suddenly making new friends and paying attention to boys. Who hasn't gone through the rough patch period of middle grade?
So these are my personal picks for strong, smart pics that will help children better deal with the change that comes from divorce. Books about divorce may not be the easiest read, but they will definitely help open up communication about the subject. Let me know if I missed any children's books about divorce in the comments.