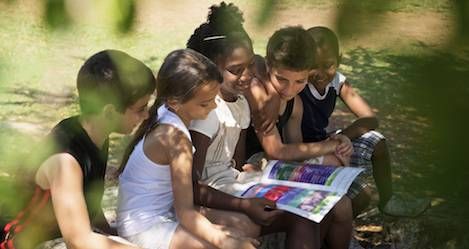 Children's
There's No Wrong Way: 30 Children's Books About Non-Traditional Families
This content contains affiliate links. When you buy through these links, we may earn an affiliate commission.
Forget Leave it to Beaver and The Donna Reed Show… The Brady Bunch was always far more engaging anyway. Families are no longer comprised solely of a cisgender mother and a cisgender father raising biological children. The family unit takes so many beautiful forms and it's important to teach children that the heteronormative nuclear family is not the only way to go. So here are a few recommendations for children's books about non-traditional families that celebrate diverse family dynamics.
Two Is Enough by Jannie Matthies, illustrated by Tuesday Mourning
From playing in the snow to a rainy-day ride, to double-scoop treats and crash-landing in leaves, two can be the perfect number for creating life's memories. And two can definitely be enough for a warm family, full of the love, support, and comfort that every child needs.
No matter your size, shape, or pedigree–if you love each other, you are a family! Moms, dads, sisters, brothers — and even Great Aunt Sue — appear in dozens of combinations, demonstrating all kinds of nontraditional families! Silly animals are cleverly depicted in framed portraits, and offer a warm celebration of family love.
What makes a family anyway? Featuring Waldorf-style illustrations and depictions of families of all shapes, sizes and colors, this book gets kids talking about their own families while opening their eyes to the fact that even though families don't always look the same, they all share one special thing-love.
Jamie Lee Curtis and Laura Cornell, author and illustrator of the best-selling When I Was Little: A Four Year Old's Memoir of Her Youth, have joined together again to create a fresh new picture book for every parent and every child. In asking her parents to tell her again about the night of her birth, a young girl shows that it is a cherished tale she knows by heart.
And Tango Makes Three by Justin Richardson and Peter Parnell, illustrated by Henry Cole
And Tango Makes Three is the bestselling, heartwarming true story of two penguins who create a nontraditional family. At the penguin house at the Central Park Zoo, two penguins named Roy and Silo were a little bit different from the others. But their desire for a family was the same. And with the help of a kindly zookeeper, Roy and Silo get the chance to welcome a baby penguin of their very own.
Mommy, Mama, and Me by Leslea Newman, illustrated by Carol Thompson
Rhythmic text and illustrations with universal appeal show a toddler spending the day with its mommies. From hide-and-seek to dress-up, then bath time and a kiss goodnight, there's no limit to what a loving family can do together. Shares the loving bond between same-sex parents and their children.
Heather Has Two Mommies by Leslea Newman, illustrated by Carol Thompson
Heather's favorite number is two. She has two arms, two legs, and two pets. And she also has two mommies. When Heather goes to school for the first time, someone asks her about her daddy, but Heather doesn't have a daddy. Then something interesting happens. When Heather and her classmates all draw pictures of their families, not one drawing is the same. It doesn't matter who makes up a family, the teacher says, because "the most important thing about a family is that all the people in it love one another." This delightful edition for a new generation of young readers features fresh illustrations by Laura Cornell and an updated story by Lesléa Newma
Stella Brings the Family by Miriam B. Schiffer, illustrated by Holly Clifton-Brown
Stella's class is having a Mother's Day celebration, but what's a girl with two daddies to do? It's not that she doesn't have someone who helps her with her homework, or tucks her in at night. Stella has her Papa and Daddy who take care of her, and a whole gaggle of other loved ones who make her feel special and supported every day. She just doesn't have a mom to invite to the party. Fortunately, Stella finds a unique solution to her party problem in this sweet story about love, acceptance, and the true meaning of family.
The Different Dragon by Jennifer Bryan, illustrated by Danamarle Hosler
This bedtime story about bedtime stories shows how a lively, curious boy helps one of his moms create a magical tale. Together they weave a nighttime adventures that lands young Noah and his singing cat Diva deep in dragon territory. Join them as they make an unexpected discovery and help a new friend find his way.
Parr's message about the importance of embracing our differences is delivered in a playful way. With his trademark bold, bright colors and silly scenes, this book will encourage children to ask questions about their own families. Perfect for young children just beginning to read, The Family Book is designed to encourage early literacy, enhance emotional development, celebrate multiculturalism, promote character growth, and strengthen family relationships
ABC A Family Alphabet Book by Bobbie Combs, illustrated by Desiree and Brian Rappa
Have fun with the kids, moms, dads and pets in this delightful book that celebrates LGBTQ families as it teaches young children the alphabet.
This fun and fascinating treasury features all kinds of families and their lives together. Each spread showcases one aspect of home life-from houses and holidays, to schools and pets, to feelings and family trees. Ros Asquith's humorous illustrations perfectly complement a charming text from the acclaimed Mary Hoffman; kids will love poring over these pages again and again. A celebration of the diverse fabric of kith and kin the world over, The Great Big Book of Families is a great big treat for every family to share.
Love is a Family by Roma Downey, illustrated by Justine Gasquet
Irrepressible young Lily loves her mother dearly. But when it's time for Family Fun Night at her school, she worries…and worries. What will the other kids think when she just brings her mother? Will they be the strangest family there? In this enchanting, beautifully illustrated story, beloved actress Roma Downey shows children that family should not be defined by mother, father, and child, but by love.
Raising You Alone is an essential book for an essential for any single-parent family. With heart and humor, it talks about the quirks and challenges that must be faced every day. A picture book for parents as well as children, this honest engaging story is the perfect way to say, I will always love you.Raising You Alone, allows the reader to experience single parenting through the eyes of the parent. Walking through life's ups and downs, the story takes us through the pain, triumph and unconditional love between a parent and a child. Hanson's heartwarming tale takes you through many day-today situations and his full-color illustrations bring the story to life.
Visiting Day by Jacqueline Woodson, illustrated by James E. Ransome
In this moving picture book from multi-award winning author Jacqueline Woodson, a young girl and her grandmother prepare for a very special day–the one day a month they get to visit the girl's father in prison. "Only on visiting day is there chicken frying in the kitchen at 6 a.m, and Grandma in her Sunday dress, humming soft and low." As the little girl and her grandmother get ready, her father, who adores her, is getting ready, too, and readers get to join the community of families who make the trip together, as well as the triumphant reunion between father and child, all told in Woodson's trademark lyrical style, and beautifully illustrated by James Ransome.
Who's In a Family by Robert Skutch, illustrated by Laura Nienhaus
Family is important, but who's in a family? Why, the people who love you the most! This equal opportunity, open-minded picture book has no preconceptions about what makes a family a family. There's even equal time given to some of children's favorite animal families. With warm and inviting jewel-tone illustrations, this is a great book for that long talk with a little person on your lap.
Join Nellie and Gus and their family — plus all manner of other families — for a day at the zoo, where they see animal families galore! To top off their day, Nellie and Gus invite friends and relatives for a fun dinner at home. Accessible, humorous, and full of charming illustrations depicting families of many configurations, this engaging story interweaves conversations between the siblings and a matter-of-fact text, making it clear to every child that whoever makes up your family, it is perfectly normal — and totally wonderful.
Fred Stays With Me! by Nancy Coffelt, illustrated by Tricia Tusa
Fred Stays with Me! is an award-winning story that follows a young girl who turns to the one constant in her life, her dog Fred, in the face of her parents' divorce. In this poignant but not overly sentimental story, Coffelt's accessible and kid-friendly language alongside Tusa's charming artwork create a light, cheerful, and reassuring mood that will comfort any child who has two homes.
Two Homes by Claire Masurel, illustrated by Kady MacDonald Denton
At Mommy's house, Alex has a soft chair. At Daddy's house, Alex has a rocking chair. In each home, Alex also has a special bedroom and lots of friends to play with. But whether Alex is with Mommy or with Daddy, one thing always stays the same – Alex is loved. The gently reassuring text focuses on what is gained rather than what is lost when parents divorce, while the sensitive illustrations, depicting two unique homes in all their small details, firmly establish Alex's place in both of them. TWO HOMES will help children – and parents – embrace even the most difficult of changes with an open and optimistic heart.
I Wished for You: An Adoption Story follows a conversation between a little bear named Barley and his Mama as they curl up in their favorite cuddle spot and talk about how they became a family. Barley asks Mama the kinds of questions many adopted children have, and Mama lovingly answers them all. With endearing prose and charming watercolor illustrations, I Wished for You is a cozy read that affirms how love is what truly makes a family.
Marmee, Meema, and the kids are just like any other family on the block. In their beautiful house, they cook dinner together, they laugh together, and they dance together. But some of the other families don?t accept them. They say they are different. How can a family have two moms and no dad? But Marmee and Meema?s house is full of love. And they teach their children that different doesn?t mean wrong. And no matter how many moms or dads they have, they are everything a family is meant to be.
Here is a true Polacco story of a family, living by their own rules, and the strength they gain by the love they feel.
Sometimes It's Grandmas and Grandpas shares a child's experience living with and being cared for by grandparents through the eyes of a cheerful and delightful little girl. Uplifting watercolor illustrations give extra warmth to this caring and loving story, to which a growing number of children can identify—over 4.5 million children in the United States are primarily cared for by a grandparent.
A mother elephant explains her use of donor eggs to her child. With charming illustrations and simple words, "Mommy, was your tummy big?"can help parents who used in vitro fertilization and donor eggs begin to explain the process to their small children.
One Family by George Shannon, illustrated by Blanca Gomez
From veteran picture book author George Shannon and up-and-coming artist Blanca Gomez comes a playful, interactive book that shows how a family can be big or small and comprised of people of a range of genders and races.
More than anything, GreenBean wants to feel like she belongs in her family. She does not look like them. She does not like the same things as them. So she feels like an outsider. How can she possibly belong
My Bonus Mom!: Taking the Step Out of Stepmom by Tami Butcher, illustrated by Feras Nouf
In rhythmic verse, My Bonus Mom!, shows children of divorced families that a positive attitude can lead to a happy outcome and springs open their hearts and minds to accept their own bonus moms. It captures the mixed emotions that surge through young children as they deal with divorce and adjust to remarriage. The children work through their feelings of dismay, fear and anger, and grow to love dad's new wife, whom they come to think of as their bonus mom. Twice the attention, twice the love, twice the fun and twice as many birthday presents! What's not to love?
Living apart from a parent can be a hard adjustment for kids. And, if that parent remarries and has stepchildren, things can get really confusing. Told from a young boy's point of view, this book addresses many feelings and questions that children may have while adjusting to remarriage and a blended family after their parents' divorce.
Many people from North America make the long journey to their children in China. But first the family has to complete all the adoption-agency paperwork, have interviews, fill out legal forms, and receive approvals. Then a tiny photograph of their child arrives. Finally, they travel to China to embrace their long-awaited child.
An affirming story about international adoption, based on the author's own experience with her daughter. A magical, reassuring story of one adoptive family's beginnings, told in words and pictures that are just right for the youngest child.
Mixed Me! by Taye Diggs, illustrated by Shane W. Evans
Mom and Dad say I'm a blend of dark and light:
"We mixed you perfectly, and got you just right. "Mike has awesome hair. He has LOTS of energy! His parents love him. And Mike is a PERFECT blend of the two of them. Still, Mike has to answer LOTS of questions about being mixed. And he does, with LOTS of energy and joy in this charming story about a day in the life of a mixed-race child.
What are your favorite children's books about non-traditional families? Find even more children's book recommendations here.