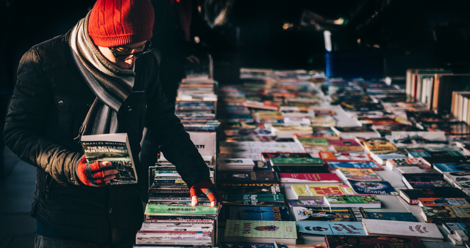 Opinion
Booksellers at Used Book Sales — Can You Not?
Friends, we have to talk about something serious. I need to get something off my chest. As I do every April and October, I recently headed to my local library's Friends of the Library book sale. It's a great opportunity to get good books cheap and even meet some new folks from the community. Usually, I try to make it to the first night—Thursday night—which is only open to people who have a Friends membership. I don't mind throwing the organization a few extra dollars for the privilege of shopping before the general community, even though it doesn't guarantee the "best books." In the past, part of my reason for doing so was the hope that crowds would be thinner. I've been wrong, almost every time—when I go, there are inevitably booksellers at used book sales.
So this time, I tried going the last day instead. Sunday is also half-price day, so I got there before the gate opened and lined up along with another 150 people or so. The place was crawling with people by the time we were allowed in. Including booksellers.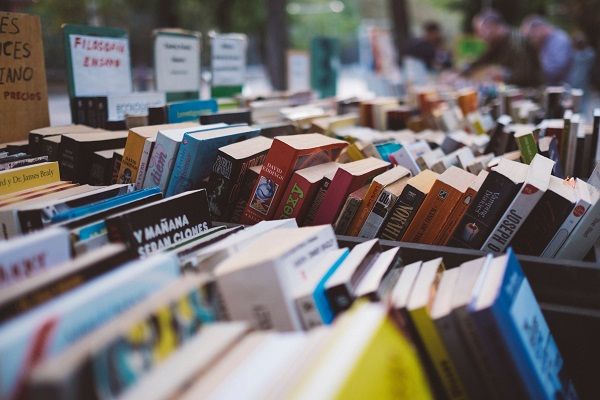 If you haven't been to a book sale where there are booksellers, let me paint a little picture for you. The space is already crowded with books and people looking to buy books (presumably for their homes). There are probably crying/screaming/running children. There are probably older and/or disabled folks who just need a little extra space to ensure their safety and stability. There are definitely book nerds like me who have armfuls and/or bagfuls of books. And then there are these guys.
The booksellers at used book sales that I've been to tend to come with handheld scanners that can immediately report the going price of a given book. (From there, I imagine they either bring them back to their own stores—wherever those are; there aren't many near my community—or take them to the internet for profit. I mean, WTF.) They crouch in the aisles, often next to one of those huge plastic tote boxes, and pull each book out just enough to scan the ISBN. They determine whether it's worth anything to them and either put it back on the shelf or toss it in their box before moving onto the next one.
Sometimes, these people at least have the decency to just take a whole heap of books, scurry off to a corner, and sort them there. (Well, decency to at least get out of the way—meanwhile, they're preventing folks from looking at books they may put in their not-interested pile.) In either case, a lot of times, the booksellers at used book sales then pile their hoard somewhere and take up more space that actual members of the community could use.
I've had booksellers push and shove me (a 5'0″ tall, fairly small-framed woman). I've had them totally ignore me when I ask to get by in the crowded space. I've had booksellers snatch a book I was about to take and throw it carelessly in their massive box. And I've had enough.
I don't have a problem with booksellers trying to make a living. However, when the booksellers at used book sales make the experience so unpleasant for the community for which the sale is held, it seems there's something wrong. And they do make it unpleasant. I have, in the past, left used book sales far sooner than I planned to because of booksellers.
Sure, their money is just as good as anyone else's when it comes to this massive fundraising effort put on by the Friends. And I want the Friends to make that money. As a librarian, I know how stretched libraries are with their budgets. But what if we gave the community a shot at those books first? What if booksellers were given a designated day to shop the leftovers? What if we put people before businesses?
Because these events are typically run by the Friends of the Library rather than the Library itself, my guess is they are not beholden to the same programming rules which libraries are. This means they should have the power (as they do at my library on the first night) to restrict shoppers to particular profiles—or, rather, to restrict particular profiles from shopping. (Booksellers.)
It strikes me as a sort of evil to take purchasing opportunities from a community, particularly when you benefit with a profit. I hope booksellers reconsider their strategies when it comes to used book sales, or at least are more aware of other shoppers when they're scanning and taking up whole aisles. Until then, I'll find a big book to use as my shield and, well, tally-ho!