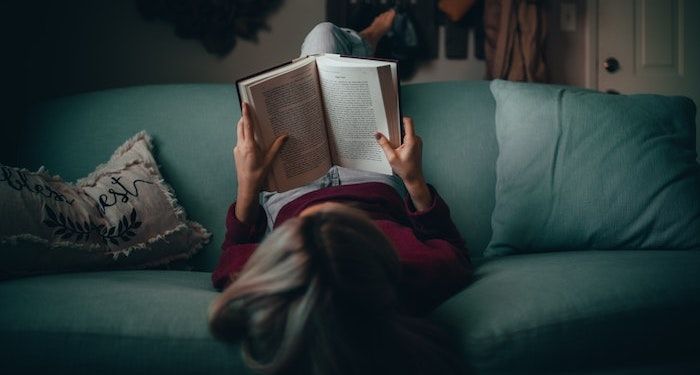 Lists
Get Your Head In the Clouds!: 6 Books to Help You Daydream
This content contains affiliate links. When you buy through these links, we may earn an affiliate commission.
Growing up, daydreaming was a common activity for me. Yes, I read, watched movies, and participated in some sort of athletic activity, but when that was all over, I'd let my mind wander. A daydream always started with a book or something funny that happened earlier that day. Often, I could simply daydream about the characters and stories in a book, or take it a step further by changing the characters or setting. You could definitely say I had my head in the clouds. Not the best thing for a student to do, right? I know many of us have been taught that daydreams are a distraction and that we should focus on school, work, etc. That's fair, but I think it depends on the time and place. It probably wouldn't be good to daydream in the middle of a soccer game, right? Distractions definitely don't help when you need to get things done, but what about when you're washing the dishes or brushing your teeth?
How Can Daydreaming Be Fun and Helpful?
According to Erin Westgate, a psychology professor at the University of Florida, "as you build your ability to daydream, you'll have a source of enjoyable thoughts at your disposal during stressful times." Daydreaming goes past thinking positive thoughts. It's more of creating an oasis, a safe world where your mind can stop by for a brief visit or stay the night. It's a positive experience that can help you in times of stress or times of boredom. Instead of opening a social media app or laboring over the things you need to get done, you could spend a moment enjoying a daydream.
But…let's be real, daydreaming isn't always that simple. It can be hard when you haven't done it in awhile. It can be especially difficult when you're actively trying to daydream.
How Do We Get Better at Daydreaming?
It isn't new for many people. Although it's hard to say what types of people have an easier time daydreaming, there are some key points that help. In general, people who are creative and imaginative can find themselves daydreaming often. If you write fiction, I expect you're a seasoned pro daydreamer. After all, those who write fiction are developing stories all the time. To daydream, you have to take on many roles, like writer, actor, screenwriter, and costume designer, not to mention…audience member as well. When daydreaming, you create the world you dream. It could be the world we live in or an imaginary one you read about in a book. Because of this, writers are particularly good daydreamers.
To "master" daydreaming, Westgate suggests daydreaming while doing tasks that don't require your full attention, like brushing your teeth or walking. She also highlights that the things you daydream about should be meaningful and not limited to simple positive thoughts, like eating ice cream. The best way to prepare your brain for daydreaming is by having a list of topics and ideas that you think you'll like to daydream about. That's where the books come in!
What Makes a Book Worthy of Our Daydreams?
There are many characteristics that make a book a worthy tool for daydreaming. The most important one is that the concepts (characters, storyline, setting, plot) give the reader a good jumping off point. In this way, a book can create a reality the reader can readily insert themselves into or present a universe that the reader questions and is curious about. What makes it a good book for daydreams is giving enough details while also leaving enough questions. If the book explains everything, then what is there to think or wonder about later? The book needs to paint a picture, but not fill in ALL the space with paint.
What Genres Are Best For Daydreaming?
Many books can lend a helping hand, but some are more equipped than others. Specifically for me, fantasy and magical realism are perfect examples of books that can help someone daydream. In these genres, you can discover worlds completely different from your own or experience an alternate reality with just a touch of magic. Each genre has a wide array of topics like space, time travel, and dragons. My list of books focuses on these genres, but it also takes into account other elements. Some of the books include lovely detailed descriptions and illustrations. Others incorporate plots that relate to time, travel, and time travel! They all spur further questions or thoughts on a variety of topics from the setting to the plot. Lastly, almost all of them present meaningful scenes and optimistic endings. This doesn't mean these books are without pain, trauma, strife, or violence. It simply means that they provide a story that has meaningful themes and a hopeful outcome.
Without further ado, here are books that can teach, help, or inspire you to daydream!
6 Books to Help You Daydream
---
There are many more books that could be added, but I hope this list can give you a boost to lift you high, high, and up into the sky!
After all, there's a whole new world available to each of us. It's just a daydream away.
Now let's start daydreaming!
For other books that can inspire your daydreams, check out: