Newsletter 1
10 Books to Read After Watching TO ALL THE BOYS I'VE LOVED BEFORE
This content contains affiliate links. When you buy through these links, we may earn an affiliate commission.
The movie adaptation of Jenny Han's delightful YA novel To All the Boys I've Loved Before is finally on Netflix! (PSA, in case you've been without the internet until this very moment.) The movie is fun and romantic and relevant, and it was a delight to see Lara Jean, played by Lana Condor, come wonderfully to life on the screen. The joy of Netflix is that we can watch it again and again and again, whenever we want! And while I'll never tire of watching Peter K. responsibly drink kombucha at a party and take adorable photos of Lara Jean, if you're feeling the itch to get back to reading, here are ten books like To All the Boys I've Loved Before!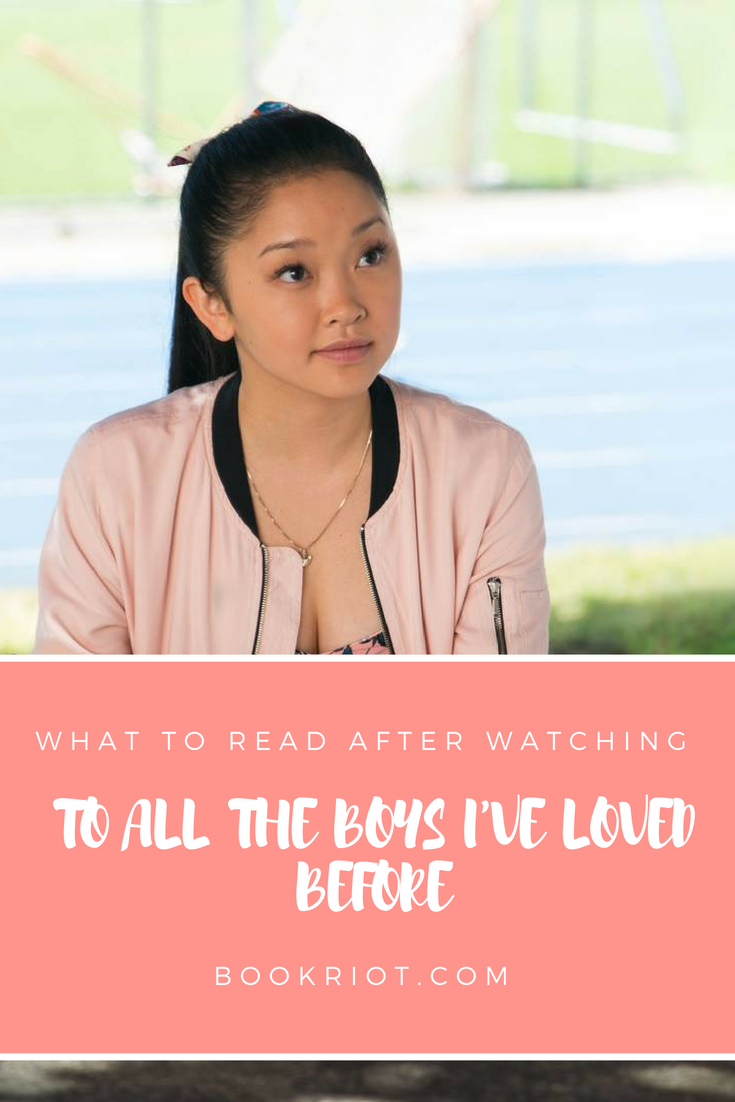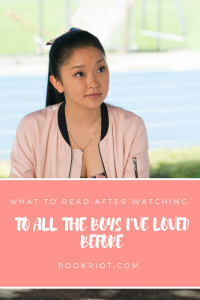 If you loved the Song-Covey sister dynamics and crave some family drama with your romance…
Sixteen-year-old Josie lives her life in translation. She speaks High School, College, Friends, Boyfriends, Break-ups, and even the language of Beautiful Girls. But none of these is her native tongue—the only people who speak that are her best friend Stu and her sister Kate. So when Kate gets engaged to an epically insufferable guy, how can Josie see it as anything but the mistake of a lifetime? Kate is determined to bend Josie to her will for the wedding; Josie is determined to break Kate and her fiancé up. As battles are waged over secrets and semantics, Josie is forced to examine her feelings for the boyfriend who says he loves her, the sister she loves but doesn't always like, and the best friend who hasn't said a word—at least not in a language Josie understands.
If you like the push and pull of a will they or won't they relationship, and crave some excellent banter…
Trixie Watson has two very important goals for senior year: to finally save enough to buy the set of Doctor Who figurines at the local comic books store, and to place third in her class and knock Ben West—and his horrendous new mustache that he spent all summer growing—down to number four.
Trixie will do anything to get her name ranked over Ben's, including give up sleep and comic books—well, maybe not comic books—but definitely sleep. After all, the war of Watson v. West is as vicious as the Doctor v. Daleks and Browncoats v. Alliance combined, and it goes all the way back to the infamous monkey bars incident in the first grade. Over a decade later, it's time to declare a champion once and for all.
The war is Trixie's for the winning, until her best friend starts dating Ben's best friend and the two are unceremoniously dumped together and told to play nice. Finding common ground is odious and tooth-pullingly-painful, but Trixie and Ben's cautious truce slowly transforms into a fandom-based tentative friendship. When Trixie's best friend gets expelled for cheating and Trixie cries foul play, however, they have to choose who to believe and which side they're on—and they might not pick the same side
If you love the idea of strategic alliances with your crushes that definitely, most certainly won't evolve into something more…
Dimple Shah has it all figured out. With graduation behind her, she's more than ready for a break from her family, from Mamma's inexplicable obsession with her finding the "Ideal Indian Husband." Ugh. Dimple knows they must respect her principles on some level, though. If they truly believed she needed a husband right now, they wouldn't have paid for her to attend a summer program for aspiring web developers…right?
Rishi Patel is a hopeless romantic. So when his parents tell him that his future wife will be attending the same summer program as him—wherein he'll have to woo her—he's totally on board. Because as silly as it sounds to most people in his life, Rishi wants to be arranged, believes in the power of tradition, stability, and being a part of something much bigger than himself.
The Shahs and Patels didn't mean to start turning the wheels on this "suggested arrangement" so early in their children's lives, but when they noticed them both gravitate toward the same summer program, they figured, Why not?
Dimple and Rishi may think they have each other figured out. But when opposites clash, love works hard to prove itself in the most unexpected ways.
If you love the lost and found letters subplot and how they can bring people together in unexpectedly wonderful ways…
After being entrusted with her brother's Los Angeles apartment for the summer as a graduation gift, Emi Price isn't sure how to fulfill his one condition: that something great take place there while he's gone. Emi may be a talented young production designer, already beginning to thrive in the competitive film industry, but she still feels like an average teen, floundering when it comes to romance.
But when she and her best friend, Charlotte, discover a mysterious letter at the estate sale of a Hollywood film legend, Emi must move beyond the walls of her carefully crafted world to chase down the loose ends of a movie icon's hidden life, leading her to uncover a decades' old secret and the potential for something truly epic: love.
If you love the intense, pulse-pounding awkwardness of having a crush and trying to exist in the same world as that crush…
Seventeen, fashion-obsessed, and gay, Abby Ives has always been content playing the sidekick in other people's lives. While her friends and sister have plunged headfirst into the world of dating and romances, Abby's been happy to focus on her plus-size style blog and her dreams of taking the fashion industry by storm. When she lands a great internship at her favorite boutique, she's thrilled to take the first step toward her dream career. Then she falls for her fellow intern, Jordi Perez. Hard. And now she's competing against the girl she's kissing to win the coveted paid job at the end of the internship.
But really, nothing this summer is going as planned. She also unwittingly becomes friends with Jax, a lacrosseplaying bro-type who wants her help finding the best burger in Los Angeles, and she's struggling to prove to her mother—the city's celebrity health nut—that she's perfectly content with who she is.
Just as Abby starts to feel like she's no longer the sidekick in her own life, Jordi's photography surprisingly puts her in the spotlight. Instead of feeling like she's landed a starring role, Abby feels betrayed. Can Abby find a way to reconcile her positive yet private sense of self with the image others have of her?
Desi Lee knows how carburetors work. She learned CPR at the age of five. As a high school senior, she has never missed a day of school and never had a B. But in her charmed school life, there's one thing missing―she's never had a boyfriend. In fact, she's a known disaster in romance, a clumsy, stammering humiliation magnet.
When the hottest human specimen to have ever lived walks into her life one day, Desi decides it's time to tackle her flirting failures. She finds her answer in the Korean dramas her father has watched obsessively for years―in which the hapless heroine always seems to end up in the arms of her true love by episode ten. Armed with her "K Drama Rules for True Love," Desi goes after the moody, elusive artist Luca Drakos. All's fair in love and Korean dramas, right? But when the fun and games turn to feelings, Desi finds out that real-life love is about way more than just drama.
If you can relate to the concept of dating being weird and confusing and yet you can't stop thinking about that one person…
For Penny Lee high school was a total nonevent. Her friends were okay, her grades were fine, and while she somehow managed to land a boyfriend, he doesn't actually know anything about her. When Penny heads to college in Austin, Texas, to learn how to become a writer, it's seventy-nine miles and a zillion light years away from everything she can't wait to leave behind.
Sam's stuck. Literally, figuratively, emotionally, financially. He works at a café and sleeps there too, on a mattress on the floor of an empty storage room upstairs. He knows that this is the god-awful chapter of his life that will serve as inspiration for when he's a famous movie director but right this second the seventeen bucks in his checking account and his dying laptop are really testing him.
When Sam and Penny cross paths it's less meet-cute and more a collision of unbearable awkwardness. Still, they swap numbers and stay in touch—via text—and soon become digitally inseparable, sharing their deepest anxieties and secret dreams without the humiliating weirdness of having to see each other.
If the idea of all of your love letters getting out to your secret crushes makes you cringe in the best possible way…
Sixteen-year-old and not-so-openly gay Simon Spier prefers to save his drama for the school musical. But when an email falls into the wrong hands, his secret is at risk of being thrust into the spotlight. Now change-averse Simon has to find a way to step out of his comfort zone before he's pushed out—without alienating his friends, compromising himself, or fumbling a shot at happiness with the most confusing, adorable guy he's never met.
If you love having more than one crush…
Dubbed "Dumplin'" by her former beauty queen mom, Willowdean has always been at home in her own skin. Her thoughts on having the ultimate bikini body? Put a bikini on your body. With her all-American-beauty best friend, Ellen, by her side, things have always worked…until Will takes a job at Harpy's, the local fast-food joint. There she meets Private School Bo, a hot former jock. Will isn't surprised to find herself attracted to Bo. But she is surprised when he seems to like her back.
Instead of finding new heights of self-assurance in her relationship with Bo, Will starts to doubt herself. So she sets out to take back her confidence by doing the most horrifying thing she can imagine: entering the Miss Teen Blue Bonnet Pageant—along with several other unlikely candidates—to show the world that she deserves to be up there as much as any twiggy girl does.
Along the way, she'll shock the hell out of Clover City—and maybe herself most of all.
If you just want to read more of Jenny Han's emotion-packed romances…
Belly's never been the kind of girl that things happen to. Year after year, she's spent her summers at the beach house with Conrad and Jeremiah. The boys never noticed Belly noticing them. And every summer she hoped it would be different. This time, it was. But the summer Belly turned pretty was the summer that changed everything. For better, and for worse.
Need more of Lara Jean Song Covey? Here is our interview with Jenny Han, and take the "Which Song Covey sister are you?" quiz!