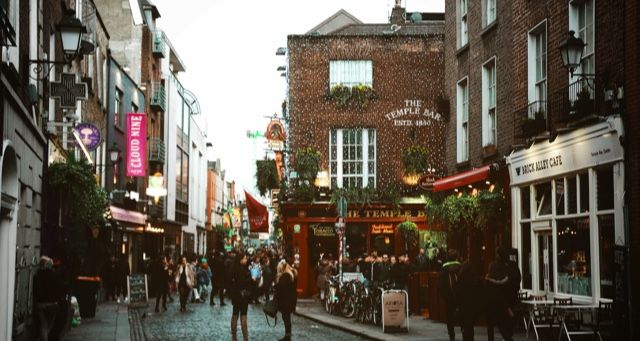 Fiction
15 Irish Authors You Need to Read
This content contains affiliate links. When you buy through these links, we may earn an affiliate commission.
Ireland is home to many prolific writers, from James Joyce and Samuel Beckett to contemporary bigwigs like Colm Toibon and Sally Rooney. There is an Irish author for every genre and every mood so here are 15 books by Irish authors, categorized for your reading pleasure.
There is, however, a dearth of diverse Irish writers of colors. I hope that changes soon.
Classic Irish Authors (and Their Best Books)
Ulysses by James Joyce
This book is probably on every reader's TBR list since it remains a staple of 20th century literature. Following the events of one single day in Dublin, 16 June 1904, and what happens to the characters Stephen Dedalus, Leopold Bloom, and his wife Molly, Ulysses is a monument to the human condition. A bonafide classic!
Oscar Wilde's most popular foray into fiction, this haunting tale of Gothic horror is required reading for every literary fiction buff. A dark portrait of a narcissist who sells his soul for eternal youth and a philosophical tale of modern morality.
A work of classic satire, this book is about the voyages of an Englishman which carry him to such places as Liliput, where the people are only six inches tall, Brobdingnag, a land of giants, and a country ruled by horses. Alexander Pope best described the appeal of this book as "…universally read, from the cabinet council to the nursery".
This Booker Prize–winning novel by the great Anglo Irish author is a tragicomic masterpiece. It is set on the edge of England's North Sea, where egotistical Charles Arrowby, a big name in London's glittering theatrical world, has retreated into seclusion to write his memoirs.
Irish Literary Fiction
From the critically acclaimed author of The Boy In the Striped Pajamas, this transcendent novel charts the course of one man's life, beginning and ending in post-war Ireland. An incisive portrayal of Ireland's complicated history with Catholicism.
Hailed by The Irish Times as "arguably the most talented writer at work in Ireland today," Lisa's debut is a blistering state-of-the-nation novel. Set in contemporary Cork, this novel shines because of its pitch black humor and razor sharp depiction of poverty and teenage infatuation.
This celebrated debut was banned after publication because of its controversial exposé of Irish society. It is an unflinching portrayal of the oppressive lives of women in 1960s Ireland and the tyranny of the church.
The Sea by John Banville
A stunning meditation on love, loss, and the unpredictable power of memory. This Booker Prize–winning novel is about Max Morden, a middle-aged Irishman who has gone back to the seaside town where he spent his summer holidays as a child to cope with the recent loss of his wife.
Chilling Irish Thrillers
Room by Emma Donoghue
Winner of the 2010 Man Booker prize, this bestselling novel went on to be successfully adapted for the big screen. An intense story of survival and motherhood, this is the story of Ma and Jack, who has lived his whole life in a room.
A chilling insight into the mind of a psychopath and a pitch black story of domestic suspense. Masterfully executed plot and multilayered narrative makes this a gripping read.
Hailed by The Washington Post as the most important crime novelist to emerge in the past 10 years, French is a formidable name in crime fiction. This is the third novel of her Dublin murder squad series and probably the best. A suspenseful whodunit that will keep you guessing.
Entertaining Light Reads
Arguably one of the most hyped debuts of recent years, this is a sharply observed portrayal of the life of an Irish millennial. A smart, charming story about modern relationships.
An instant bestseller and later on a successful movie, this debut was an overnight success. Holly couldn't live without her husband Gerry, until the day she had to. When Gerry succumbs to a terminal illness and dies, 30-year-old Holly is set adrift, unable to pick up the pieces. But with the help of a series of letters her husband left her before he died and a little nudging from an eccentric assortment of family and friends, she learns to live again.
Experimental Fiction By Irish Authors
Winner of the Goldsmiths Prize and longlisted for the Booker, this stylistically original novel is a masterwork. Written as a single sentence in stream of consciousness, this is a lyrical rumination on modern life.
Eimear McBride tells the story of a young girl's devastating adolescence as she and her brother, who suffers from a brain tumor, struggle for a semblance of normalcy in the shadow of sexual abuse, denial, and chaos at home. An artful, fearless debut that went on to win Baileys Women's Prize for Fiction and the Desmond Elliot Prize.
---
Want even more? Check out our earlier post on Irish writers.