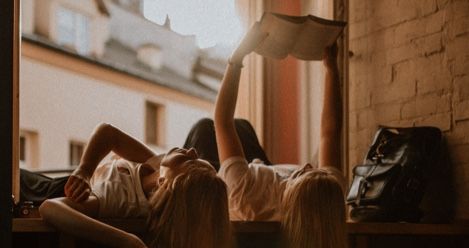 Lists
Seeing Double: Books About Twins
This content contains affiliate links. When you buy through these links, we may earn an affiliate commission.
When Beyoncé's twins were born under the zodiac sign of Gemini, I knew magic was at work. Twins abound in mythology and fairy-tales, and it's no wonder—doubling creates a sense of mystery, and these dual-beings seem to hold secrets that scholars and scientists have obsessed with for centuries. The sign of Gemini begins of the 21st of May, so add these books about twins to your stacks and read your fill of doubles, twins, duos, and twos.
The ultimate use of twins in literature! Shakespeare's Twelfth Night, or What You Will uses twinship to create hilarious results. Mistaken identities! Dramatic irony! Drag! You can read Twelfth Night of course, but as it's a play, it's at its best when performed on a sultry summer night. Preferably in a garden.
Home Fire is a devastating retelling of Antigone (although, as Antigone is a tragedy, I should have expected it). British Muslim twins Aneeka and Parvaiz fight dark forces as Parvaiz is sucked into the underworld of terror. The novel explores radicalisation in Modern London, family shame, and the lengths Aneeka goes to to save the one she shares her soul with.
I read I'll Give You The Sun in one afternoon and it left me in tears. Twins Jude and Noah were once inseparable, but now they hardly speak. Told through a dual narrative, Nelson speaks to the heartbreak and responsibility twins share through grief.
Not precisely about twins Charles and Camilla, but their constant presence in Donna Tartt's debut novel The Secret History speaks to the obsession culture has with twins. Lonely narrator Richard Papen perfectly articulates the sense of mystery twins hold: "Later I learned they were twins. They looked very much alike, with heavy dark-blond hair and epicene faces as
clear, as cheerful and grave, as a couple of Flemish angels"
Fangirl by Rainbow Rowell
The classic 'twins are best friends and now they are not' story. Cath and Wren (say those names fast…) go to college and everything changes. Cue self-discovery, coming-of-age, and all the predictable twin stuff.
A pure and brilliant novel that will haunt you. The God of Small Things is a family saga centred around twins Rahel and Estha who witness a tragedy as young children. At once lyrical and foreboding, the multilayered novel peels back the layers, shining light on the scars of childhood and the trauma caused in separating the twins.
White Teeth plays on the classic twin narrative and explores how something can, all at once, be the same and different. The Iqbal twins are physically identical, but grow up in entirely different circumstances—one in Bangladesh, and one in London. Due to (what seems to be) their opposing beliefs, when they finally do reunite, they are unable to see how similar they truly are.
Want more books about twins and other literary siblings? How about 100 of them?