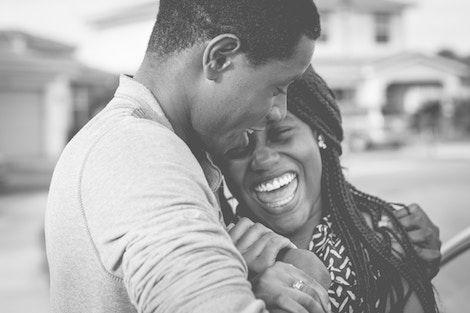 Lists
100 Must-Read Books About Siblings
This content contains affiliate links. When you buy through these links, we may earn an affiliate commission.
The fundamental bonds forged between siblings, or the lack thereof, can affect a person for a lifetime. Sibling interactions range from loving and companionable to strained and even violent. There can be bitter rivalries, tender closeness, simmering resentment, or sometimes just an aching absence. So it is no wonder that these foundational relationships provide rich material in books about siblings.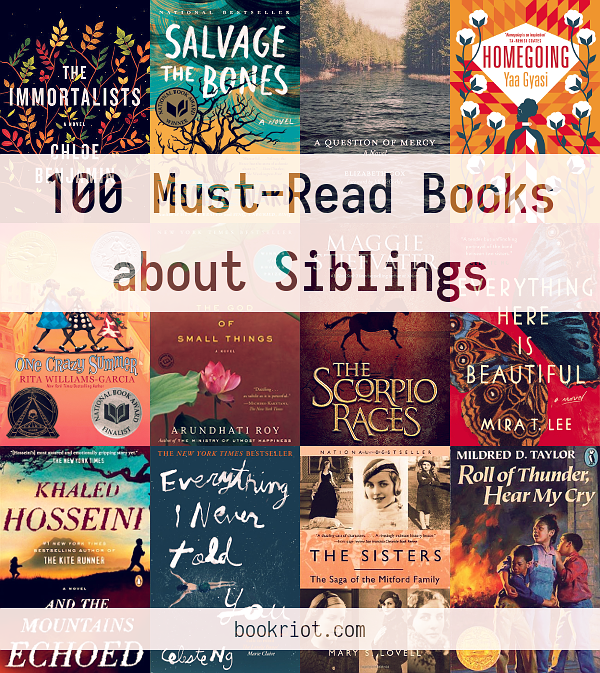 The following list draws from fiction and nonfiction, and offers suggested titles for readers of every age—children, teens, and adults. In every book, the sibling relationship is a central element. All descriptions in quotes are from the publishers.
GENERAL FICTION BOOKS ABOUT SIBLINGS
"Crossing generations and continents, …Khaled Hosseini writes about the bonds that define us and shape our lives, the ways in which we help our loved ones in need, how the choices we make resonate through history and how we are often surprised by the people closest to us."
Linno and Anju are sisters who both "dream of coming to the United States, but it is Anju who wins a scholarship to a prestigious school in New York. She seizes it, even though it means lying and betraying her sister."
"On a hot summer day in 1934, thirteen-year-old Briony Tallis witnesses a moment's flirtation between her older sister, Cecilia, and Robbie Turner, the son of a servant and Cecilia's childhood friend. But Briony's incomplete grasp of adult motives—together with her precocious literary gifts—brings about a crime that will change all their lives."
"On a spring morning in 1932, young Karl and Mary Adare arrive by boxcar in Argus, North Dakota. After being orphaned in a most peculiar way, they seek refuge in the butcher shop of their aunt and her husband. Theirs is a story grounded in the tenacity of relationships, the extraordinary magic of natural events, and the unending mystery of the human condition."
"Based on one of America's most notorious real-life scandals—in which Georgia Tann…kidnapped and sold poor children to wealthy families all over the country—Wingate's riveting, wrenching, and ultimately uplifting tale reminds us how, even though the paths we take can lead to many places, the heart never forgets where we belong."
"The novel begins with the mysterious death—a possible suicide—of a young woman named Laura Chase in 1945. Decades later, Laura's sister Iris recounts her memories of their childhood, and of the dramatic deaths that have punctuated their wealthy, eccentric family's history."
"The Brothers Karamazov is a murder mystery, a courtroom drama, and an exploration of erotic rivalry in a series of triangular love affairs involving the 'wicked and sentimental' Fyodor Pavlovich Karamazov and his three sons―the impulsive and sensual Dmitri; the coldly rational Ivan; and the healthy, red-cheeked young novice Alyosha."
"Moving from Addis Ababa to New York City and back again, Cutting for Stone is an unforgettable story of love and betrayal, medicine and ordinary miracles—and two brothers whose fates are forever intertwined."
A mysterious letter leads Edie to Milderhurst Castle, the three elderly Blythe sisters, and some long-hidden secrets. "In this enthralling romantic thriller, Morton pays homage to the classics of gothic fiction, spinning a rich and intricate web of mystery, suspense, and lost love."
"This sprawling and often brutal novel follows the intertwined destinies of two families—the Trasks and the Hamiltons—whose generations helplessly reenact the fall of Adam and Eve and the poisonous rivalry of Cain and Abel.
"Lydia is the favorite child of Marilyn and James Lee, and her parents are determined that she will fulfill the dreams they were unable to pursue. But when Lydia's body is found in the local lake, the delicate balancing act that has been keeping the Lee family together is destroyed, tumbling them into chaos."
"Two sisters: Miranda, the older, responsible one, always her younger sister's protector; Lucia, the vibrant, headstrong, unconventional one, whose impulses are huge and, often, life changing. When their mother dies and Lucia starts to hear voices, it's Miranda who must fight for the help her sister needs—even as Lucia refuses to be defined by any doctor's diagnosis."
"A novel about…the art of surviving a masterpiece of dysfunction. Meet The Family Fang, an unforgettable collection of demanding, brilliant, and absolutely endearing oddballs whose lives are risky and mischievous performance art."
"We meet the Mishra family in Delhi in 1978, where eight-year-old Ajay and his older brother Birju play cricket in the streets, waiting for the day when their plane tickets will arrive and they and their mother can fly across the world and join their father in America."
"As his younger sister, Franny, suffers a spiritual and existential breakdown in her parents' Manhattan living room—leaving Bessie, her mother, deeply concerned—Zooey comes to her aid, offering what he thinks is brotherly love, understanding, and words of sage advice."
"As the Binewskis take their act across the backwaters of the U.S., inspiring fanatical devotion and murderous revulsion; as its members conduct their own Machiavellian version of sibling rivalry, Geek Love throws its sulfurous light on our notions of the freakish and the normal, the beautiful and the ugly, the holy and the obscene."
Set in 1914, this historical fiction book is based on the true story of one of the first American female deputy sheriffs. Following a run-in with a factory owner, Constance Kopp and her sisters fight to protect their family and home. And these tough women prove they are up to the challenge.
"The year is 1969. In the state of Kerala, on the southernmost tip of India, fraternal twins Esthappen and Rahel fashion a childhood for themselves in the shade of the wreck that is their family."
"Ghana, eighteenth century: two half sisters are born into different villages, each unaware of the other. Homegoing follows the parallel paths of these sisters and their descendants through eight generations: from the Gold Coast to the plantations of Mississippi, from the American Civil War to Jazz Age Harlem."
"A modern classic, Housekeeping is the story of Ruth and her younger sister, Lucille, who grow up haphazardly, first under the care of their competent grandmother, then of two comically bumbling great-aunts, and finally of Sylvie, their eccentric and remote aunt. Ruth and Lucille's struggle toward adulthood beautifully illuminates the price of loss and survival, and the dangerous and deep undertow of transience."
"An exultant novel about China and America, love and loyalty, the identities we invent and the true selves we discover along the way. Olivia Laguni is half-Chinese, but typically American in her uneasiness with her patchwork family. And no one in Olivia's family is more embarrassing to her than her half-sister, Kwan Li."
"Through six turbulent months of 1934, 17-year-old Cassandra Mortmain keeps a journal, filling three notebooks with sharply funny yet poignant entries about her home, a ruined Suffolk castle, and her eccentric and penniless family."
"A heartbreaking and poignant multigenerational saga of the reproductive bonds of destruction and the powerful force of forgiveness. A masterpiece that breathtakingly tells a story of alienation and connection, power and abuse, devastation and renewal."
"It's 1969 in New York City's Lower East Side, and word has spread of the arrival of a mystical woman, a traveling psychic who claims to be able to tell anyone the day they will die. The Gold children—four adolescents on the cusp of self-awareness—sneak out to hear their fortunes."
"A gripping, heart-wrenching, and wholly remarkable tale of coming-of-age in a South poisoned by virulent prejudice, it views a world of great beauty and savage inequities through the eyes of a young girl, as her father—a crusading local lawyer—risks everything to defend a black man unjustly accused of a terrible crime."
"The charming story of these four 'little women' and their wise and patient mother Marmee enduring hardships and enjoying adventures in Civil War New England was an instant success when first published in 1868 and has been adored for generations."
"Epic in its canvas and intimate in its portrayal of lives undone and forged anew, The Lowland is a deeply felt novel of family ties that entangle and fray in ways unforeseen and unrevealed, of ties that ineluctably define who we are."
"The story of the Makioka sisters forms what is arguably the greatest Japanese novel of the twentieth century, a poignant yet unsparing portrait of a family—and an entire society—sliding into the abyss of modernity."
"On a winter night in 1964, Dr. David Henry is forced by a blizzard to deliver his own twins. His son, born first, is perfectly healthy. Yet when his daughter is born, he sees immediately that she has Down's Syndrome. Rationalizing it as a need to protect Norah, his wife, he makes a split-second decision that will alter all of their lives forever."
"Tells the stories of two sisters, separated by years and experience, by ideals, passion and circumstance, each embarking on her own dangerous path toward survival, love, and freedom in German-occupied, war-torn France—a heartbreakingly beautiful novel that celebrates the resilience of the human spirit and the durability of women."
"The product of preimplantation genetic diagnosis, Anna was conceived as a bone marrow match for Kate—a life and a role that she has never challenged…until now. A provocative novel that raises some important ethical issues, My Sister's Keeper is the story of one family's struggle for survival at all human costs and a stunning parable for all time."
"A story told by the wife and four daughters of Nathan Price, a fierce, evangelical Baptist who takes his family and mission to the Belgian Congo in 1959. What follows is a suspenseful epic of one family's tragic undoing and remarkable reconstruction over the course of three decades in postcolonial Africa."
"Spanning forty years, this is the story of turbulent Tom Wingo, his gifted and troubled twin sister Savannah, and their struggle to triumph over the dark and tragic legacy of the extraordinary family into which they were born."
"When Nigeria begins to fall apart under a military coup, Kambili's father sends her and her brother away to stay with their aunt, a University professor, whose house is noisy and full of laughter. There, Kambili and her brother discover a life and love beyond the confines of their father's authority."
"Adam Finney, a young man who is mentally disabled, faces sterilization and lobotomy in a state-supported asylum. When he is found dead in the French Broad River of rural North Carolina, his teenaged stepsister, Jess, is sought for questioning by their family and the police."
"As the twelve days that comprise the novel's framework yield to the final day and Hurricane Katrina, the unforgettable family at the novel's heart—motherless children sacrificing for each other as they can, protecting and nurturing where love is scarce—pulls itself up to struggle for another day."
This is the story of two sisters, Marianne and Elinor Dashwood. "Through their parallel experience of love—and its threatened loss—the sisters learn that sense must mix with sensibility if they are to find personal happiness in a society where status and money govern the rules of love."
"Pearl and May are sisters, living carefree lives in Shanghai, the Paris of Asia. But when Japanese bombs fall on their beloved city, they set out on the journey of a lifetime, one that will take them through the Chinese countryside, in and out of the clutch of brutal soldiers, and across the Pacific to the shores of America."
"After their mother can no longer care for them, young Phaedra and her older sister, Dionne, are exiled from Brooklyn to Bird Hill in Barbados to live with their grandmother Hyacinth, a midwife and practitioner of the local spiritual practice of obeah."
Phillip Carver's older, overbearing sisters beg him to return to Memphis to intervene when their elderly father plans to marry a much younger woman. He reluctantly returns to face his long-dysfunctional family and haunting memories of a troubled past.
"The enigmatic Winter has spent six decades creating various outlandish life histories for herself. Now old and ailing, she at last wants to tell the truth about her extraordinary life. She summons biographer Margaret Lea, a young woman for whom the secret of her own birth, hidden by those who loved her most, remains an ever-present pain."
"Aging Larry Cook announces his intention to turn over his 1,000-acre farm…to his three daughters, Caroline, Ginny and Rose. While Larry Cook deteriorates into a pathetic drunk, his daughters are left to cope with the often grim realities of life on a family farm—from battering husbands to cutthroat lenders."
"A very young woman's first job: governess for two weirdly beautiful, strangely distant, oddly silent children, Miles and Flora, at a forlorn estate…An estate haunted by a beckoning evil."
"The five Lisbon sisters—beautiful, eccentric, and obsessively watched by the neighborhood boys—commit suicide one by one over the course of a single year. As the boys observe them from afar, transfixed, they piece together the mystery of the family's fatal melancholy, in this hypnotic and unforgettable novel of adolescent love, disquiet, and death."
"Merricat Blackwood lives on the family estate with her sister Constance and her Uncle Julian. Their days pass in happy isolation until cousin Charles appears. Only Merricat can see the danger, and she must act swiftly to keep Constance from his grasp."
NONFICTION BOOKS ABOUT SIBLINGS
"The inspiring true story of a transgender girl, her identical twin brother, and an ordinary American family's extraordinary journey to understand, nurture, and celebrate the uniqueness in us all, from the Pulitzer Prize–winning science reporter for The Washington Post."
"This landmark book is the first definitive history of this fascinating family. Based on eleven years of research among newly discovered letters by every member of the family, original manuscripts, and the newspapers of that time, it gives a new and fuller picture of the Brontës' lives from beginning to end and, in the process, demolishes many myths."
"An honest, intimate, often deeply affecting portrait of Warren H. Lewis and his beloved brother, 'Jack,' C.S. Lewis. These previously unpublished diaries by the elder Warren give us a lively picture of English life, literature, music and thought during one of the most creative periods of recent history."
"A seminal memoir about two brothers—one an award-winning novelist, the other a fugitive wanted for robbery and murder. A gripping, unsettling account, Brothers and Keepers weighs the bonds of blood, tenderness, and guilt that connect Wideman to his brother and measures the distance that lies between them."
"A moving memoir of a college senior who, in the space of five weeks, loses both of his parents to cancer and inherits his eight-year-old brother. Here is an exhilarating debut that manages to be simultaneously hilarious and wildly inventive as well as a deeply heartfelt story of the love that holds a family together."
The Hiding Place by Corrie ten Boom, John Sherrill, Elizabeth Sherrill
"Corrie ten Boom was…one of the most remarkable evangelists of the twentieth century. In World War II she and her family risked their lives to help Jews and underground workers escape from the Nazis, and for their work they were tested in the infamous Nazi death camps."
"Taking their tentative first steps from strangers to sisters, Paula and Elyse are left with haunting questions surrounding their origins and their separation. And when they investigate their birth mother's past, the sisters move closer toward solving the puzzle of their lives."
"Sent to Auschwitz on the first Jewish transport, Rena Kornreich survived the Nazi death camps for over three years. While there she was reunited with her sister Danka. Each day became a struggle to fulfill the promise Rena made to her mother when the family was forced to split apart—a promise to take care of her sister."
"Rachel Simon's sister Beth is a spirited woman who lives intensely and often joyfully, despite her intellectual disability. Beth spends her days riding the buses in her Pennsylvania city. One day, Beth asked Rachel to accompany her on the buses for an entire year; the book is the chronicle of that remarkable time."
"This is the story of a close family splintered by the violent ideologies of Europe between the wars. Jessica was a Communist; Debo became the Duchess of Devonshire; Nancy was one of the best-selling novelists of her day; the ethereally beautiful Diana was the most hated woman in England; and Unity Valkyrie, born in Swastika, Alaska, would become obsessed with Adolf Hitler."
"In 2003, Nicholas Sparks and his brother, Micah, set off on a three-week trip around the globe. Against the backdrop of the wonders of the world, daredevil Micah and the more serious, introspective Nicholas recalled their rambunctious childhood adventures and the tragedies that tested their faith."
"William Wordsworth's iconic relationship with his 'beloved Sister' spanned nearly fifty years. Separated after the death of their mother, and reunited as orphans after the death of their father, they became inseparable companions. This is the first literary biography to give each sibling the same level of detailed attention; with Dorothy's writings set fully alongside her brother's."
"In this thrilling book, master historian David McCullough draws on the immense riches of the Wright Papers, including private diaries, notebooks, scrapbooks, and more than a thousand letters from private family correspondence to tell the human side of the Wright Brothers' story, including the little-known contributions of their sister, Katharine."
"The four captivating Russian Grand Duchesses…were much admired for their happy dispositions, their looks, the clothes they wore and their privileged lifestyle. The Romanov Sisters sets out to capture the joy as well as the insecurities and poignancy of those young lives against the backdrop of the dying days of late Imperial Russia, World War I and the Russian Revolution."
"In The Kelloggs, Howard Markel tells the sweeping saga of these two extraordinary men, whose lifelong competition and enmity toward one another changed America's notion of health and wellness from the mid-nineteenth to the mid-twentieth centuries, and who helped change the course of American medicine, nutrition, wellness, and diet."
"They saw the post-Reconstruction South, the Jim Crow laws, Harlem's Golden Age, and the Civil Rights movement—and, in their own feisty, wise, inimitable way, they've got a lot to say about it."
YOUNG ADULT BOOKS ABOUT SIBLINGS
"The Wrecker civilization has long been destroyed, leaving only landfills for Saba and her family to scavenge from. That's fine by her, as long as her beloved twin brother Lugh is around. But when four cloaked horsemen capture Lugh, Saba's world is shattered, and she embarks on a quest to get him back."
"Jes meets Kalliarkos, and an improbable friendship between the two Fives competitors—one of mixed race and the other a Patron boy—causes heads to turn. When Kal's powerful, scheming uncle tears Jes's family apart, she'll have to test her new friend's loyalty and risk the vengeance of a royal clan to save her mother and sisters from certain death."
"Steven has a totally normal life: he plays drums in the All-Star Jazz band, has a crush on the hottest girl in the school, and is constantly annoyed by his five-year-old brother, Jeffrey. But when Jeffrey is diagnosed with leukemia, Steven's world is turned upside down."
Fangirl by Rainbow Rowell
Cath and her twin sister are going to college, and for the first time, not living together. Now Cath has a grumpy roommate with an ever-present boyfriend, a cute classmate hanging around, and a professor that does not share her love of fan fiction. She's learning how to live on her own for the first time and there are a few bumps along the way.
"A contemporary novel about three adopted siblings who find each other at just the right moment. Robin Benway's beautiful interweaving story of three very different teenagers connected by blood explores the meaning of family in all its forms—how to find it, how to keep it, and how to love it."
"A brutal stepfather with a flaming temper and an evil secret makes his life miserable. The one bright light in Gerald's life is his little half sister, Angel, whom he struggles to protect from her father…who abuses her, and from their mother, whose irresponsible behavior forces Gerald to work hard to keep the family together."
"Gem grew up taking care of her sister when no one else could. Even as Gem and Dixie have grown apart, they've always had each other. When their dad returns home for the first time in years and tries to insert himself back into their lives, Gem discovers that that to save herself, she may have to sever the one bond she's tried so hard to keep."
"A tragic accident on the busiest street in Chicago leaves Olga dead and Julia left behind to reassemble the shattered pieces of her family. And no one seems to acknowledge that Julia is broken, too. But it's not long before Julia discovers that Olga might not have been as perfect as everyone thought. Was Olga really what she seemed? Or was there more to her sister's story?"
"At first, Jude and her twin brother Noah, are inseparable. Years later, they are barely speaking. Something has happened to change the twins in different yet equally devastating ways. The early years are Noah's to tell; the later years are Jude's. But they each have only half the story, and if they can only find their way back to one another, they'll have a chance to remake their world."
"Miranda's disbelief turns to fear in a split second when a meteor knocks the moon closer to the earth. As summer turns to Arctic winter, Miranda, her two brothers, and their mother retreat to the unexpected safe haven of their sunroom, where they subsist on stockpiled food and limited water in the warmth of a wood-burning stove."
Suzette is home from boarding school and life is complicated. She is not sure how to help her stepbrother Lionel, who has bipolar disorder. She and Lionel are both smitten…with the same girl. And Suzette is still dealing with the aftermath of an incident back at school. She is just trying to sort it all out and do the right thing.
"Ruby knows that the game is up. For the past few months, she's been on her own in the yellow house, managing somehow, knowing that her mother will probably never return. That's how she comes to live with Cora, the sister she hasn't seen in ten years, and Cora's husband Jamie."
"Will knows the rules. No crying. No snitching. Revenge. That's where Will's now heading, with that gun shoved in the back waistband of his jeans, the gun that was his brother's gun. He gets on the elevator, seventh floor, stoked. He knows who he's after. Or does he?"
"Nothing is like it used to be. If it were, Mama would still be alive. Papa wouldn't have died. Thirteen-year-old Lafayette's older brother, Charlie wouldn't have done time at a correctional facility. And oldest brother Ty'ree would have gone to college instead of having to work full time to support the three of them. This is the story of three…brothers who have only each other to rely on."
"To ten-year-old Jamie, his family has fallen apart because of the loss of someone he barely remembers: his sister Rose, who died five years ago in a terrorist bombing. Told with warmth and humor, this powerful novel is a sophisticated take on one family's struggle to make sense of the loss that's torn them apart…and their discovery of what it means to stay together."
"Ponyboy…knows that he can count on his brothers, Darry and Sodapop. And he knows that he can count on his friends…But not on much else besides trouble with the Socs, a vicious gang of rich kids whose idea of a good time is beating up on 'greasers' like Ponyboy. At least he knows what to expect—until the night someone takes things too far."
The Scorpio Races are held every November on the island of Thisby, where Puck lives with her older brothers after the death of their parents. The riders catch and ride the dangerous water horses the come ashore each year. Not everyone survives. And this year, against the wishes of her oldest brother, Puck is determined to be the first girl in the race.
Roo McCabe has a devastating car accident while answering a text message and ends up paralyzed in a hospital bed with locked-in syndrome, unable to communicate. Tilly, Roo's sister, is struggling with the guilt of being the one who sent that text message. But maybe Tilly is the one who will discover how to reach past her sister's silence.
"They shared everything, swapping stories of lovers and friends, successes and disappointments, dreams and ambitions. Meticulously researched, drawing on the 658 letters Vincent wrote to Theo during his lifetime, Deborah Heiligman weaves a tale of two lives intertwined and the love of the Van Gogh brothers."
"In an alternate reality where everyone is born with two souls, one soul is naturally dominant, and in early childhood, the other soul fades away. That didn't happen for Addie and Eva. Addie does everything she can to hide the presence of her sister soul. Eva's very existence is illegal. If their secret is revealed, it could mean death for both of them."
Children's BOOKS ABOUT SIBLINGS
"Pauline, Petrova and Posy are orphans determined to help out their new family by joining the Children's Academy of Dancing and Stage Training. Pauline is destined for the movies. Posy is a born dancer. But practical Petrova finds she'd rather pilot a plane than perform a pirouette. Each girl must find the courage to follow her dream."
"Nine-year-old Beezus Quimby has her hands full with her little sister, Ramona. Old enough to be expected to take responsibility for her little sister, yet young enough to be mortified by every embarrassing plight the precocious preschooler gets them into, Beezus is constantly struggling with her mixed-up feelings about the exasperating Ramona."
"This is a story of four children, orphaned at the start of the story, and their adventures and their struggle to stay together and support themselves. It displays their ingenuity, their sense of family, and their courage in a fast moving tale, culminating in being reunited with their loving grandfather."
This is the first book in The Hardy Boys series. "A dying criminal confesses that his loot has been stored 'in the tower.' Both towers of the looted mansion are searched in vain. It remains for the Hardy boys to make an astonishing discovery that clears up the mystery and clears the name of a friend's father."
"In Seoul, Korea, in 1473, Young-sup and his older brother Kee-sup are excited about the New Year kite competition. According to tradition, Kee-sup, the first-born son, must represent the family. Young-sup knows he must help his older brother and stay in second place. But that doesn't stop him from hoping for the chance to show his great skill as a kite fighter."
"Four adventurous siblings—Peter, Susan, Edmund, and Lucy Pevensie—step through a wardrobe door and into the land of Narnia, a land frozen in eternal winter and enslaved by the power of the White Witch. But when almost all hope is lost, the return of the Great Lion, Aslan, signals a great change…and a great sacrifice."
"Laura Ingalls and her family live deep in the Big Woods of Wisconsin. Their log cabin is surrounded by miles of trees, and their closest neighbors are bears, wolves, and panthers. Daily chores keep Laura and her sister Mary busy, but they still find time to go exploring with their dog, Jack."
This is the first book in the Magic Tree House series. "Jack and his younger sister, Annie, are just regular kids. But when they discover a treehouse in the woods, something magical happens. Jack and Annie are whisked back in time to the Age of Dinosaurs. Every visit to the magic tree house leads to adventure!"
"Claudia knew that she could never pull off the old-fashioned kind of running away…so she decided not to run FROM somewhere, but TO somewhere. And so, after some careful planning, she and her younger brother, Jamie, escaped—right into a mystery that made headlines!"
"Two years ago, Sam ran away from New York City to live in the Catskill Mountains. Now his younger sister Alice has joined him and is quietly living in a tree house of her own nearby. Their peaceful life is shattered when a conservation officer confiscates Sam's falcon, Frightful, and Alice suddenly vanishes."
"In the summer of 1968, after traveling from Brooklyn to Oakland, California, to spend a month with the mother they barely know, eleven-year-old Delphine and her two younger sisters arrive to a cold welcome as they discover that their mother, a dedicated poet and printer, is resentful of the intrusion of their visit and wants them to attend a nearby Black Panther summer camp."
"The Penderwick sisters busily discover the summertime magic of Arundel estate…in Massachusetts. Best of all is Jeffrey Tifton, son of Arundel's owner, the perfect companion for their adventures. Icy-hearted Mrs. Tifton is less pleased with the Penderwicks than Jeffrey, and warns the new friends to stay out of trouble. Is that any fun? For sure the summer will be unforgettable."
"It takes the events of one turbulent year—the year of the night riders and the burnings, the year a white girl humiliates Cassie in public simply because she's black—to show Cassie that having a place of their own is the Logan family's lifeblood."
Rules by Cynthia Lord
"Catherine just wants a normal life. Which is near impossible when you have a brother with autism and a family that revolves around his disability. But the summer Catherine meets Jason, a paraplegic boy, and Kristi, the next-door friend she's always wished for, it's her own shocking behavior that turns everything upside down and forces her to ask: What is normal?"
"Life with his little brother, Fudge, makes Peter Hatcher feel like a fourth grade nothing. When Fudge walks off with Dribble, Peter's pet turtle, it's the last straw. Peter has put up with Fudge for too long. How can he get his parents to pay attention to him for a change?"
"There's Momma, Dad, little sister Joetta, and brother Byron, who's thirteen and an 'official juvenile delinquent.' When Momma and Dad decide it's time for a visit to Grandma, the Watsons set out on a trip like no other. They're heading South to Birmingham, Alabama, toward one of the darkest moments in America's history."
This is the first book in The Wingfeather Saga. "Janner Igiby, his brother Tink, their crippled sister Leeli are gifted children as all children are, but they will need all their gifts to survive the evil pursuit of the venomous Fangs of Dang who have crossed the dark sea to rule the land with malice."
Wonder by R.J. Palacio
"Auggie is far from ordinary. Born with a terrible facial abnormality, he has been homeschooled by his parents his entire life, in an attempt to protect him from the cruelty of the outside world. Now, Auggie's parents are sending him to a real school. Can he convince his new classmates that he's just like them, underneath it all?"
"Meg Murry, her small brother Charles Wallace, and Calvin O'Keefe (one of the most popular boys in school) journey through time and space in search of Meg's father, a scientist who disappeared while engaged in secret work for the government on the tesseract problem."
---
Surely this list will keep you busy for awhile. But if you are still looking for more great books about siblings, here are 5 novels of speculative fiction, and a list of young adult novels that feature strong sibling relationships.