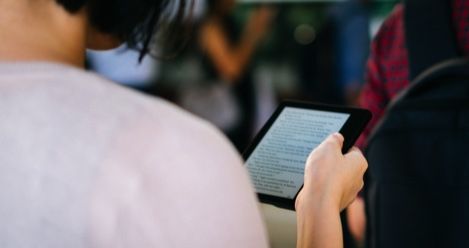 Romance/Erotica
25 of The Best Kindle Unlimited Romance Novels Available in 2018
This content contains affiliate links. When you buy through these links, we may earn an affiliate commission.
Kindle makes it easy to read books anywhere. Whether you download the app or get the device, with the click of a button there are countless ebook options available. A great feature of Kindle is their Kindle Unlimited program, a subscription that allows you to borrow up to 10 books a time for a set monthly price, including Kindle Unlimited romance titles. Interested? Book Riot is giving you the opportunity to get a free trial.
Check out Kindle Unlimited Membership Plans
and start your 30-day free trial.
There is a wide range of genres available in KU, with my personal favorite being romance. Whether you are looking for a romantic comedy or suspense, contemporary or paranormal; there is something for every reader; whether you are new to the genre or a seasoned vet. It can seem a bit daunting at times, so allow me to help. Here are 25 of the best Kindle Unlimited romance novels available right now.
Ante Up
by Christina C. Jones
Kingston Whitfield was born into affluence and considered Vegas royalty. Asha Davis has had to fight for everything and shoulders an enormous responsibility which partially leads her to the card game where these two meet. What should have been a one night stand turns into a ride of a lifetime filled with lust, manipulation, betrayal, and if they play their cards right; maybe even the promise of forever.
This sports romance follows boxing champ Prince Lattimore and journalist Bella Stevenson. They meet when Bella is assigned to cover one of his fights. Her coverage of the event sets off a chain of events and leads them in each other's arms. These two are a thrown an unexpected curveball and when things get rocky and uncertainties arise, will Bella stay in Prince's corner?
What happens when a social activist and police officer fall in love? Through difference of opinion, protests, and devastating loss, photojournalist Ava Greene and Officer Levi must find a way to get to the truth of things and secure their newfound bond.
Take a peek into the world of a hip-hop superstar in this tale featuring hip-hop legend Everett aka Big South and his girlfriend, Jo. Together, they must keep the paparazzi and naysayers at bay while they navigate a new relationship underneath the glaring light of fame.
Jaxon Jeffries is running for Mayor. His parents have convinced him that he needs a wife. Luana Berry's love and loyalty belong to her brother, Lucas, so when he gets himself into trouble, she is willing to enter a marriage of convenience to secure Lucas's freedom.
Ready
by Bria Felicien
Jade and Bryce are best friends. Jade has easily ignored her feelings for Bryce though he can't say the same. As Jade prepares for life after college and soccer, and Bryce prepares to enter the NBA draft, their friendship shifts. Are they both willing to be honest about their feelings and succumb to a love that's worth the try?
A chance meeting between these two strangers as they traverse the country with similar missions sparks an undeniable connection.
Camilla Augustina moves to Chicago after her fiancé calls off their wedding twice. Her career takes top priority and she is not looking for love. Hunter Valentine is an incredibly successful CEO with no intentions of settling down. All of that changes when he sees Camilla. He assumes it's just lust at first because love at first sight is just absurd. As he comes to grips with his feelings, can he convince Camilla they what he feels for her is real?
Michelle Drake manages everything and everyone to perfection. When her best friend helps her "runaway from home," her only plan is to chill out and enjoy her long overdue time off. But an unexpected visitor on her doorstep and her sexy as sin neighbor shake up those plans.
Jack Sullivan is a fixer. Noelle Kramer is in desperate need of help to keep her family's good name intact. What Jack suggests will put Noelle's dormant feelings to the test and her heart on the line, but it will give Jack everything he's always wanted.
Ayda Forde is the youngest child of the wealthy Forde family. Tremaine Henley is a single father and former playboy who has no problem with women. He's more than just a pretty face but convincing others of that, including Ayda, turns out to be the quite the task.
He's an Oxonian, licensed therapist, and a man of faith, preparing to take over the largest Pentecostal church in New York. She's an around-the-way girl from Harlem, struggling with three jobs and school to make ends meet for so many.
On the anniversary of his wife's death, former football player Randall Reese most not only tend with frustrating paparazzi but a meddling sister who sets him up on a coffee date with an old classmate that he barely remembers.
If anybody deserves a drink, it's Hope Sinclair. After catching her fiancé cheating, all Hope wants is to get through her sister's Las Vegas nuptials and then return home to cancel her own wedding. But champagne and too many martinis screw up the straitlaced Sinclair sister's best-laid plans.
When Jasmine and Elliot first meet, he's the awkward boy who's bullied in school every day, and she's the perceived popular girl. Music and a loneliness brought them together. They ended before they really began and years later when they reunite, life has hardened them, maybe even to the point where happily ever after is not an option.
Devin Walker, the drummer for The Prototype, has one priority: turning his alt-soul band into the superstar act it's destined to become. Singularly focused on his music, his creative passion is all-consuming—that is, until he crosses paths with his best friend's college roommate, Willow Harden.
Layover
by Katrina Jackson
This fun and sexy novella plays like my favorite mixtape as we meet music lover and travel blogger Lena Ward and podcaster Tony Dembélé. They flirt a bit and eventually connect for an interview during Lena's layover. The encounter should have been brief but they soon learn that sometimes a long layover is worth it.
What do you do when you meet the man of your dreams, but he's on the wrong side of the law? You fall head over heels in love with him.
Some people would say William and Layla always managed to have bad timing. Others would say that their love was timeless. Everyone will agree that their undeniable love was one for the ages.
It's said the artist is born of a damaged soul…Wilhelmina Allende is a prima ballerina. When tragedy turns her beloved Paris into a gilded cage, she jumps at the chance to work with one of the most prolific choreographers she's ever seen.
Carter Townsend was born into privilege and a multi-billion dollar company. He chose a different path and after the military became a firefighter. When he meets Michelle Clarke, it's instant love, and while she eventually opens herself up to the possibility of a relationship, vengeful exes prove that it won't be an easy road to happiness.
Despite his reluctance about their ten year age difference, Amon Mikende couldn't help but fall for Patrice Flowers. Their love, however, was riddled with secrets and when the truth is revealed, it's anyone's guess if their love is strong enough to survive.
Elle Jarreau is a bit of a tortured soul and her view on love leaves much to be desired. There's nothing that Jackson, a man nine years his junior, can teach her about love right? Wrong. In this tale of redemption and second chances, there's quite for her to learn, including that age ain't nothing but a number.
For friends of Tariq and Kora, them getting together is an inevitable conclusion. They have been friends for over thirty years, and there's no way they could be any closer. They even dated a few years prior but it was wrong timing; they were both too young, too volatile, and simply not ready. Time is a funny thing though, and when it's meant to be, true love will find a way.
Grip
by Kennedy Ryan
Resisting an irresistible force wears you down and turns you out. Years ago Bristol and Marlon spent a few unforgettable nights together. She's intent on keeping those memories hidden and only focusing on their work and friendship. He has other plans; for her to remember and indulge in the wild and soul-piercing love they share.
---
What are some of your favorite Kindle Unlimited romance novels? Hit the comments to share your recommendations. And, find even more of the best books on Kindle Unlimited here.