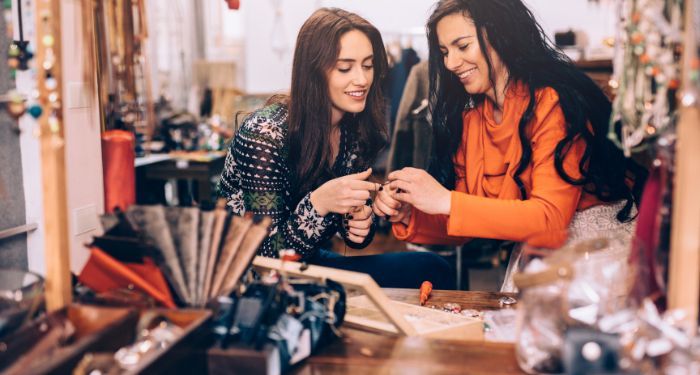 Lists
The Big List of 25+ of the Best Craft Books
This content contains affiliate links. When you buy through these links, we may earn an affiliate commission.
I spent the first 40 years of my life as a wannabe crafter. Crafting looked cool, craft books looked cool, but for some reason I did not think it was for me. Some of my reluctance came from a place of knowing that I'm not really very good at crafting or art or anything visual.
These skills don't come naturally to me and inevitably, when I tried to make things, the things I made did not come out looking anything like the thing they were based on. Sadly, this kept me from following through on my urges to sew curtains and paint furniture and embroider dainty napkins.
Then I turned 40 and this switch magically flipped in my brain and all of a sudden I was like, "Wait, why do I care of I'm 'good' at things??" and now I do SO MUCH CRAFTING that I have to write about it in all caps or you won't get the extent to which I do crafting!
It started with lots of in-person classes at Public Space One, my local "artist-led, community-driven contemporary art center" where I took typesetting, letterpress, and printing classes. Then I moved on to crochet and sewing classes at the adorable Home Ec. Workshop. I quickly realized that I absolutely did not have to be "good" at things for it to be fun to make things, plus I'm not as bad at making things as I thought.
And then the pandemic hit. In-person classes were canceled right when I had an enormity of time on my hands. And that's when I discovered the joy of craft books. They're fun to flip through when I want a little inspiration, and they're great for filling in my gaps of knowledge or teaching new skills altogether.
Thankfully, at the same time that I started getting my learn on from craft books, Art Office popped into existence and I took advantage of its 12-week virtual art-accountability awesomeness. I connected online with lots of makers who helped me make things. It was great; it is great – I'm still doing sessions, two years later!
So here we go: 25 of the best craft books I've found.
---
Looking for even more craft books? Check out other Book Riot coverage of the Best Pottery Books, start your woodworking journey with the Best Woodworking Books for Beginners, learn the art of knitting with the Best Knitting Books, and combine your love of crafting and reading with Literary Cross Stitch.