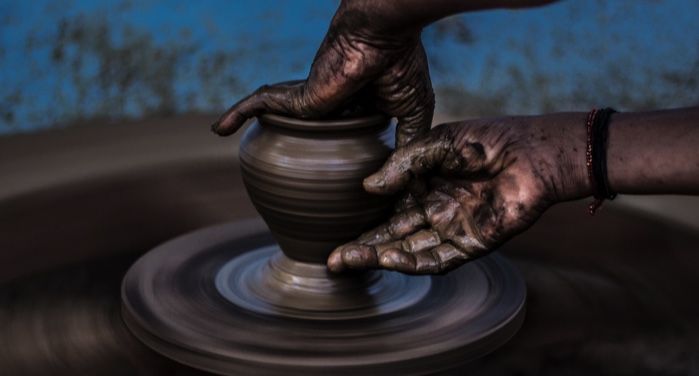 Crafting
The Best Pottery Books for Beginners
This content contains affiliate links. When you buy through these links, we may earn an affiliate commission.
If one of your goals for the New Year is to get more creative, pottery is an overlooked option. There are so many things that might distance a person from pottery: pottery is a fine art; it requires a kiln because home ovens can't get hot enough to fire clay; mugs, cake stands, and flower pots are readily available from the local Big Box Store. Making pottery can give you a new understanding, appreciation, and way of looking at those everyday commodities. With the right tools and pottery books for beginners, you can be on your way to a fun and functional new hobby.
"Like a vase, a heart breaks once. After that, it just yields to its flaws" —Sarah Manguso, Short Days
It was the toilet episode of The Great Pottery Throw Down that did it for me. In it, potters were challenged to construct fully flushable toilets. Marrying plumbing with creative design was the fact that these were to be Victorian toilets, which were often decorative. The challenge sent me into a tailspin of pottery history. After relearning about prehistoric pottery that baked in the sun, I became convinced that pottery is for the people.
For now, pottery studios might be closed and their alternative, home kilns, are an investment. But if you're interested in the world of pottery, starting with a book is an ideal way in. These are some of the best pottery books around that will help you get a better glimpse of what's involved. Soon, you'll be fettling and digging clay out from under your nails.
Note: Pottery artifacts have been found on every continent since 6000 BC at the absolute latest. Despite that fact, it's challenging to find introductory pottery books from a range of cultures and/or by diverse writers. As a result, this list features primarily white authors. Jim McDowell, an artist who calls himself "The Black Potter," continues to call attention to the fact that the American pottery world remains predominantly white. See McDowell's work and read his artist statement and bio here.
---
Looking for more craft ideas? Check out the archives for bookish crafts, craft books, and craft kits.