This content contains affiliate links. When you buy through these links, we may earn an affiliate commission.
Here's what we were loving in September!
Spider-Woman: Shifting Gears, Vol 1: Baby Talk by Dennis Hopeless and Javier Rodriguez
I am new to the Spider-Woman scene, and as a newish mom, I really enjoyed Jessica Drew and seeing how she balances (and struggles with) superhero life with pregnancy and new-mom life. She's also a single mother by choice, and I love that.
-Jaime Herndon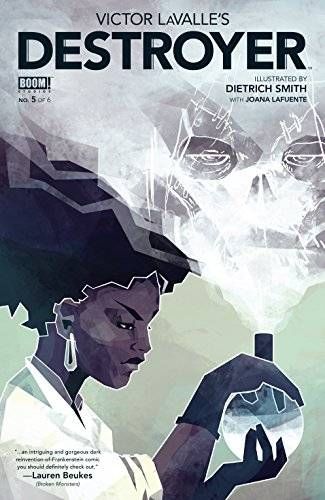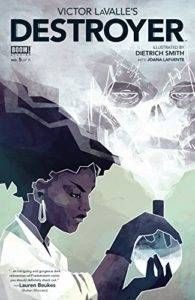 Victor LaValle's Destroyer #5 by Victor LaValle, Dietrich Smith, and Joana Lafuente
I picked up the first issue of this one at a time when I was desperate for horror comics. I'd been reading Regression and wanted to see what else the comics world had to offer in this genre. (A lot, apparently.) I'd already read LaValle's novels, so I was especially intrigued. In addition to an interesting premise (the last descendant of the Frankenstein family loses her son to a police shooting, and turns to science in order to find justice), I found the artwork to be absolutely gorgeous. I was immediately hooked. I recently went to the Brooklyn Book Festival and saw LaValle speak on a panel, during which he shared how much he'd come to love these characters. It was in this latest, heartbreaking issue that I felt this the most. It is like a roundhouse kick to the gut.
-Steph Auteri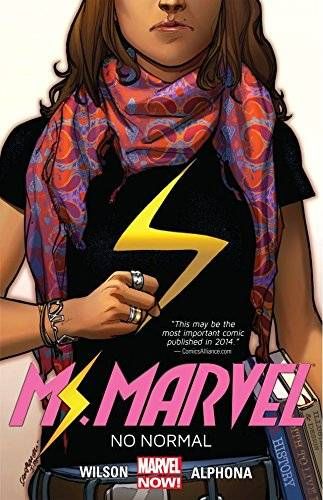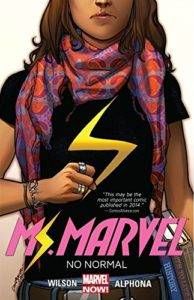 Ms Marvel, Vol 1: No Normal by G. Willow Wilson, Adrian Alphona
Not going to lie I kind of hate myself for having taken so long before getting around to reading about Kamala Khan, but it ended up working out because this was the perfect read while waiting out a hurricane. It's delightful, smart, fun, funny, kick-ass, and just excellent from any direction you look at it. Khan is a Muslim Jersey teen who suddenly finds herself with powers–most teens dream come true! While Khan is going to have to figure out navigating around her parents to do all the crime fighting I have no doubt she will always figure out how to help. And now to go binge my way through the series. (If like me you're forever crying about the cancellation of The Unstoppable Wasp this is a perfect next read.)
-Jamie Canaves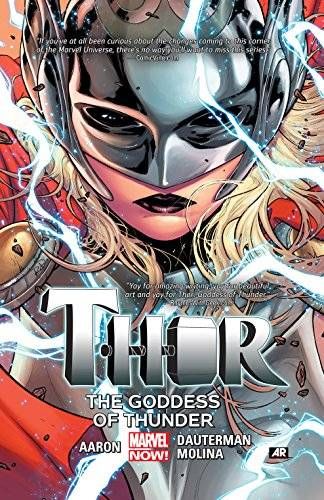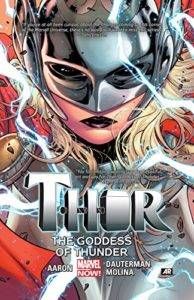 Thor, Vol 1: The Goddess of Thunder by Jason Aaron, Russell Dauterman, and Jorge Molina
I'll be honest, Thor has never been one of my go-to comics, but this one had been on my radar for a while. I mean, Thor? is now a woman? Sign me up! I kind of forgot I had a copy of this one, though, (lost in the abyss of my kindle) until recently when I saw some spoilers and was reminded of how intrigued I was by it. Basically, Thor becomes unworthy and loses Mjolnir, which is a major problem when Frost Giants begin attacking Midgard. But a mysterious woman with the power to wield the hammer joins the fight, and with the power of Thor at her fingertips, she becomes the new Goddess of Thunder. The mystery of the new Thor's identity is heavily explored in the first volume, but since I already know who she is (again, spoilers!) I'm really excited to see how the rest of this storyline plays out!
-Rachel Brittain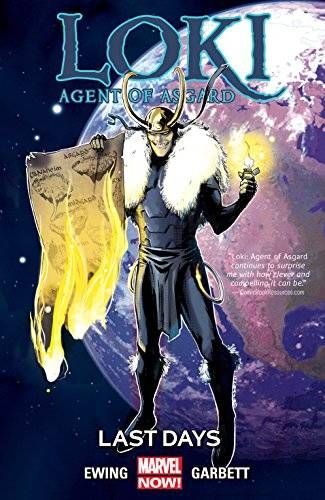 Loki: Agent of Asgard, Vol 3: Last Days by Al Ewing, Lee Garbett, Antonio Fabela, and Andres Mossa
I started Loki: Agent of Asgard when it was brand new and I adored it; during one of Marvel's copious, and continually unwelcome, "events," however, (I think it was the newer Secret Wars), out of the frustration of not being able to keep track of my beloved books and characters without keeping track of ALL THE BOOKS AND CHARACTERS, I dropped Loki and pretty much everything else. Somehow, it didn't get picked in my reorder frenzy. Shame on me because the whole run is fantastic but the apex of the writing, art, and story are in Vol. 3 and are absolutely spectacular. Concluding Loki's war against himself, the titular character's desperate bid for redemption gave me all the feels and included a fair bit more actual Norse mythological influence than many of the Thor adjacent books. Also included: literal inner demons, discussion of the importance of stories, free expression of gender fluidity and maximum Freyja snark.
-S.W. Sondheimer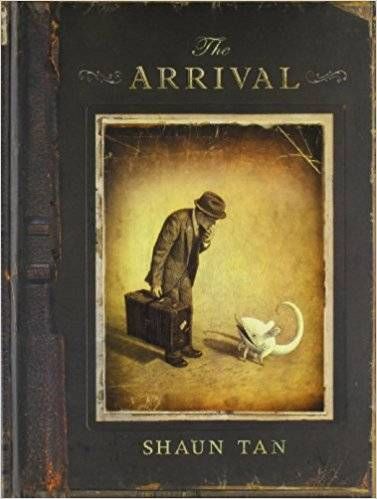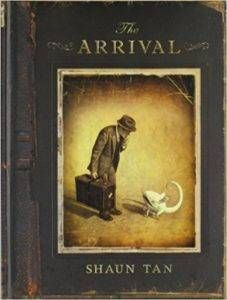 The Arrival by Shaun Tan
This book is so beautiful, poignant, and special that after reading it I immediately felt the need to write a Book Riot post around it. It's the justly acclaimed story of a nameless immigrant, from a nameless country, arriving in another nameless country. While the narrative anonymity shows the universality of some aspects of the immigrant experience, the visuals are incredibly detailed and imaginative. And this book is all visuals, as there's no text. It's a testament to the power of Tan's art and the depth of the world he creates that you don't miss the text at all.
-Christine Ro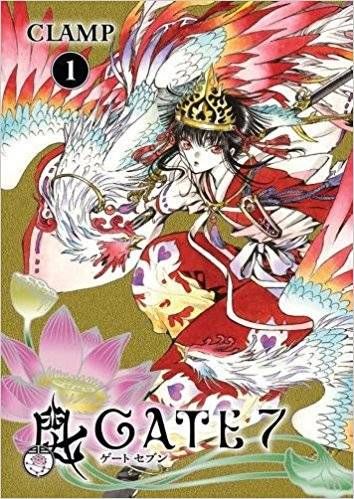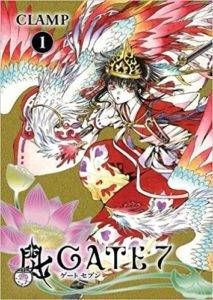 Gate 7 by CLAMP
CLAMP never fails to bring on the nostalgia and magical sensations from a thrilling story. Chikahito, a high school student who wants to live in Kyoto, gets his wish after a trip to the city. He encounters various magical beings, including one named Hana who identifies as agender. Hana's family wants to figure out why a normal Chikahito can see them and their antics as they gather demons and allies for an upcoming battle.
-Priya Sridhar
Mister Miracle #2 by Tom King, Mitch Gerads, and Clayton Cowles
This book drives me crazy. Everything you hear about it is loaded with hyperbole and fawning praise, and then you go and read the darn thing and it deserves every ounce of it. King and Gerads are working wonders with this addictively unsettling and deeply psychological examination of escaping fear and reality. One moment it's a look at the all encompassing sense of depression and then another it's a love letter to Kirby's beloved creations, but the entire time it's rife with the care and craft of a comic that refuses to hold your hand while delivering emotional blow after blow. Nine-panel grids are becoming far too overused, yet here they're executed with thoughtful precision that demonstrates just how miraculously the medium manipulates time. For all the "big" moments and scenes to be found throughout the issue, it's the quietest moments that sing loudest from a simple conversation about how a shower works to a curt response about never liking Granny Goodness. Beautiful, intrepid, and deserving of all the hype, Mister Miracle is as good as superhero comics get.
-Alex Mansfield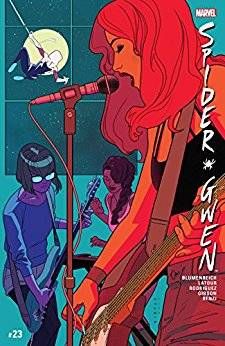 Spider-Gwen #23 by Hannah Blumenreich, Jason Latour, Jordan Gibson, Robbi Rodriguez, Rico Renzi, and VC's Clayton Cowles
I've loved Spider-Gwen since she first swung onto the page a couple years ago, but I have to admit that despite my loyalty to the character, her storyline has tended to…meander a bit, especially lately. This issue takes a much needed break from Gwen and Harry Osborn's angsty misadventures in Madripoor to focus on her bandmates in the Mary Janes: Glory Grant, Betty Brant, and of course, MJ herself. It's written and drawn by Hannah Blumenreich, best known for her slice-of-life Spidey Zine about the quieter, more human moments in Spider-Man's life. This issue brings the same charm to the Mary Janes, as well as some of the elements that originally made the Spider-Gwen concept so appealing: a female perspective, awesome fashion, and a rad girl band. It's not that I don't want to see Gwen punching ne'er-do-wells, but more of this humor and heart in the future wouldn't go amiss.
-Jess Plummer