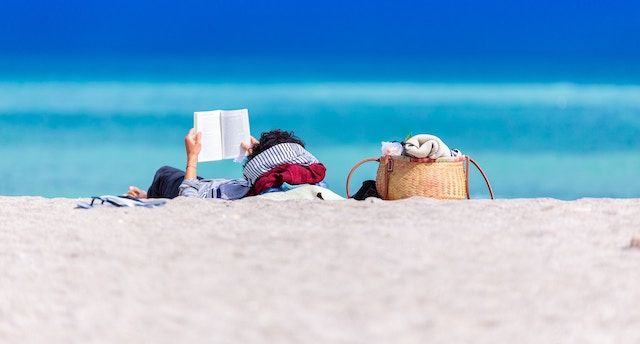 Humor
Beach Reads Season Means Never Having to Say You're Sorry
This content contains affiliate links. When you buy through these links, we may earn an affiliate commission.
In case you haven't yet heard: it's beach reads season. We have plenty of beach read recs for you here, and we even have a guide for how to prep for beach reading season. That is not why we're here today. We're here today to celebrate the spirit of the season. Memorial Day has passed and we are months away from Labor Day which means it's time to starch your crispest whites and read whatever you damn well please. We are here—and I can't stress this enough—for thrillers and arm cramps.
Beach reads season means never having to say you're sorry to that bitch who runs your book club and thinks "we should read David Copperfield just for fun" instead of The Bride Test. In the summer you can buy The Bride Test and all of her friends, aka The Kiss Quotient. Anyone who says otherwise has probably never sipped straight out of a pineapple before and/or ever felt joy.
The weather is warm, like it's actually so warm that it's worth being concerned about, but that does not mean you have to apologize for the books you're adding to your watermelon print beach tote. Sure, it would be impressive to stay awake on the beach for more than 25 seconds reading the books you "didn't read in high school," but who is keeping score? I heard that your high school English teacher Mrs. Hibert died anyway. I'm just kidding, but her formulaic summer reading list is not invited to beach reading either. Beach reads season means you can slap your sunscreen on and open up your copy of the paperback thriller you bought for 49¢ without even hiding it behind this week's issue of The New Yorker.
Beach reads season means boob sweat and books with pages so thin you can see the sun right through them. While some might try to tell you the paper quality is "cheap" and "flimsy," you know the true genius in this design flaw: you can get a tan right through the pages.
It is beach reads season and that means the sex scenes are as cheap as the white wine spritzer your cousin Jennifer brought you to drink by the pool. Thanks, Jennifer, and I'll take a refill because I'm reading about a bosom and it's not going to quiver on its own.
When the great Katy Perry once sang, "California Girls we're undeniable," I think she was talking about beach reads season. It's always beach reads season in L.A., which means never having to deny yourself what you really want: a book with a motherfucking plot.
The sun is out and that means you can parade into any bookstore, utter "beach reads," and your friendly neighborhood bookseller will escort you to the closest table of paperbacks, tailored specifically to the season. Do new books even come out during the summer? Don't feel bad that you're still covered in sand and you haven't washed your hair outside of the ocean in 3–5 days. No one is allowed to judge during this season, not even the SAT tutor who was in line behind you buying extra flashcards. Save it for the spring, buddy, haven't you heard it's beach reads season?
Beach reads season is an attitude, not a prescribed set of books. The books mentioned here are, I think, great ideas for summer beach reading, but ultimately summer beach reading looks different to everyone. No matter what books you choose, you read them with pride.