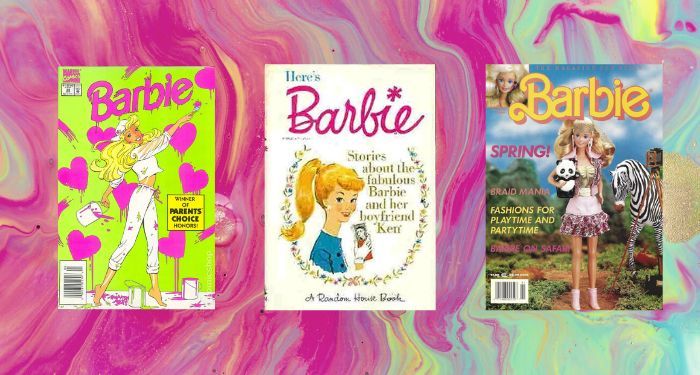 Essays
Barbie, Books, and Publishing for Young Readers
This content contains affiliate links. When you buy through these links, we may earn an affiliate commission.
Barbie might be one of the first true franchises to cover everything. What began as a fashion doll in 1959 has grown into an industry with everything from non-doll toys like fashion plates to video games, games to television, and of course, the live-action film hitting screens this month. It should come as little surprise books have been part of the Barbie brand strategy from the beginning. Barbie books and comics began right alongside the doll and became a publishing boom in the '80s, '90s, and early '00s. Mattel, the company which owns Barbie, found sales slumping during this time, and found books and magazines one avenue to cash in during this era. Over 400 Barbie books have been published since the early 1990s.
Let's take a look at some of the stand-alone, series, and comic books that have been part of the Barbie legacy. Note that these are not forms of media geared toward collectors, and they are about U.S.-based Barbie material. Collectors' media and those outside the U.S. are worthy of their own deep dives.
Barbie's First Book
The very first book to feature Barbie at the center of the story was published in January 1962. Here's Barbie by Bette Lu Lawrence and Cynthia Maybee launched the series, which ran until 1965. It's a little difficult to track down the full lineage of this series, but it appears to have included 12 books, including a cookbook, a mystery, and a romance.
Barbie and her family lived in Willows, Wisconsin, where she attended Willows High School. Of course, Ken makes an appearance in this series, and we begin to meet the extended Barbie world slowly, including best friend Midge (it would not be until 1968 we meet the first Black Barbie in this world, Christie). Barbie is into fashion, travels to places like New York City and Hawaii, and takes a job as a candy striper. The final story is especially interesting, given this was the downside of the career novel publishing storm for teens.
Barbie in Comics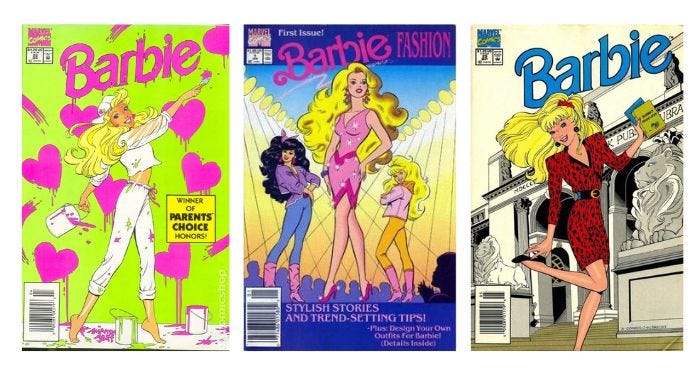 The 1960s were the silver age of comics, and given the audience being reached by the Barbie chapter books — children and tweens between about 3 and 12 — it comes as little surprise that Barbie was an obvious candidate for the comic treatment. The comics were geared toward girls, and the first series, which ran for five issues, focused exclusively on the budding romance between Barbie and Ken. Their story fit right into the trend toward romance comics for this readership group at the time.
Where the initial Barbie book series featured a character depicted in a realistic manner — as much as you can call an illustration "realistic," of course — the Barbie and Ken series of comics had Barbie and Ken depicted as dolls. They also appear much older than they do in the books. Together, the couple travel to Europe and become glamorous stage performers, play tennis, and do plenty of dancing.
It was not until 1991 that Barbie returned to the glossy comic pages, this time under the Marvel banner. Barbie ran for 63 issues until 1996, and at the same time, Marvel also published a series featuring the fashion icon in Barbie: Fashion. There were 53 issues, beginning in January 1991 and ending in 1995.
As both of those series wrapped up, Barbie was not left behind. There was a short, two-issue series showcasing Barbie and her Halloween preparation in October 1993 called Barbie: Halloween. Marvel also gave Barbie a single issue in October 1995 where she and her younger sister got to bond, Barbie and Baby Sister Kelly.
If Barbie Comics sound super exciting to you, maybe you'll want to temper that with this look at the lackluster franchise from one of Book Riot's comic experts.
Yes, There Was a Magazine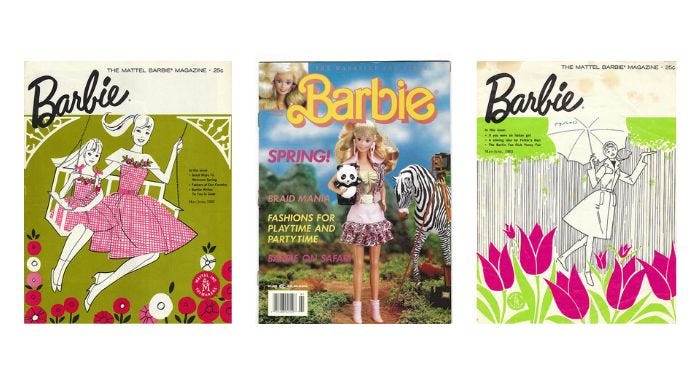 More than one magazine, in fact. The very first Barbie-themed magazine was published in the early 1960s from Mattel. The pages included stories that featured Barbie and her world, as well as the kinds of information and insights that would keep a young reader engaged. In May-June 1963, you could learn what it might be like to be an Italian girl and be part of the Barbie Fan Club Penny Fair; you could meet the new doll Francie in March-April 1966 (Francie was Barbie's Mod-themed cousin); in July-August 1967, you could read about famous women in history and "Have a Singin' Summer"; and in September-October 1967, you could make a paper dress and prepare for Halloween fun. It is not clear how long this magazine was published, though a dive through the internet and various auction sites put it at about a five-year run. You can peep the May-June 1964 issue over on YouTube from a collector.
---
Click here to continue reading this free article via our subscription publication, The Deep Dive! Weekly staff-written articles are available free of charge, or you can sign up for a paid subscription to get additional content and access to community features.
---