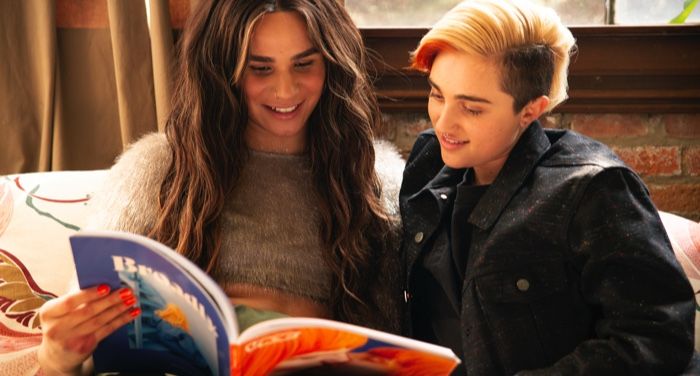 This content contains affiliate links. When you buy through these links, we may earn an affiliate commission.
More audiobooks by trans authors are being published now than ever before, making more and more stories centering trans lives available to a wider audience. In the last couple of years, so many of these fabulous books have hit the shelves, and I have some favorites to share!
Fairest: A Memoir by Meredith Talusan, Narrated by the Author
In Fairest, Meredith Talusan tells her story of growing up as a child with albinism in the Philippines, how that changed the way that people perceived her, and gave her a perceived advantage over her peers. Later, she attended Harvard, living as a gay man, where she began experimenting with her gender expression, eventually embracing her identity as a trans woman. Talusan shares the story of her whole self, with all of her intersections of identity, complexities, and contradictions. She narrated the audiobook herself, giving this book an added layer of perspective and depth.
Detransition, Baby by Torrey Peters, Narrated by Renata Friedman
In this top-notch debut novel, Detransition, Baby, Ames has just detransitioned from his life as a trans woman, and he's startled to learn that his girlfriend, Katrina, is pregnant. Unsure about the prospect of fatherhood, Ames contacts his ex-girlfriend, Reese, a trans woman, to ask if she would be interested in being a third parent to the child. From there, the discussion springboards into the meaning of different forms of queer parenthood and trans women's desire for motherhood. Renata Friedman is a fabulous narrator, capturing the different characters' voices beautifully.
The Subtweet by Vivek Shraya, Narrated by Nisha Ahuja
In this one-of-a-kind novel, Vivek Shraya tells the stories of two women who become frenemies of sorts, their rivalry thinly veiled by smiles and off-hand remarks. But when one woman subtweets the other, a series of events unfold that change their relationship forever. Sharp and witty, The Subtweet is a fascinating take on the role of social media and how our online personas affect our very real lives. Nisha Ahuja gives this audiobook and its quick-witted dialogue the energy it needs.
The Prettiest Star by Carter Sickels, Narrated by Tiffany Morgan and Charlie Thurston
As someone from Appalachian Ohio, I'm always here for more novels set in my home region, so I couldn't have been more excited for The Prettiest Star by Carter Sickels. Set in the 1980s during the height of the AIDS epidemic, we meet Brian, a young man returning to his hometown in Appalachian Ohio after his friends and his lover have died from AIDS. After years of making his home in New York City away from his family, Brian hopes his family will be more accepting of his identity and his AIDS diagnosis. Narrators Tiffany Morgan and Charlie Thurston capture the small town feel and perspective of each of the viewpoint characters.
Thirty Names of Night by Zeyn Joukhadar, Narrated by Samy Figaredo and Lameece Issaq
A trans Syrian American boy cares for his grandmother during the day and escapes into the city to draw murals at night. When he discovers the work of an artist Little Z, an artist known for painting portraits of rare birds, he begins to understand that he is not alone in his trans identity and how his story connects to trans history.
The Death of Vivek Oji by Akwaeke Emezi, Narrated by Yetide Badaki and Chukwudi Iwuji
Literary superstar Akwaeke Emezi returns with another fantastic novel with The Death of Vivek Oji. From the very beginning, we as listeners know how Vivek Oji's story ends, but Emezi keeps our attention by weaving together Oji's life filled with love and loss, secrets and revelations. Yetide Badaki and Chukwudi Iwuji perform this book with so much emotion that draws you in from the start.