This list of atmospheric historical mysteries is sponsored by Forge Books.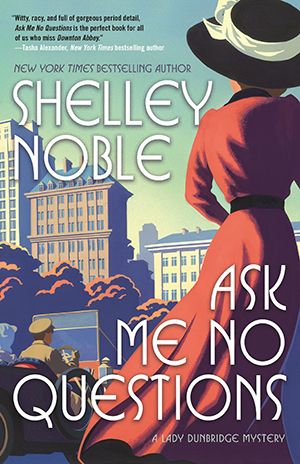 From New York Times bestselling author Shelley Noble, Ask Me No Questions is the first in the Lady Dunbridge mystery series featuring an intrepid amateur sleuth in turn-of-the-century New York City. Tasha Alexander calls it "Witty, racy, and full of gorgeous period detail…the perfect book for all of us who miss Downtown Abbey." Lady Dunbridge isn't about to let the death of her husband ruin her social life. From the decadence of high society balls, to the underbelly of Belmont horse racing, romance, murder, and scandals abound. Someone simply must do something. And Lady Dunbridge is happy to oblige.
---
So you're looking for some atmospheric historical mysteries that take place far, far away from the dumpster fire that is 2018. I'm here for you. Throw yourself into another time with this list of historical mysteries.
The Widows of Malabar Hill by Sujata Massey
Bombay, 1921.
Perveen Mistry is the first female solicitor in Bombay, working at her father's law firm, the aptly named Mistry Law. What begins as the investigation into a suspicious will escalates to murder after Perveen visits three widows that have signed their entire inheritances over to a charity.
The Strings of Murder by Oscar de Muriel
Edinburgh, 1888.
Inspector Ian Frey is dispatched from London to Edinburgh to assist Detective "Nine-Nails" McGray with a possible Jack the Ripper copycat. A violinist is found murdered in a locked room and the unlikely partners pursue an investigation laced with superstition, the occult, and a detailed look into the classical music world.
A Front Page Affair by Radha Vatsal
New York City, 1915.
Capability "Kitty" Weeks is a fashion reporter longing to cover bigger, more important stories as the Great War looms. While on assignment at a society party, Kitty finds herself in the middle of a murder mystery. Determined to find out the truth, Kitty throws herself into the investigation that could have national, wartime implications.
A Spy in the House by Y.S. Lee
London, 1853.
In this YA historical mystery, Mary Quinn, an orphan and a thief, is rescued from the gallows by Miss Scrimshaw's Academy for Girls. The Academy is actually a cover for an all-female investigative unit called The Agency. On her first case, Mary goes undercover in a rich merchant's home to find out why his cargo ships keep going missing.
Murder at the Flamingo by Rachel McMillan
Boston, 1937.
Hamish DeLuca and Regina "Reggie" Van Buren have both run away to Boston for different reasons, but they both end up at the fashionable Flamingo nightclub run by Hamish's cousin Luca Valari. There's a murder mystery on opening night, but let's just use that as an excuse to spend tons of quality time exploring 1930s Boston with Hamish and Reggie as they search for a killer and a place to belong.
A Beautiful Poison by Lydia Kang
Manhattan, 1918.
Three childhood friends reconnect at an engagement party where a socialite falls down the stairs to her death…or does she? (Sorry.) Allene and her friends Jasper and Birdie find themselves in the middle of a murder mystery as victims are found poisoned with a cryptic note left at the scene during the Spanish influenza epidemic.
The Lotus Palace by Jeannie Lin
China, 847.
Romance and mystery in Tang Dynasty China where Yue-ying is maidservant to an elite courtesan at the Lotus Palace and Bai Huang is the privileged playboy pursuing said courtesan. The two are thrown together when another courtesan is murdered. With complex and developed characters, romantic tension, and a murder to solve, this one might be just what you're looking for.
The Anatomist's Wife by Anna Lee Huber
Scotland, 1830.
Lady Kiera Darby is taking refuge at her sister's estate after the death of her husband, an anatomist who used her painting skills for his own macabre purposes. When a guest is murdered at a posh house party, Kiera is enlisted by her brother-in-law to assist in the investigation.