Literary Activism
Action Item: Funding Social Justice Libraries for Classrooms in CA, IL, and MN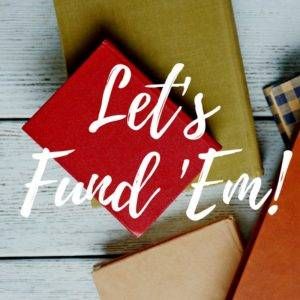 Late last year, librarian Angie Manfredi took to Twitter with a challenge: How many classrooms in need could the book community fund over the course of one day? Other librarians and bloggers and authors and industry folk joined in, and it quickly became apparent that there were a whole lot of people out there just itching to do some good, whether by spreading the word or opening their wallets or both.
On Inauguration Day, we (we being Kelly Jensen and Leila Roy) put together a list of classrooms in need, with a focus on classrooms that served immigrant, refugee, and ESL communities. With the help of Book Twitter, every single one of those classrooms was fully funded by the end of the day. Since then, every Friday, we've continued to highlight and advocate for similar classrooms, and again and again Book Twitter has come through.
Now, we're bringing our Fund 'Em Fridays to you, the Book Riot Community. Please boost, donate if you can, or even pick out a classroom to personally champion!
Our classrooms this week are focused on building book collections that especially highlight books tackling issues of social justice and representation. As usual, all classrooms are high poverty and in great need, so toss a few bucks to these worthy projects and help make these dreams happen.
Books About Things That Matter, East Palo Alto, CA
My students live in a very low income community in the heart of the Silicon Valley. Currently over half of our students are considered homeless. They are almost all minorities, many are learning English as a second language, and many have faced extreme adversity in their home lives. Many students work far below grade level and all are on free and reduced price lunch. My students come to school where it's a safe place, and, despite everything, they try their best every day. While surrounding communities boast multi-million dollar homes and high powered tech companies, my kids have seen things no child should see, and this impacts their learning at school.
With the current state of politics, and so many students feeling anxious and uneasy, they need access to books about topics that really matter – immigration, and race and equality. My students come from diverse backgrounds and they need to know that there are books about kids like them.
High Interest Reading, Chicago, IL
My students are motivated by their dreams. The 12 and 13 year old's in my classroom yearn for success and opportunities. These students ask critical questions about the world around them and why things are not equitable in our society. They see and are impacted by the violence in our communities. Summer vacations don't provide much solace because their parents fear for their child's safety. Regardless of the social and economic burdens that follow my students, they work hard because they see glimmers of a better tomorrow.
The books that I am requesting are high interest books that students have been asking about. Students really like the Zombie Gold Fish books, along with Ellen Hopkins books. The books will allow students to have more access to high engagement reading material. Students check out books from the classroom library that they are interested in reading. Most students read an average of 50 books per school year.
Some of these books, like Boy 21, American Street, or The Hate U Give, are books which feature culturally-relevant characters.
There are limited books with strong African American characters at the middle school level. Some of these books reflect my students socially and culturally. Furthermore, many authors publish new books which my students have been specifically asking for. My students have been made familiar with authors of books like King's Cage or The Mission. Students look forward to further reading and engaging with books by such prominent authors.
Interested in Reading, Minneapolis, MN
My students are preparing to have access to opportunities to achieve their dreams. They are refining their critical thinking skills, increasing their organization and time management capacities, and creating community with each other. They are smart, beautiful, and important in their discovery of leadership and identity development.
The books in this project will increase exposure high-interest reads that relate to current events. With these resources, my students will continue on a pathway to loving to read. Reading is the core of almost all jobs, and it is a necessary skill in high school and college. In order to love reading, my students need to experience the pleasure of a well developed story line.
With this anchor, students explore reading as a means to explore distant places, times, and experiences very different than they own. With these texts, my students will further become explorers capable of critical thinking and leadership. The topics covered in the books relate to current events topics related to immigration, citizen interactions with police, mental health, and how to build relationships with people who are different from us.