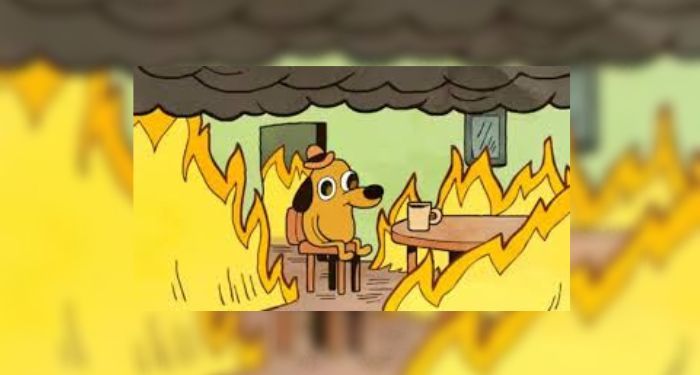 If you've spent any time on the internet during the past 10 years, then you know about the "This Is Fine" comic. We've all seen it: a two-panel strip of a dog in a bowler hat, holding a mug, and calmly saying "this is fine" as the room is swallowed up by flames. Although the dog has a name (Question Hound), he has become collectively known as the This Is Fine dog. He is a now a meme, and has come to represent a very particular state of mind – and a global state of constant crisis.
Not everybody has seen the full comic (it's comprised of six panels, not two) or is aware of its history. In fact, as tends to happen with memes who take on a life of their own, most people don't know the creator's name. But KC Green is something of a rarity: he has managed to hold onto his creation in a way that allows him to make a living off his art.
Wonder how? Keep reading for a brief history of the "This Is Fine" comic.
Timeline of the "This is Fine" Comic
2008
KC Green, the artist and creator behind Dick Butt and Staredad, starts a new webcomic series called Gunshow. The very first strip features a dog named Question Hound.
2013
On January 9, a new Gunshow strip appeared: it featured Question Hound in a burning room, sitting at a table and holding a mug. He says, a bright smile on his face, "this is fine." As he picks up the mug to drink, he continues: "I'm okay with the events that are unfolding currently." As the flames grow and begin to lick over him, he reassures himself: "That's okay, things are going to be okay." He's then completely engulfed by the fire, his face melting.
This might have remained a fun comic and nothing else had it not made it to social media. In April, the first two panels were posted to a thread on 4chan's /vr/ board. But it would take a few more months and a couple of Reddit users to make it a cultural sensation.
2014
The Reddit board r/funny saw the first two panels of this webcomic posted twice: once in January and once in September. The former, posted by user theonefoster and titled "Accurate representation of me dealing with university stress", fully converted it into a meme. From there on, it took on a life of its own.
Ironically, this was also the year when the Gunshow series came to an end.
2016
This was a big year for Question Hound and his denial (optimism?) in the face of his burning room. To begin with, cable channel Adult Swim animated the full strip, after requesting permission the year before.
Then, the Republican National Committee tweeted the meme on the official GOP account, mocking the first day of the Democratic National Convention and adding the hashtags #DemsInPhilly and #EnoughClinton. Green was…not amused. He replied with a tweet of his own, saying "everyone is in their right to use this is fine on social media posts, but man o man, I personally would like @GOP to delete their stupid post."
Within a month of the GOP's tweet, Green had created a follow-up to the original comic: the illustrious This Is Not Fine comic. In this strip, Question Hound snaps to his senses and begins to put the fires out. On the same month, Green launched a Kickstarter in order to make Question Hound plushies (and they're the most adorable thing I've ever seen).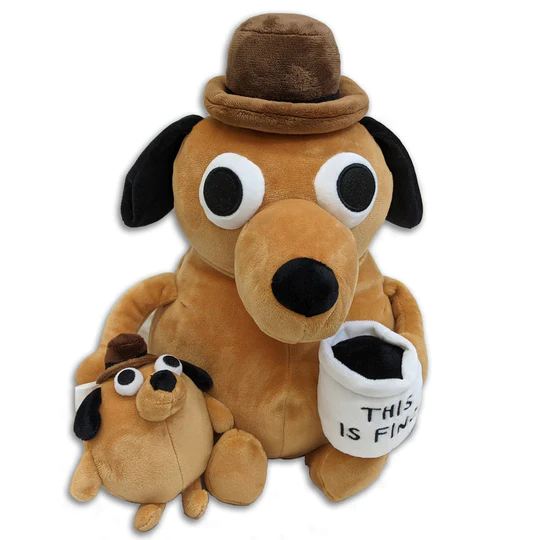 2019
I stand corrected: the mini versions of the Question Hound plushies are the most adorable thing I've ever seen.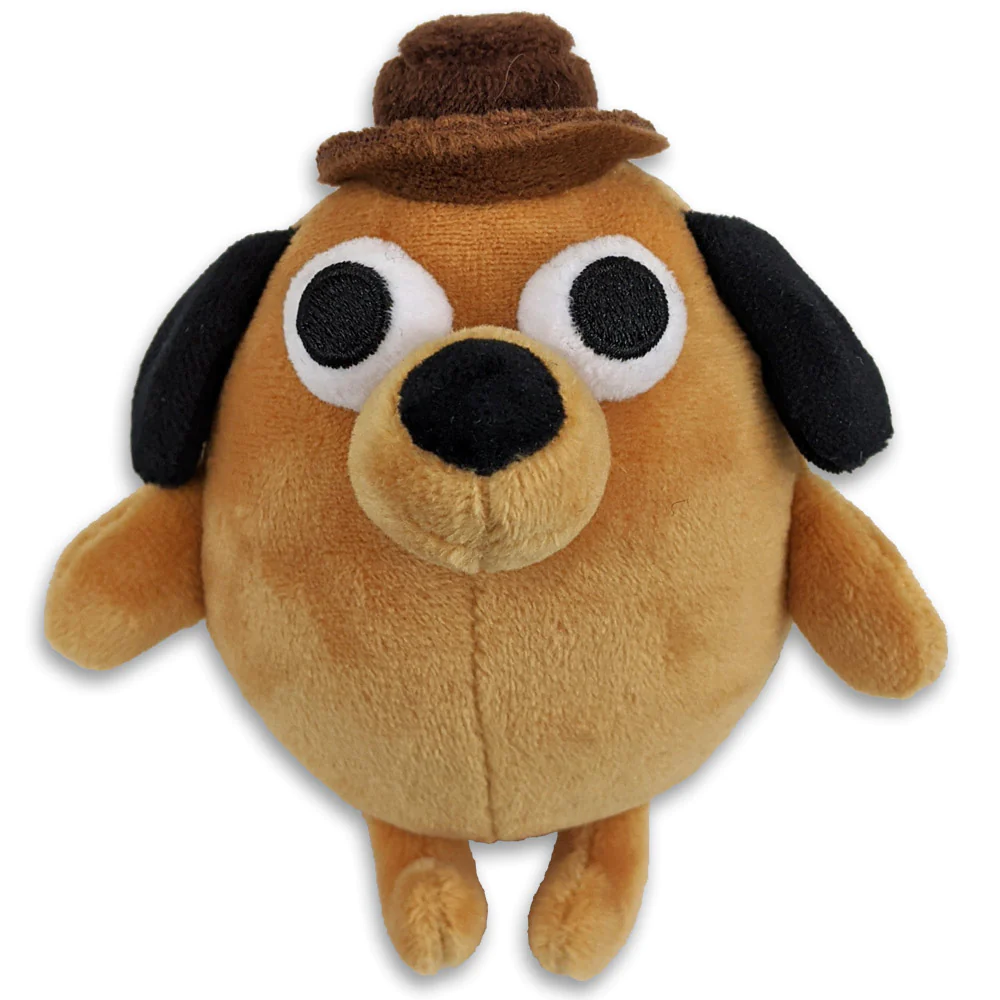 2020
How many non-superhero comics get Funko Pops? Not many. But Question Hound is among the honored few.
2021
Question Hound joined a new cast when Green launched the syndicated strip Funny Online Animals.
2023
As of January, Question Hound is not long for the Funny Online Animals world. His latest storyline will "have kind of an eerie, noir turn. After that, I may lay him to rest for a while."
Will he be back? Only time (and KC Green) can tell.
This Is Fine (Until It Isn't)
Over the last ten years, I've spent a lot of time online. I've seen countless memes come and go. But the "This Is Fine" comic remains as firmly entrenched in the cultural consciousness as ever. Chris Plante explains what that makes this meme unique: "(…) two reasons. One, while sometimes modified, it's most commonly used in an unaltered state. On Twitter, for example, someone might write some troubling news and attach the image. Second, it's still climbing in popularity and usage, despite now being nearly two years old." It has now been ten years. And not a week goes by that I don't see this adorable and resigned dog cross my social media timelines.
It is also a fascinating case study for the various ways in which somebody can interpret the same text. Although I have always seen the Question Hound as a paragon of denial, that's not what Green had in mind at all. In the interview with Chris Plante quoted above, he said: "I think I was still struggling with myself — with getting my anti-depressants and stuff right. You know, every now and then you have these off days where shit is worse, but you're trying to ignore it. It's just a feeling you have. I wrote this comic and that was all there was to it."
The sequel, on the other side, was no longer about a personal issue: the burning room no longer represents Green's mental health, it represents an entire country. He pointed out that "ALL of 2016 inspired this. Every bit of insane news piece and the political climate made this follow up happen. It's been a weird year and I think the election is not helping. Everyone's on EDGE. There's a breaking point, and I think we'll find it this year. Also, the Nib asked me if I had any comic ideas to send to them and this one has been in the back of my head for a couple months, more so since the GOP tweet thing."
It was time to douse the flames. As he told Emma Bowman, he's "still got plenty of people telling me they've gotten comfort from that dog. Being seen in that way is helpful. But, I like to say, we're not just accepting it, but working past it, trying to grow from it."
A Decade Later
It is hard to quantify just how influential the "This Is Fine" comic has been. But one thing is clear: this dog, both in his resignation and in his horror, has come to represent an entire country. Maybe an entire planet. Will we sit around reassuring ourselves that everything is fine, or will we break out the fire extinguisher?