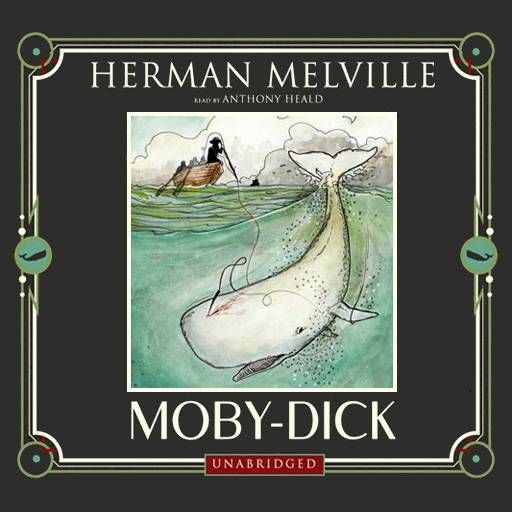 Audiobooks
9 Tips to Conquer Your White Whale and Find the Perfect Audiobook Narrator
The Audiophiles is a regular column in which contributors Rachel S. and Cassandra chat about the latest and greatest audiobooks on their radars.
Over the weekend, the Audiophiles got an email from Book Riot reader Sara with a question about audiobooks that we'd been waiting for the perfect moment to discuss. We considered it a sign — the universe clearly wants us to talk about this. You're on, universe:
"Dear Audiophiles,

"I want to listen to Moby Dick, but there are so many options and I'm wondering if you have a suggestion on how to choose? For example, on Audible alone there are at least 20 different narrators. I can read all of the reviews, and listen to samples of course but it's a bit overwhelming. Have you ever ran into this before with an audio book? If so, how did you choose?"
Dear Sara,
This is an awesome question, and yes! We run into this all the time. Here are 9 tips we hope will help you navigate the stormy sea of audiobook narrators:
1. Ask a Friend
Ask a friend who listens to a ton of audiobooks if they have a favorite crew of go-to narrators. Some of our favorites lately are Susan Duerdon, Kirby Heyborne, Rebecca Lowman, Xe Sands, and Simon Vance.
2. Pick Something Recent
Pick something recorded within the past 10 years. The art form of audiobook production has advanced like whoa over the past decade. A lot more big fish have gotten into the audiobook game now that there's more money to be made in audiobooks and virtually everyone has an audiobook player in their pocket.
3. Stick With Established Publishers
Established audiobook publishers are a good bet for high quality recordings because they're pouring more expertise and a higher budget into production. In addition to the Big 6 publishers — Hachette, HarperCollins, Macmillan, Penguin, Random House/Books on Tape, and Simon & Schuster — you can also expect great recordings from Audible, Blackstone, Brilliance, HighBridge, Recorded Books, Scholastic, and Tantor, to name a few.
4. Try a Celebrity
Have any celebrities narrated the audiobook you're interested in? Celebrities are not always the very best narrators because they're not all trained voice actors. (Like would you bet your life on James Franco aboard the Pequod? We didn't think so.) That being said, they can still make for a really fun audiobook listen if it's a celebrity you really like. Or, go for the wild card and pick up a recording by a "full cast." Why not?
5. Do Narrator Recon on Audible
Scope out Audible to see what else the narrator has done. If they've narrated dozens (or even hundreds) of audiobooks, chances are they're in demand because they're goooood. We also like that Audible provides 3 sets of star ratings for each audiobook: Performance, Story, and Overall. Check out the "Performance" score to see what other Audible users thought of that narrator in particular, or whether they've ever incited any horrible mutinies.
6. Audible (again)
More reasons to heart Audible: they have neat discovery tools like a features section, including a list of featured superstar narrators.
7. Go for Audie Winners
Check the Audie Awards! The Audies are the Oscars of the audiobook world. If a title you're interested in has an Audie Award-winning version, snap that puppy up quicker than a harpooner spears a sperm whale.
8. Read Reviews… Maybe
We hear what you said about being overwhelmed by the reviews, and we get it. Cassandra personally doesn't believe in reading the reviews at all, although Rachel, on the other hand, LOVES her some reviews and likes to shimmy right on up to that crow's nest to survey the waters. While reviews can give you a sense of whether other listeners liked each version and why, they can also turn you off to something you might otherwise really dig. So, proceed with caution.
9. Use Your Library
Check out the audiobook from your public library. If you like it, awesome! If not, at least you didn't waste any money on it and you can go back to the drawing board to try a second version.
Sara, we hope these tips help you in your hunt for the White Whale. While Rachel numbers herself among the Moby-Dick fangirls, she hasn't listened to it before and she's not familiar with any of its narrators. After skimming the Audible reviews, though, she's intrigued by Anthony Heald's 2009 narration from Blackstone Audio, and Frank Muller's 1987 narration from Recorded Books. It looks like both narrators have a lot of experience and have gotten glowing reviews.
If you don't want to commit to just one narrator, Cassandra can recommend the UK's epic Moby-Dick Big Read. A visual artist and writer teamed up in 2011 to, among other things, get a different celebrity to read each chapter of Moby-Dick and release one chapter per day for 136 days until the book was finished. The chapter-a-day thing is a great way to listen to it, and the recordings are still available to listen to for free online. They're even paired with incredible visual art pieces.
At a certain point, it all just boils down to personal preference and whether or not a particular narrator tickles your sweet spot. Best of luck, and let us know how it all turns out.
Yours,
Rachel & Cassandra
Rioters, do you have any of your own tips to add? You know what to do.