5 Graphic Novels to Watch For in June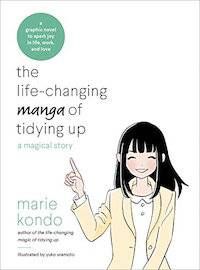 The Life Changing Manga of Tidying Up: A Magical Story—Marie Kondo (writer) and Yuko Uramoto (artist)
I don't really feel like I need to read The Life Changing Magic of Tidying Up.  Not because my home is a joy-sparking minimalist utopia (I blame my toddler, who is too young and innocent to imagine that she's a scapegoat for my own tendency towards untidiness), but rather because Marie Kondo's curatorial philosophy is seemingly inescapable. And after its adaptation in Americanized manga form (read left to right), we can strike out "seemingly." From preview pages, it appears that a young woman enlists KonMari to get her shit together…in order to appeal to a fastidious hottie who shares her apartment building. Not great, but if you want to give it the benefit of the doubt in order to have something zeitgeisty to read while you avoid household chores…
Descender Volume 4: Orbital Mechanics
—Jeff Lemire (writer) and Dustin Nguyen (artist)
Here's the first of three collections on my June radar (this post is totally outing me as a trade-waiter). This series does adorable and horrific equally well as it follows the harrowing adventures of empathetic android child Tim-21, who finds himself (and his robot dog!) entangled in a galactic war between man and machine. I'd be here for Lemire's story alone, but my dudes: the art is gorg. Nguyen would sweep every event in the watercolor Olympics, which should definitely be a thing.
The Wicked & the Divine Volume 5: Imperial Phase I—Kieron Gillen (writer) and Jamie McKelvie (artist)
I needed a frame of reference for all the #WicDiv cosplay I was seeing at New York Comic Con this past fall, so I finally got myself caught up on this Image hit. Be still, my comparative mythology enthusiast heart! If you couldn't care less about that sort of thing though, you should still give this series a shot. Its exploration of life, death, creativity, and fan culture is vibrantly told and will stick with you. And with four volumes already available, it's the perfect summer binge reading candidate.
The Leaning Girl (Obscure Cities)—Benoit Peeters and Francois Schuiten, translated by Stephen D. Smith
If you are literate enough in one of the ten languages this has already been translated into, then you don't have to wait until June 20. But that's a date to circle on your calendar if you'd like to experience this philosophical sci-fi graphic novel in English. If teenager Mary, the titular leaning girl, seems familiar, you may have encountered her as an adult in The Theory of the Grain of Sand, already out in an English translation. But one of the things I love about the Obscure Cities world-building is that you can wander around at will without becoming hopelessly disoriented. Order schmorder.
Bitch Planet Volume 2: President Bitch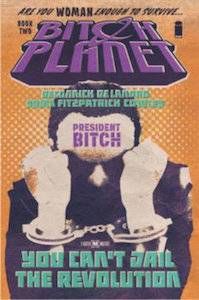 —Kelly Sue DeConnick (writer), Valentine De Landro (artist), and Taki Soma (artist)
This series is required reading. It just is. That's why I'm not even mad that my lent-out Bitch Planet Volume 1 hasn't yet made it back to me. If you're frustrated with the production schedule (or lack thereof), you're not alone. There's a definite loss of storytelling momentum when there are four-to-six months between issues. And then there's just plain forgetting what happened when last we saw our heroes. That's where a collected volume can be a super handy thing. Check out Volume 2, and remember everything that makes this series worth waiting for. I wouldn't want a monthly installment if it meant sacrificing the #ownvoices consulting behind the scenes, or the excellent topical essays.