This Riot Recommendation on female detectives in fiction is sponsored by Other Press. Read The Die is Cast, the first book of the Leona trilogy, by the "queen of Nordic noir" Jenny Rogneby.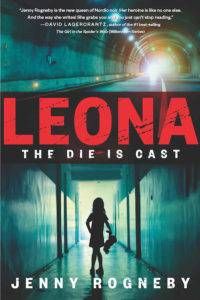 This best-selling Scandinavian thriller follows its troubled heroine as she investigates a high-profile robbery for Stockholm's Violent Crimes Division. A hardboiled crime novel, filled with unexpected twists and turns, featuring an unusual heroine. Leona makes for gripping reading while challenging feminine norms and questioning what is behind the choices we make. Millennium Series author David Lagercrantz calls Jenny Rogneby "the new queen of Nordic noir."
---
I still enjoy a Nancy Drew mystery, but I'm so glad there's an excellent selection of female detectives in fiction today. Armed with their sleuthing hats, their magnifying glasses, and their intellects, they go where others fear to tread. They keep us turning those pages because we have to know…whodunnit? We asked you to tell us your favorite female detectives in fiction and you responded. Here are more than 30 of your favorites!
Gabriella Geovanni–Gabriella Giovanni Mystery series by Kristi Belcamino
Phryne Fisher–Phryne Fisher series by Kerry Greenwood
Flavia de Luce–Flavia de Luce series by Alan Bradley
Eve Dallas–in Death series by J.D. Robb
Gabriella Versado–Broken Monsters by Lauren Beukes
Roxane Weary–The Last Place You Look by Kristen Lepionka
Ava Lee–Ava Lee series by Ian Hamilton
Agatha Raisin–Agatha Raisin Mystery series M.C. Beaton
Miss Marple–Miss Marple books by Agatha Christie
Ruth Galloway–Ruth Galloway series by Elly Griffiths
Maureen O'Donnell–Garnethill series by Denise Mina
Claire DeWitt–Claire DeWitt Novels by Sara Gran
Kate Martinelli–Martnelli books by Laurie R. King
Kinsey Millhone–Alphabet Mysteries series by Sue Grafton
Gemma James–Duncan Kincaid / Gemma James Novels by Deborah Crombie
Barbara Havers–The Inspector Lynley series by Elizabeth George
Hazel Wong and Daisy Wells–Murder Most Unladylike Mysteries by Robin Stevens
D.D. Warren–Det. D.D. Warren series by Lisa Gardner
Eloise Norton–Detective Elouise Norton series by Rachel Howzell Hall
Cordelia Gray–An Unsuitable Job for a Woman and The Skull Beneath the Skin by P.D. James

Lady Julia Grey–Lady Julia Grey Series by Deanna Raybourn
Cassie Maddox–Into the Woods by Tana French
Precious Ramotswe–No. 1 Ladies Detective Agency by Alexander McCall Smith
Marian Halcombe–The Woman in White by Wilkie Collins
Maisie Dobbs–Maisie Dobbs Mysteries by Jacqueline Winspear
Thursday Next–Thurday Next books by Jasper Fforde
Diana Tregarde–Diana Tregarde Series by Mercedes Lackey
Jane Rizzoli–Rizzoli & Isles series by Tess Gerritsen
V.I. Warshawski–V.I. Warshawski books by Sara Paretsky
Harriet–Harriet the Spy by Louise Fitzhugh
Juniper Song–Juniper Song Mysteries by Steph Cha
Lisbeth Salander–Millennium series by Stieg Larsson
Ready to get more of your mystery on?
Save