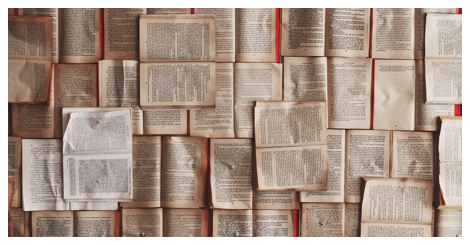 Sponsored
3 On A YA Theme: Social Justice in YA Nonfiction
This content contains affiliate links. When you buy through these links, we may earn an affiliate commission.
A couple of weeks ago, I pulled together a big list of social justice in YA fiction. It seems only appropriate to do a similar roundup, but this time, with nonfiction for YA readers.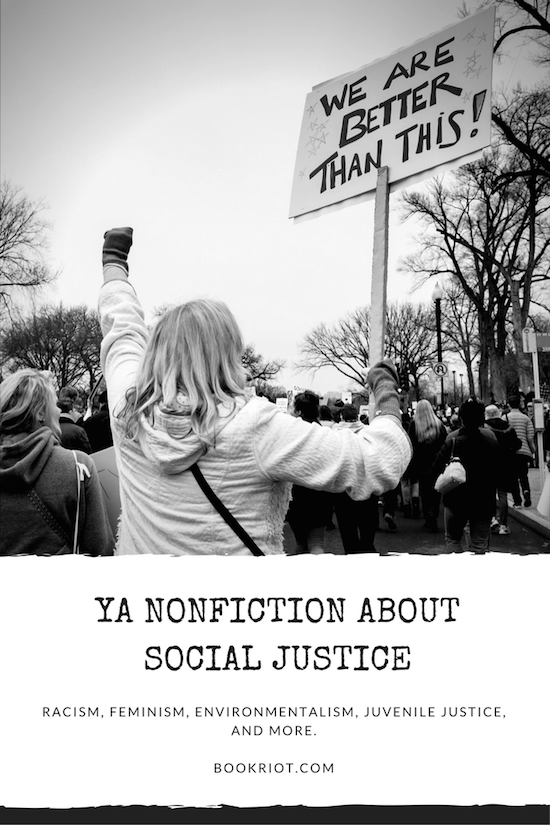 This list spans a little of everything where social justice is concerned: queer rights, racial justice, feminism, education, the justice system, immigration, and more. It is not a complete list, but would be an excellent primer in looking at social justice from the nonfiction perspective. Many, if not all, of these books would pair wonderfully with fiction titles and generate some great discussion.
Left off this list are the young reader editions of some popular and well-known adult nonfiction. I've also left off a few memoirs which have been highlighted previously. Certainly, the books on that particular list cross into social justice reading, too, so consider them equally as powerful as the books below.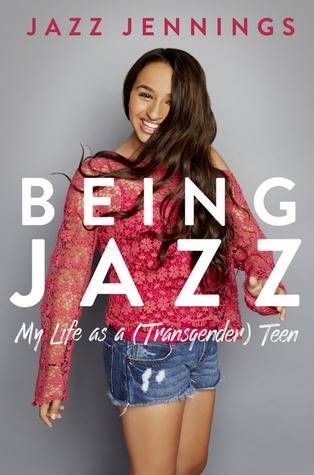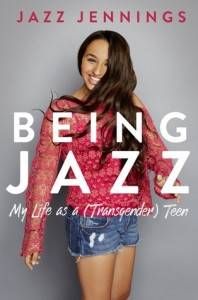 Being Jazz: My Life As A Transgender Teen by Jazz Jennings
Jazz Jennings is one of the youngest and most prominent voices in the national discussion about gender identity. At the age of five, Jazz transitioned to life as a girl, with the support of her parents. A year later, her parents allowed her to share her incredible journey in her first Barbara Walters interview, aired at a time when the public was much less knowledgeable or accepting of the transgender community. This groundbreaking interview was followed over the years by other high-profile interviews, a documentary, the launch of her YouTube channel, a picture book, and her own reality TV series—I Am Jazz—making her one of the most recognizable activists for transgender teens, children, and adults.
In her remarkable memoir, Jazz reflects on these very public experiences and how they have helped shape the mainstream attitude toward the transgender community. But it hasn't all been easy. Jazz has faced many challenges, bullying, discrimination, and rejection, yet she perseveres as she educates others about her life as a transgender teen. Through it all, her family has been beside her on this journey, standing together against those who don't understand the true meaning of tolerance and unconditional love. Now Jazz must learn to navigate the physical, social, and emotional upheavals of adolescence—particularly high school—complicated by the unique challenges of being a transgender teen. Making the journey from girl to woman is never easy—especially when you began your life in a boy's body.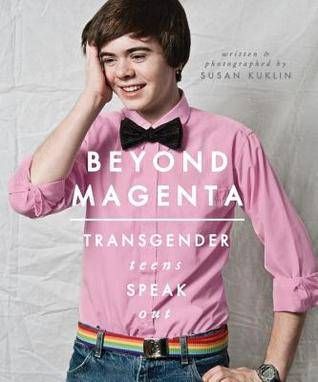 Beyond Magenta: Transgender Teens Speak Out by Susan Kuklin
Author and photographer Susan Kuklin met and interviewed six transgender or gender-neutral young adults and used her considerable skills to represent them thoughtfully and respectfully before, during, and after their personal acknowledgment of gender preference. Portraits, family photographs, and candid images grace the pages, augmenting the emotional and physical journey each youth has taken. Each honest discussion and disclosure, whether joyful or heartbreaking, is completely different from the other because of family dynamics, living situations, gender, and the transition these teens make in recognition of their true selves.
Children of War by Deborah Ellis
In this book, Deborah Ellis turns her attention to the most tragic victims of the Iraq war — Iraqi children. She interviews young people, mostly refugees living in Jordan, but also a few who are trying to build new lives in North America. Some families have left Iraq with money; others are penniless and ill or disabled. Most of the children have parents who are working illegally or not at all, and the fear of deportation is a constant threat.
Ellis provides an historical overview and brief explanations of context, but other than that allows the children to speak for themselves, with minimal editorial comment or interference. Their stories are frank, harrowing and sometimes show surprising resilience, as the children try to survive the consequences of a war in which they played no part.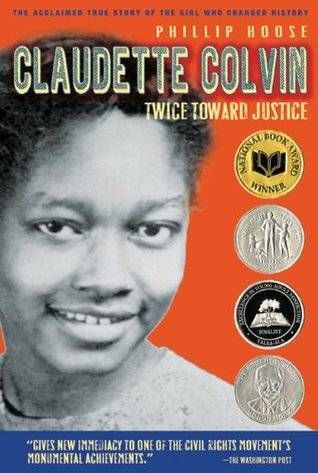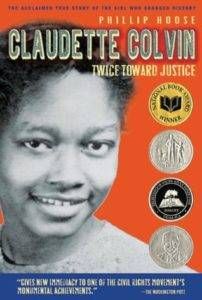 Claudette Colvin: Twice Toward Justice by Phillip M. Hoose
"When it comes to justice, there is no easy way to get it. You can't sugarcoat it. You have to take a stand and say, 'This is not right.'" – Claudette Colvin
On March 2, 1955, an impassioned teenager, fed up with the daily injustices of Jim Crow segregation, refused to give her seat to a white woman on a segregated bus in Montgomery, Alabama. Instead of being celebrated as Rosa Parks would be just nine months later, fifteen-year-old Claudette Colvin found herself shunned by her classmates and dismissed by community leaders. Undaunted, a year later she dared to challenge segregation again as a key plaintiff in Browder v. Gayle, the landmark case that struck down the segregation laws of Montgomery and swept away the legal underpinnings of the Jim Crow South.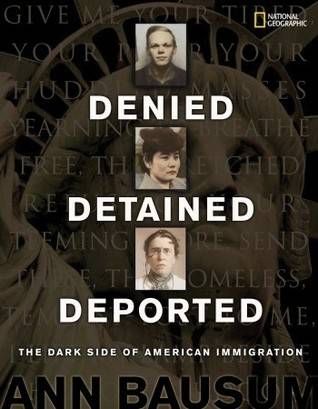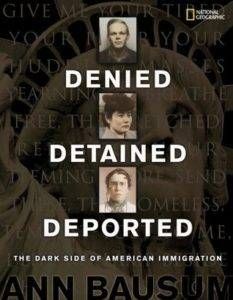 Denied, Detained, Deported: Stories From The Dark Side of American Immigration by Ann Bausum
With painstaking research, an unerring eye for just the right illustration, and her unique narrative style, award-winning author Ann Bausum makes the history of immigration in America come alive for young people. The story of America has always been shaped by people from all corners of the Earth who came in search of a better life and a brighter future. Immigration remains one of the critical topics in 21st century America, and how our children learn the lessons of the past will shape all our futures.
The patriotic stories of hope that shape most immigration books are supplemented here by the lesser-known stories of those denied, detained, and deported.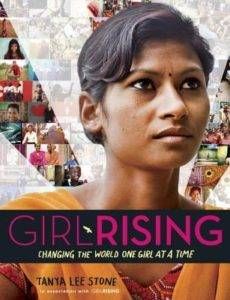 Girl Rising: Changing The World One Girl At A Time by Tanya Lee Stone
A full-color book inspired by the documentary film Girl Risingabout educating girls across the globe.
Worldwide, over 62 million girls are not in school.
But one girl with courage is a revolution.
Girl Rising, a global campaign for girls' education, created a film that chronicled the stories of nine girls in the developing world, allowing viewers the opportunity to witness how education can break the cycle of poverty.
Now, award-winning author Tanya Lee Stone uses new research to illuminate the dramatic facts behind the film, focusing both on the girls captured on camera and many others. She examines barriers to education in depth—early child marriage and childbearing, slavery, sexual trafficking, gender discrimination, and poverty—and shows how removing these barriers means not only a better life for girls, but safer, healthier, and more prosperous communities.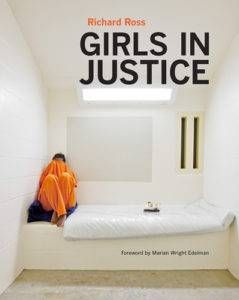 Girls in Justice by Richard Ross
With appallingly high rates of abuse in their histories, exploitation around every corner, and a very different set of needs once 'inside,' girls are brought into the juvenile justice system by a unique set of social forces and experience incarceration much differently than boys. Girls in Justice, the much-anticipated follow up to Juvenile in Justice, turns our focus specifically to girls in the system, and not a moment too soon. While the number of youth in the juvenile justice system has steadily declined, girls are a growing share of youth arrested, detained and committed. A rare, multidimensional look at these girls' vulnerable lives, Girls in Justice speaks to the unique issues they face with both hard-hitting words and Richard Ross' evocative images. Essays from some of the top girls' criminology scholars and advocates in the U.S. give readers a picture of their work with young women in the system as well as cold, hard facts about the issue. As with Juvenile in Justice, the photographs are accompanied by girls' first-person stories, as told to Ross in interviews from over 250 detention facilities across the U.S. Even for those who work with girls in the system daily, this book is sure to expand your understanding of the realities of these girls' lives.
While Girls in Justice isn't technically a YA book, it's about teenagers in the justice system and has incredible YA appeal. Also consider picking up Ross's first book about teens in the system, Juveniles in Justice.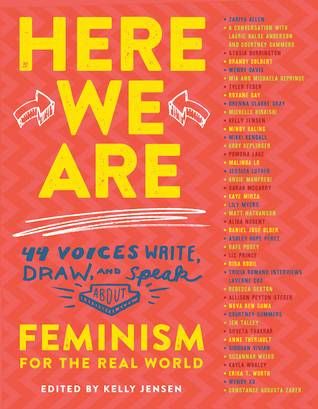 Here We Are: Feminism For The Real World edited by Kelly Jensen (full disclosure: me)
Let's get the feminist party started!
Here We Are is a scrapbook-style teen guide to understanding what it really means to be a feminist. It's packed with essays, lists, poems, comics, and illustrations from a diverse range of voices, including TV, film, and pop-culture celebrities and public figures such as ballet dancer Michaela DePrince and her sister Mia, politician Wendy Davis, as well as popular YA authors like Nova Ren Suma, Malinda Lo, Brandy Colbert, Courtney Summers, and many more. Altogether, the book features more than forty-four pieces, with an eight-page insert of full-color illustrations.
Here We Are is a response to lively discussions about the true meaning of feminism on social media and across popular culture and is an invitation to one of the most important, life-changing, and exciting parties around.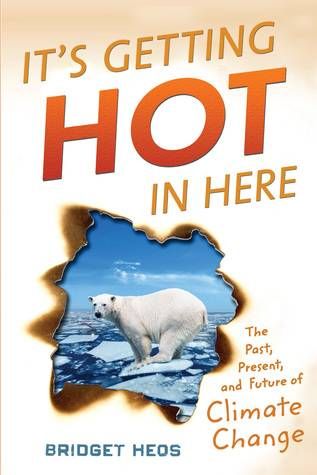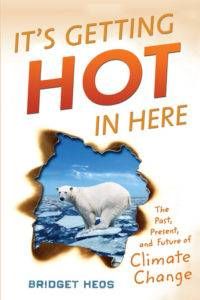 It's Getting Hot In Here: The Past, Present, and Future of Climate Change by Bridget Heos
Tackling the issue of global warming head-on for a teen audience, Bridget Heos examines the science behind it, the history of climate change on our planet, and the ways in which humans have affected the current crisis we face. It's Getting Hot in Here illustrates how interconnected we are not just with everyone else on the planet, but with the people who came before us and the ones who will inherit the planet after us. This eye-opening approach to one of today's most pressing issues focuses on the past human influences, the current state of affairs, the grim picture for the future—and how young readers can help to make a positive change.
This Land Is Our Land: A History of American Immigration by Linda Barrett Osborne
American attitudes toward immigrants are paradoxical. On the one hand, we see our country as a haven for the poor and oppressed; anyone, no matter his or her background, can find freedom here and achieve the "American Dream." On the other hand, depending on prevailing economic conditions, fluctuating feelings about race and ethnicity, and fear of foreign political and labor agitation, we set boundaries and restrictions on who may come to this country and whether they may stay as citizens. This book explores the way government policy and popular responses to immigrant groups evolved throughout U.S. history, particularly between 1800 and 1965. The book concludes with a summary of events up to contemporary times, as immigration again becomes a hot-button issue. Includes an author's note, bibliography, and index.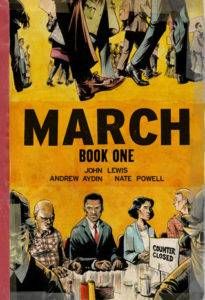 March by John Lewis (series)
Congressman John Lewis (GA-5) is an American icon, one of the key figures of the civil rights movement. His commitment to justice and nonviolence has taken him from an Alabama sharecropper's farm to the halls of Congress, from a segregated schoolroom to the 1963 March on Washington, and from receiving beatings from state troopers to receiving the Medal of Freedom from the first African-American president.
Now, to share his remarkable story with new generations, Lewis presents March, a graphic novel trilogy, in collaboration with co-writer Andrew Aydin and New York Times best-selling artist Nate Powell (winner of the Eisner Award and LA Times Book Prize finalist for Swallow Me Whole).
March is a vivid first-hand account of John Lewis' lifelong struggle for civil and human rights, meditating in the modern age on the distance traveled since the days of Jim Crow and segregation. Rooted in Lewis' personal story, it also reflects on the highs and lows of the broader civil rights movement.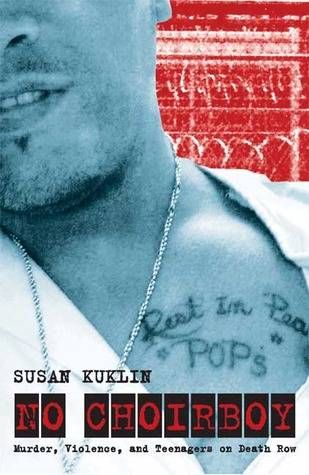 No Choirboy: Murder, Violence, and Teenagers on Death Row by Susan Kuklin
No Choirboy takes readers inside America's prisons, and allows inmates sentenced to death as teenagers to speak for themselves. In their own voices—raw and uncensored—they talk about their lives in prison, and share their thoughts and feelings about how they ended up there. Susan Kuklin also gets inside the system, exploring capital punishment itself and the intricacies and inequities of criminal justice in the United States.
This is a searing, unforgettable read, and one that could change the way we think about crime and punishment.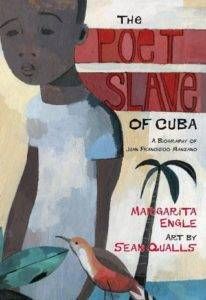 The Poet Slave of Cuba by Margarita Engle
Born into the household of a wealthy slave owner in Cuba in 1797, Juan Francisco Manzano spent his early years by the side of a woman who made him call her Mama, even though he had a mama of his own. Denied an education, young Juan still showed an exceptional talent for poetry. His verses reflect the beauty of his world, but they also expose its hideous cruelty.
Powerful, haunting poems and breathtaking illustrations create a portrait of a life in which even the pain of slavery could not extinguish the capacity for hope.
We Will Not Be Silent: The White Rose Student Resistance Movement That Defied Adolf Hitler by Russell Freedman
In his signature eloquent prose, backed up by thorough research, Russell Freedman tells the story of Austrian-born Hans Scholl and his sister Sophie. They belonged to Hitler Youth as young children, but began to doubt the Nazi regime. As older students, the Scholls and a few friends formed the White Rose, a campaign of active resistance to Hitler and the Nazis. Risking imprisonment or even execution, the White Rose members distributed leaflets urging Germans to defy the Nazi government. Their belief that freedom was worth dying for will inspire young readers to stand up for what they believe in. Archival photographs and prints, source notes, bibliography, index.
Want more "3 On A YA Theme" posts? Gotcha covered.
---
Join your fellow book nerds at Book Riot Insiders and get a sweet store deal, exclusive content, the magical New Releases Index, and more!