Lists
22 of the Coolest Craft Books (According to Our Readers/Crafters)
This giveaway asking you to tell us the coolest craft books is sponsored by Handmade Houseplants by Corrie Beth Hogg, published by Timber Press.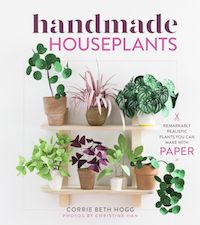 Handmade Houseplants offers a no-water option for your urban jungle: plants made from paper! This stylish guide includes step-by-step instructions and templates for making 30 of the most popular houseplants, from monstera to fiddle leaf fig. Additional projects show how to use paper plants for home décor, wall art, holiday decorations, gift giving, and more. The projects are simple enough to be made in few hours, and the materials are affordable and easy to find. Packed with colorful photos and filled with inspiration, Handmade Houseplants shows how paper plants can provide a modern, light-hearted touch to a well-designed home.
---
The weather is getting cooler, but I just can't bring myself to knit yet another stocking stitch scarf. Been there, done that. So I proposed a trade: a giveaway entry in exchange for your best recommendations for the coolest craft books. The how-to handbooks that bring the quirk. The crafting books that will tickle my brain while occupying my otherwise-idle hands, and leave me with fun, handmade conversation pieces to keep or gift. And here's just a sampling of what you gave me to work with!
Rock Art Handbook by Samantha Sarles
Crafting With Feminism: 25 Girl-Powered Projects to Smash the Patriarchy by Bonnie Burton
DIY Projects for Cats and Dogs by Armelle Ray and Pierre Legrix
Creepy Cute Crochet: Zombies, Ninjas, Robots, and More! By Christen Haden
Bold and Beautiful Paper Flowers by Chantal Larocque
Subversive Cross Stitch by Julie Jackson
Cat Castles: 20 Cardboard Habitats You Can Build Yourself by Carin Oliver
Cut Paper Pictures: Turn Your Art and Photos into Personalized Collages by Clover Robin
Make a Crochet Garden: 9 Stylish Projects for Succulents, Cacti & Flowers by Amy Gaines
Textile Collage by Mandy Pattullo
Paper to Petal: 75 Whimsical Paper Flowers to Craft by Hand by Rebecca Thuss and Patrick Farrell
Feminist Icon Cross-Stitch: 30 Daring Designs to Celebrate Strong Women by Anna Fleiss and Lauren Mancuso
Whimsical Stitches: A Modern Makers Books of Amigurumi Crochet Patterns by Lauren Espy
The Art & Craft of Pyrography by Lora S. Irish
Crafting with Cat Hair: Cute Handicrafts to Make with Your Cats by Kaori Tsutaya and Amy Hirschman
Playing with Pop-ups: The Art of Dimensional, Moving Paper Designs by Helen Hiebert
Washi Tape Crafts: 110 Ways to Decorate Just About Anything by Amy Anderson
Quilting on the Go: English Paper Piecing Projects You Can Take Anywhere by Jessica Alexandrakis
The Feminist Activity Book by Gemma Correll
Literary Yarns: Crochet Projects Inspired by Classic Books by Cindy Wang
Tape It & Make It: 101 Duct Tape Activities by Richela Fabian Morgan
Edgy Embroidery by Renee Rominger