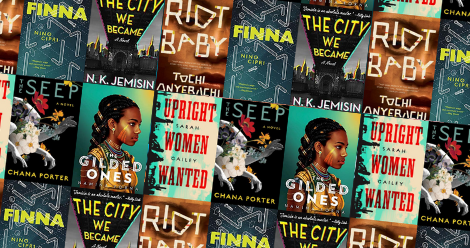 Lists
20 Must-Read 2020 SFF Books
This content contains affiliate links. When you buy through these links, we may earn an affiliate commission.
Buckle up, space cowboys and fantasy aficionados! 2020 has an SFF lineup unlike any other, and you're going to need ever spare spot on your TBR to handle it. These 2020 SFF books are full of necromancers, exorcists, and fascist-fighting librarians—and that's just the beginning. Check out these awesome books by authors you know and love as well as exciting debuts to fill your 2020 TBR with all sorts of SFF goodness.
Woven in Moonlight by Isabel Ibañez (January 7 from Page Street Kids)
Ximena is proud to be the decoy for the last remaining Illustrian royal, and she doesn't hesitate to do her duty when the usurper Atoc demands the true Condesa's hand in marriage— or course, Ximena goes in her stead. Now she'll be able to work as a spy from the inside. But even as she weaves secret messages back to the Condesa in her magical tapestries, she realizes that overthrowing the Atoc without starting another bloody war may be more complicated than she thinks. And either way forward will cost her.
Riot Baby by Tochi Onyebuchi (January 21 from Tor.com)
In a dystopian narrative about the black American experience, brother and sister, Ella and Kev, live with extraordinary powers while facing the systemic racism that has defined their lives since childhood. And when Kev is arrested on specious charges, Ella is determined to show him the way to revolution, through means both mundane and supernatural.
The Seep by Chana Porter (January 21 from Soho Press)
When an alien entity invades Earth, anything imaginable is possible—literally. A utopian future without capitalism or social barriers might seem like the perfect reality, but when Trina's wife Deeba decides to be reborn as a baby to experience an even better life, Trina is left alone and heartbroken. What does it mean to be unhappy in a seemingly perfect world, and is it possible to save those who have already decided the alien Seep is the answer to everything?
Prosper's Demon by K.J. Parker (January 27 from Tor.com)
A exorcist with one mission: remove demons at any cost. A man of science, possessed by a demon, determined to raise the first ever philosopher-king according to the purest standards. Both are at the center of this darkly funny novella about a world beset by demons and the exorcists determined to excise them no matter the human cost.
The Resisters by Gish Jen (February 4 from Knopf Publishing Group)
In a not-too-distant future, AutoAmerica is a land half underwater and racially divided between the fair-skinned "Netted" living on high ground and the darker-skinned "Surplus" who live on swampland and water. Gwen, a young girl born part of the Surplus, finds a surprising spot for herself among the elite as a baseball star when AutoAmerica reenters the Olympics with its eye on beating ChinRussia. But with a lawyer mother fighting back against the AutoAmerican Way competing with her desire to "cross over" to the Netted, Gwen will have to find her own way in a world horrifyingly not so unlike our own.
Upright Women Wanted by Sarah Gailey (February 4 from Tor.com)
Look, I don't know what more you need to know than fascist-fighting librarians, but this book also has a future American Southwest full of bandits, book wagons (see again: librarians), and spies on horseback, because this future West is just as unjust and violent as the old one, apparently. Plus, let's be real, this is a book by Sarah Gailey, author of American Hippo and Magic for Liars, so you know it's going to be good.
Finna by Nino Cipri (February 25 from Tor.com)
What are two minimum wage employees at a big-box furniture store to do when a customer falls through an interdimensional portal? Protect the bottom line and track her down, of course. Easier said than done—especially when those two dimension-hopping employees broke up just a week ago. Then again, almost anything is possible given infinite dimensions, including, maybe, finding friendship in the ashes of a breakup while tracking down an elderly woman lost to the multiverse.
Docile by K.M. Szpara (March 3 from Tor.com)
Dociles sell themselves, body and soul, to the owner's of their contracts to absolve themselves—or their families—from crippling debt. Elisha's family has been ruined by debt and his mother's use of Dociline during her time as a Docile. And Elisha is determined to stay away from the drug no matter how difficult his life as a Docile becomes. But when his contract is bought by the heir to the Dociline fortune, Alexander Bishop III, things become complicated. Especially when Elisha refuses Dociline, and Alex becomes determined to turn Elisha into the perfect Docile with or without it.
A Phoenix First Must Burn, edited by Patrice Caldwell (March 10 from Viking Books for Young Readers)
Sixteen stories all about black girl (and gender nonbinary) magic from an incredible group of writers including Dhonielle Clayton, Ibi Zoboi, Ashley Woodfolk, and Justina Ireland. From retellings to futuristic narratives, this collection of short stories is sure to be truly unforgettable.
Conjure Women by Afia Atakora (March 17 from Random House)
A generational tale of a mother and daughter with a talent for healing before and after the Civil War. May Belle and her daughter Rue come from a line of healing women, reluctant though she may be to follow in her mother's footsteps. They and their master's daughter are bound by secrets. But their tenuously won freedom—and everything they love and have fought for—is threatened by the birth of an accursed child who sets fear and superstition alight within the townspeople.
The City We Became by N.K. Jemisin (March 26 from Orbit)
Every city has a soul—literally. And New York? She's got five. But darkness stirring beneath the city threatens to destroy the city and her five protectors unless they can band together to defeat in in time. If this book is absolutely anything like the short story "The City Born Great," from her collection How Long Til Black Future Month, we're truly in for an incredible ride.
Goldilocks by Laura Lam (April 30 from Orbit)
On a world ravaged by climate change, humanity's last hope lies in the first all-female mission to a planet in the Goldilocks Zone with conditions perfect for human habitation. But as Valerie Black and the rest of her crew venture where no woman has gone before, they realize that time may be running out. Someone on board is concealing a terrible secret, and Earth may not survive long enough for them to find a new home. It's being described as The Martian meets The Handmaid's Tale, so needless to say I'm about as excited as it gets for this book.
Lobizona by Romina Garber (May 5 from Wednesday Books)
When her mother is arrested by ICE, Manuela Azul's existence is shattered. Without a home to return to, she finds herself searching into her family's mysterious past—a past that introduces her to a world within our world. A world where witches and werewolves exist. A world where her strange eyes mean, for once, she belongs. As Manu traces her history all the way back to a cursed city in Argentina, she discovers it's more than just her residency that's illegal—it's her very existence.
Girl, Serpent, Thorn by Melissa Bashardoust (May 12 from Flatiron Books)
This Persian-influenced fairytale is all about powerful women, magic, curses, and the lies we tell ourselves. Soraya is cursed to the touch: poisonous to anyone who comes in contact with her skin and hidden away by the royal family. Is it any surprise, then, that she leaps at the chance to break her curse, even when it endangers her twin brother, the shah? But Soraya doesn't know the full story—about herself or her curse—and her choices have consequences far more deadly and far reaching than she ever could've imagined. It will take a delicate friendship with a moth-winged div, as well as finally embracing herself for who she truly is, for Soraya to set her land, her family, and her people back to right.
Believe me, this book is everything you could possibly want from a fairytale.
The Humours of Grub Street by Kate Heartfield (May 19 from ChiZine Publications)
There's a reason there are so many writers on Grub Street: the monsters are determined to keep them there. Rye learns that the hard way when he publishes his first political broadside in 1703. Now, with politicians after him and monsters around every corner, Rye will have to recruit the help of the disparate witches of London if he wants to avoid the pillory—and possibly another Civil War.
The Gilded Ones by Namina Forna (May 26 from Delacorte)
In this West African–inspired fantasy, girls with gold blood live as outcasts. And when Deka's blood runs gold at her blood ceremony she is faced with a choice that isn't really a choice at all: stay in her village and face a fate worse than death or leave and join an elite group of warriors. These women—the alaki—use their rare gifts for one purpose: protect the emperor and the empire at all costs.
Look, I'm getting major Dora Milaje vibes from this description, so obviously I'm all in.
Harrow the Ninth by Tasmyn Muir (June 2 from Tor.com)
In this sequel to jaw-dropping Gideon the Ninth, Harrow must face her future as necromancer for the Emperor himself—even as her body and mind begin to fail her. Tasked with helping the Emperor win an unwinnable war alongside a detested rival, Harrow must come to terms with the path that brought her here. But as she trains in the Mithraeum, she begins to suspect someone might be trying to kill her. And, more troubling, she's not so sure the universe wouldn't be better off if they succeeded.
Axiom's End by Lindsay Ellis (July 21 from St. Martin's Press)
This alternate history of first contact set in the 2000s tells the story of a young woman who becomes the only point of communication between an alien civilization with potentially hostile intentions and all of humanity.
When a group of women go on strike in the historical mill town of Lowell, Massachusetts, ringleader Judith Whittier is determined to see their fight for fair wages through to the end. She's already seen one strike fail before. Fortunately, her best friend at the boardinghouse has a gift for the dying art of witchcraft.
Multiverse hopping might be the most popular new activity, but there's one catch: you can't visit a world where you have a counterpart. Good thing Cara doesn't seem to have any! Or, they've already died at least. Which means that this surviving Cara gets the sweet gig of hopping between dimensions to collect data—and more importantly the citizenship and belonging that come along with it. But when one of her eight remaining alternates dies under strange circumstances, Cara is plunged into a world full of secrets that may threaten the future of the entire multiverse.
---
These 2020 SFF books not enough for you? If you're looking to expand you're reading in the new year, check out Book Riot's 2020 Read Harder Challenge and these 20 queer YA books coming out in 2020. Or if you just want even more SFF in your life, try these 7 sci-fi and fantasy books to curl up with on for size.