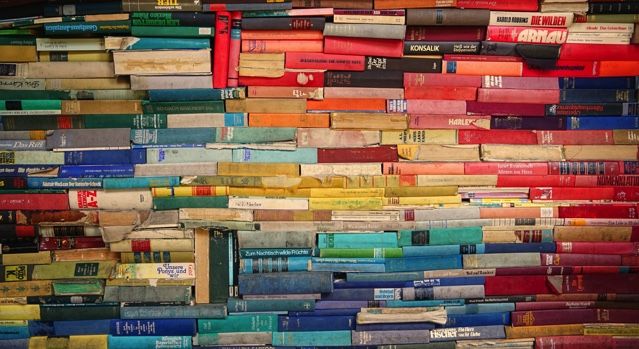 LGBTQ
20 Queer YA Books For Your 2020 TBR
This content contains affiliate links. When you buy through these links, we may earn an affiliate commission.
If you're like me, you're already checking which LGBTQ+ releases we can look forward to in 2020. And as it turns out, the publishing future is bright—and queer, too! From contemporary romance to high fantasy and a variety of genres in between, a ton of YA books in 2020 will feature queer representation, including plenty of #OwnVoices rep.
We've rounded up 20 LGBTQ+ YA books that will be released over the next year. While we may not be able to read some of these until later in the year, nearly all of them are available for preorder.
Infinity Son by Adam Silvera (January 14, 2020)
Emil and Brighton grew up in an alternate New York where the vigilante Spell Walkers protect the world from specters, a violent group that steals magical powers from endangered creatures. When Emil suddenly manifests his own power, he is pulled into the world of the Spell Walkers—something that Brighton wished he could become since he was a child. Emil, however, always just wanted peace. Now, if he really wishes for peace, he'll have to use his powers to fight for it and eradicate the specters for good.
Dark and Deepest Red by Anna-Marie McLemore (January 14, 2020)
Over the summer of 1518, Strausburg is hit with a mysterious dancing fever. Once those inflicted start dancing, they cannot stop until they die of exhaustion. Young Lavinia's family is immediately accused of causing the illness on the grounds of witchcraft, a claim that they must disprove if they value their lives.
Five hundred years later, a girl named Rosella is struck by the fever after putting on a pair of red shoes. The only person who can help her? Emil, a descendant of those accused of witchcraft so many centuries before.
SpellHacker by M.K. England (January 21, 2020)
Magic—called "maz"—used to be free and available to all in Kyrkarta. That was before a magical plague devastated the land and a corporation gained control of maz under the guise of safety. Diz is one of several who illegally siphon maz. Her latest gig is lucrative enough that it's supposed to be her last—until they uncover a conspiracy that could lead to eradicating the magical plague and returning maz back to the people.
The Gravity of Us by Phil Stamper (February 4, 2020)
At 17 years old, Cal already has a blossoming career in social media journalism and half a million followers. All seems to go according to plan until Cal's father is chosen to pilot a NASA mission to Mars. Their family relocates to Houston as his father prepares for the mission, where Cal meets Leon, another guy whose parent will be on the Mars mission. Cal and Leon fall for each other amidst the chaos enveloping their families—which is made even more complicated when Cal uncovers secret intensions behind the Mars mission.
When the Illori invaded Earth two years ago, they imprisoned humanity and took everything from them—art, music, books, and culture. Seventeen-year-old Ellie runs an underground library to keep history and creativity alive—a crime that is punishable by death. But when an alien named M0Rr1S with a secret passion for Earth music discovers her book stash, she forms an alliance with him to overthrow the Illori.
Ollie and Will's summer fling was supposed to be just that—a fling. At least, according to Will. Ollie is crushed when Will ghosts him after summer ends. He doesn't even have time to mourn what could have been once a family emergency requires him to start at a new school thousands of miles away from his old one.
But who does he run into at his new school? None other than Will, who is closeted and hot-and-cold at best with Ollie here. Ollie knows he should probably leave Will alone…but what if neither of them really want that?
It's 1977, and the only way closeted Tammy can vent about being a closeted lesbian at a strict Christian high school is through her diary. Here, she writes unsent letters to Harvey Milk about her hopes, worries, and experiences. But that's before she's matched with a pen pal named Sharon who bonds with her over punk rock and emotions that both would prefer to keep secret. But as anti-gay sentiments reach frightening new heights, they must choose what—and who—they're willing to stand for.
Nandan has high ambitions for his junior year of high school—namely, to have a perfect one. But when he hooks up with his best friend Dave at a party, all of his carefully-crafted plans fall apart. Nandan has always considered himself straight before this, but he can't deny how much he cares for Dave. But as the two take their relationship into the public, Nandan is nervous about what his sexuality means for himself in ways that Dave doesn't understand.
Queen of Coin and Whispers by Helen Corcoran (April 6, 2020)
Lia knows upon inheriting her corrupt uncle's kingdom that he nearly drove it into the ground, but she won't let that defeat her ambitions. She hires a spymaster named Xania to avenge her father, who was murdered. But Lia doesn't anticipate growing close to Xania, nor falling in love with her. The more Lia cares for Xania, the more she must determine how much is worth sacrificing for love.
In the second and final volume of the popular comic Check Please!, Eric "Bitty" Bittle begins his Junior year by navigating a secret, long-distance relationship with his teammate Jack—and deciding if they're ready to take things public. But that's not the only thing he's dealing with! Bitty and his teammates only have two more seasons to prove themselves on the hockey field and figure themselves out before they graduate. And between all that, how will Bitty find time to bake pies (because we all know he will)?
Late to the Party by Kelly Quindlen (April 21, 2020)
Codi Teller expected being 17 to be a lot wilder. She and her friends mostly spend their weekends watching Netflix, not falling in love or making the most of their lives. Somehow, she finds herself at a party for people she assumes are cooler—and straighter—than her. But that's before Codi meets a closeted guy at the party named Ricky, who introduces her to Lydia—a cute girl who possibly becomes her first love. But how can she be expected to keep all of this a secret from her friends?
Loveless by Alice Oseman (April 30, 2020)
Georgia is an 18-year-old who has never fallen in love. Not with a girl, or a boy, or with anyone: she just doesn't long for a romantic relationship. Tired of being seen as weird by others, she enlists her "love expert" roommate Rooney for help during her first semester of college. But she and Rooney both embark on their own journeys of self-acceptance and finding happiness beyond romantic love.
The Henna Wars by Book Riot Contributor Adiba Jaigirdar (May 12, 2020)
Nishat is used to hiding her sexual orientation. Although she wants to live authentically and find love, she worries that coming out would mean losing her family for good. But then, a school business competition forces her and her best friend Flávia to compete as henna artists. The closer she gets to Flávia, the harder it is for her to conceal her crush. And complicating things further, Flávia seems to return her feelings. After years spent in the closet, Nishat must choose between coming out to her family or losing the chance at a relationship with Flávia.
In Liz Lighty's small Midwestern town, prom is one of the biggest events of the year. Liz, however, has other things on her mind. Like getting into Pennington College and their acclaimed student orchestra and studying to become a doctor. But the scholarship offered to prom king and queen could be the perfect ticket for Liz to achieve her dreams. Can she win the crown without falling for Mack, a charming and funny fellow student running for prom queen?
The Fell of Dark by Caleb Roehrig (July 14, 2020)
It's 2019 and vampires have returned to YA (where they rightfully belong)! August Pfiffer's town Fulton Heights is a hotbed of paranormal activity, particularly of the blood-sucking variety. August isn't interested in tangling himself up with vampires, but that's before a mysterious (and cute) one comes to him with a warning. An ancient and powerful entity is awakening, and August is the one person with the potential to stop it.
The State of Us by Shaun David Hutchinson (July 21, 2020)
Dean and Dre are definitely not the likeliest of friends—or anything more, either. As the 16-year-old sons of the Democratic and Republican candidates for the President of the United States, there's more than a little tension between their parents. But the two can't help the attraction between each other from blooming, despite the social and political barriers in their way. And so, as their parents' presidential campaigns push onward, they fall in love.
The Summer of Everything by Julian Winters (August 2020)
Wesley Hudson is a long-suffering comic book nerd with an unrequited crush on his best friend Nico. If only that were the only trouble he had to deal with. His brother keeps bothering him with wedding plan advice and a coffee shop franchise might be buying the property of his favorite book store, Once Upon a Page. How can he possibly save the book store, help his brother, and woo Nico all at once?
Beyond the Ruby Veil by Mara Fitzgerald (September 2020)
In a world much different from our own, water can only be created from blood using a magic that's as powerful as it is rare. When a selfish young socialite accidentally kills the one person with that power in her city, she must on a quest to find the source of this magic and bring it back. If she fails? Everyone in her city will die.
Ruinsong by Julia Ember (November 24, 2020)
After a cruel queen took over the kingdom, the mage Candace was forced to use her magic to torture the former nobility. But a chance encounter with her childhood friend—herself a noblewoman—changes everything. Soon, Candace is pulled into the underground rebellion and she must make a choice: continue working for tyranny or fight for freedom?
Who I Was With Her by Nita Tyndall (Fall 2020)
When a closeted bisexual teen girl loses her girlfriend to a car accident, she doesn't have anyone she can grieve with. Because nobody knew about their relationship, she cannot talk about it. This book will follow her as she mourns in the aftermath of her girlfriend's death.