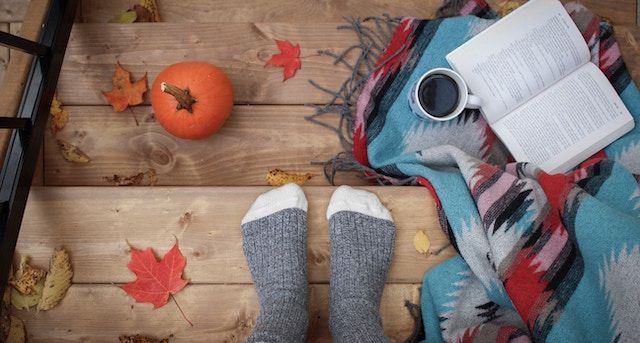 Lists
7 Sci-fi and Fantasy Books to Curl Up With This Fall
This content contains affiliate links. When you buy through these links, we may earn an affiliate commission.
The calendar is telling me it's October. I'm not sure I believe it, considering I live in Western Pennsylvania, it's 80-something degrees today, and the tips of leaves have barely started to turn, but there you have it. I'm assuming at some point it will cool down and rain and be a little creepy—the absolute perfect weather for staying in with a book.
There's not only a ton of new fantasy and sci-fi coming your way this fall, but also some very magical backlist so, if genre is your jam (it is most assuredly mine) you'll be very much in luck when the time comes to make your selections.
Gideon the Ninth by Tamsyn Muir (Tor.com Publishing)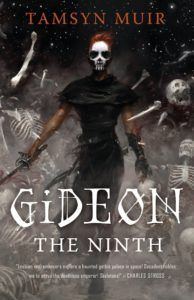 Gideon came out a couple weeks ago and if you're very quiet you can probably hear me screaming about it in space. I remember the pitch for this book being, "lesbian necromancers in space," and thinking, "I'm in." Then I had to wait the long, long months for Gideon to actually come out. It did not disappoint. A rare successful integration of sci-fi and fantasy, populated by snarky, memorable, hilarious, complex characters, Gideon the Ninth is also a murder mystery, a space opera, and a very odd, compelling sort of romance, neatly integrated and wrapped in bones and rage.
The sequel, Harrow the Ninth, is scheduled to drop June 2, 2020, and I cannot wait to have in in my hands.
Escaping Exodus by Nicky Drayden (Harper Voyager, 10/15/19)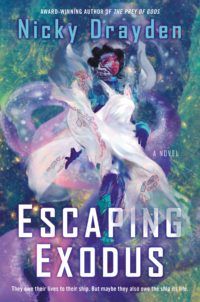 Drayden is known for her futuristic vision of South Africa and her exploration of the "many cultures and lore of Africa." She is also, as she discusses in the press release for Escaping Exodus, fascinated by the idea that humans serve as hosts to billions of microorganisms and turned the trope by casting humanity as the virus in fetching a city sized space beast. In the book, Seske, a future clan leader, wonders about the delusions a society would have to suffer to justify the willful destruction of these creatures' lives. She and her best friend ask the questions no one has ever dared ask aloud and explore the restricted areas of the beast to learn the truth about what humanity has done to survive in space.
Unnatural Magic by C.M. Waggoner (ACE, 11/25/19)
Onna is denied a place at the nation's premier arcane academy because she's a woman, despite being both better and faster at describing the parameters of the spell than any of the boys in her village. She leaves, hoping to find a place in more urbane Hexos, but as soon as she arrives she's drawn into the murder of four trolls.
Tsira is a troll who never quite fit in her clan and decides to make a go of it in Hexos as well. On the way, she finds a badly injured human soldier and helps heal him. The two form a bond which is threatened when Tsira is attacked by an unknown mage. Tsira finds herself on the same case as Onna, though neither is aware of the other, before the murders escalate to war.
Rosewater by Tade Thompson (Orbit)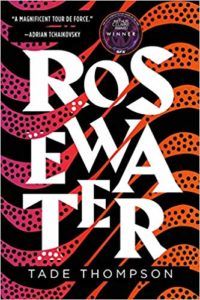 An alien biodome appears in Nigeria. A city grown up around it, the majority of its citizens desperate to partake of its reputed healing powers. Except for Karro, criminal turned lawman, who's been inside and never wants to go near the place again. When something starts killing sensitives like himself, however, Karro realizes he doesn't have much of a choice.
Ileth, an orphan, was destined do be a domestic despite her dreams of learning the secrets of dragoneering. Patient and determined, when Ileth is old enough, she runs away for the human-dragon fortress of Serpentine in the hopes of finding a place as an apprentice. Despite managing to do so, Ileth continues to find herself out of place among her fellows from rich families. Her old, sickly dragon with a mysterious past isn't even close to her imagined future, but that doesn't necessarily mean it will be any less wondrous.
Charlotte and her cousin are on their way home from the cemetery after their grandmother's funeral when they get lost in rural Florida. The satnav isn't working, there's no cell phone signal, and their only hope is a cabin that sports a truck with a Confederate flag bumper sticker in the driveway and that feels angry. Angry in the way only something haunted by a story can be.
Nocturna by Maya Motayne (Harper Collins)
Finn Voy is a face shifter and even she barely remembers what she looks like. Alfher is first in line to the throne after his brother's murder but fears he'll never live up to Dezmin's memory and becomes obsessed with finding a way to bring his brother back. When the two come together, they accidentally set loose an ancient power set to devour their world. Can they save Castellan, one another, and themselves?
---
Bet those months inside won't seem so bad with one (or all. Probably all) of these books by your side.