News
2019 Poem-A-Day Guest Editors Announced by the Academy of American Poets
This content contains affiliate links. When you buy through these links, we may earn an affiliate commission.
The Academy of American Poets has announced the dozen poets who will serve as guest editors of the 2019 Poem-a-Day series. Each will be tasked with selecting the previously unpublished poems that reach an audience of over 500,000 each day through Poets.org and their free email subscription service.
We're happy to introduce our twelve new #PoemADay Guest Editors for 2019! @tctigercakes74 @ClintSmithIII @maggiesmithpoet @EduardoCCorral @VChangPoet @scryptkeeper @PaulGuestUVA @ruthellenkocher @Oliver_delaPaz @SherwinBitsui @PaisleyRekdal

Read more: https://t.co/6JzcQaMRxg pic.twitter.com/8j2He5JiZs

— Poets.org (@POETSorg) December 4, 2018
The Academy of American Poets first recruited guest editors for the 2018 Poem-a-Day series.
"Working with guest editors to produce Poem-a-Day this past year has helped ensure that we are publishing an even greater array of poets and poems," said the Academy's executive director Jennifer Benka in the announcement.
The poets in the 2018 cohort were notably diverse, and the lineup for the 2019 Poem-a-Day series builds on that legacy. The group is largely comprised of poets of color and includes five men, six women, and a trans genderqueer poet: TC Tolbert, who will assume the role in January.
The 2019 Poem-a-Day editors also bring a breadth of professional experiences. They are the recipients of countless literary awards and fellowships, teach at universities across the country, and serve as poet laureates at the city, state, and national level.
Just as Tracy K. Smith was reappointed to serve a second term as U.S. Poet Laureate, she returns to this year's lineup to edit the poems during April, which is National Poetry Month. The other 11 poets are all new to the role.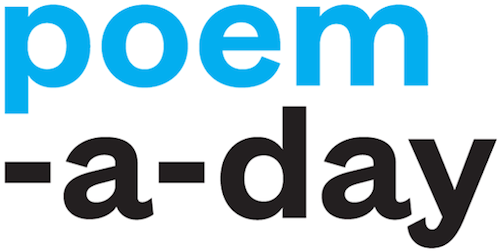 The Poem-a-Day series played a vital role in helping me overcome my fear of contemporary poetry, so I recommend it to anyone who's interested in exploring the genre but doesn't know where to start. These daily poems introduced me to some of the poets who became a vital part of my love affair with contemporary poetry, including Hieu Minh Nguyen, Kaveh Akbar, Danez Smith, Safia Elhillo, Ada Limón, Chen Chen, and others (click on each name to read the poem that first hooked me on their work). Reading these individual poems led me to their full collections, and now contemporary poetry makes up 20% of the books I read. Having read Kaveh Akbar's debut Calling a Wolf a Wolf made it all the more satisfying to see his selections when he served as the guest editor in January, 2018.
When I looked back through my email folder of favorite poems from the series, I found several by 2019 Poem-a-Day editors. These include "Written Deer" by Maggie Smith, "Post-Factual Love Poem" by Paul Guest, and "Dear P." by Victoria Chang. Since I've clearly connected with their work in the past, I'm not only looking forward to their selections but also plan to use this year's guest editors as a list of further reading.
For another way to get your daily dose of poetry, check out Tracy K. Smith's weekday poetry podcast, which just launched at the end of November. You might also enjoy: