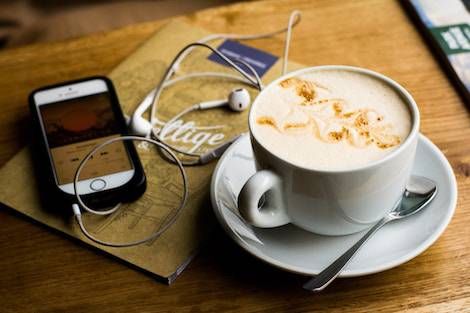 Lists
10 Songs About Bookstores That Every Bookworm Should Know
This content contains affiliate links. When you buy through these links, we may earn an affiliate commission.
This week while cruising around the book-ish internet I found this article about an artist in Nashville who recorded a song for his new album inside of a bookstore. He also filmed the music video for it in that same bookstore and it's adorable! This lead to me falling down an internet-rabbit hole a la Alice in Wonderland, including looking at Book Riot's article 29 Popular Songs That Reference Classic Books. But what I found the most fascinating was the amount of songs with lyrics/titles that specifically reference bookstores and the magic that can be found within them. So here I've gathered 10 songs about bookstores for you to listen to on your next visit to your local bookshop.
The first song to come across my computer in my hunt this song talks about what can be seen as you people watch at a bookstore. With lyrics like Bestsellers and bookshelves / Full of self-help printed word / Some faint, elegance is heard.
A great rock song that compares love and a relationship to a person's favourite bookstore. Is there any greater compliment than that? With lines like Beyond this library of our mind / You've found the shelf where our moment was emphasized.
This song parody is possibly the most book nerdy out of any of the songs on this list. The rhymes are genius and absolutely chalk full of literary references, such as the opening: Read so hard libraries try to fine me / They can't identify me / Checked in with a pseudonym / So I guess you could say I'm Mark Twain-in'.
An acoustic song all about the sadness and aftermath of the worst happening, a bookstore closing. With lyrics like All my books are on loan / Since the Government Bookstore closed.
This song draws parallels between a young woman and the books in a used bookstore. It's a gorgeous simile made all the more poignant by the song's haunting beauty, with lines like She reminds me of a used book at a bookstore / Hardcover but her pages they / offer more.
This song is a beautifully poetic song that doesn't reference a bookstore until the final verse stating: I'm back in the bookstore / redecorating the walls / using newspaper headlines / finding truth in the rumours I've bought.
This beautiful instrumentation comes from the soundtrack of the film adaptation of The Invention of Hugo Cabret by Brian Selznick. It perfectly expresses the magic and gloriousness of bookstores. No lyrics, just gorgeous strings.
A very literal song describing the singular feeling of going to a bookstore and then going home empty-handed. However it's also peppered with beautifully lyrical lines like Hoped to find some answers / Questions are difficult.
A super elegiac song that leaves its bookstore reference for the final verse. However, I felt I needed a place on this list since the lyrics paint such a clear story full of gorgeous descriptive language, such as: It's a Leonard Cohen morning / We're sitting all alone / At a cafe in the corner / With espresso and a scone.
This song from this infamous punk band's demo was originally called Bookstore. The bookish reference is buried late in the song but it definitely has the feeling of those great grungy/punky used bookstores. Full of raging guitar licks and lines like I'm down in the daytime out of sight / Comin' on in the evening there's nothing but night.